Always scrolling down through their Insta to spot the latest beauty tips and tricks, Parisian it girls are at the forefront of trends, leading the way. How do they manage to look so good? Well, they sure know their way around the city. Influencers and it girls Philippine Darblay, Camille Yolaine, Bénédicte Burguet, Laetitia Genet and Marine Vignes divulge their favorite self-care places. Grab your notebooks !
Always scrolling down through their Insta to find inspiration, beauty tips and tricks, Parisian it girls are on the cutting edge of fashion. Now how do they keep fit and look so good? Well they sure know their way around the city. They've revealed their go-to spots for pampering. Grab those pens and highlighters!
The Fiesty One : Philippine Darblay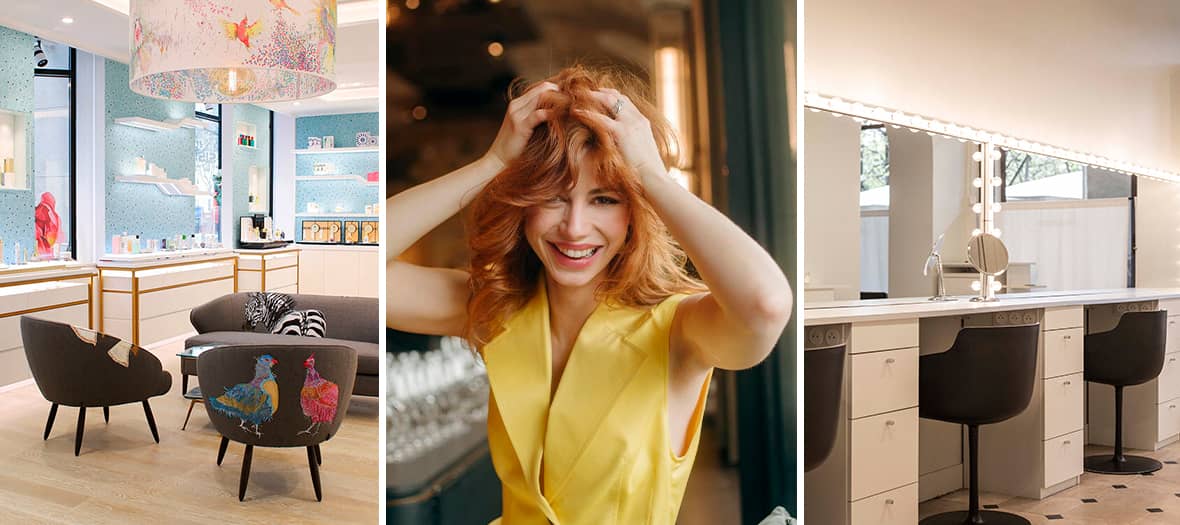 Her job: Food & Lifestyle journalist.
Yannick Salomon. This masseuse completely changed my life. She is so caring. I've always had a problem with my legs, they're my pet peeve. In a matter of 4 sessions, she was able to reduce cellulite by 50%.
Her technique combines lipo cavitation and radiofrequency. Safe to say, I'd never seen anything that effective.
Yannick Salomon : 7 bis rue Decrès, Paris 14th. Reservation on WhatsApp at 06 41 44 73 74.

Lisa Beaucage at the Centre Elément. I loved their lymphatic drainage massage, inside a gorgeous yoga studio in the heart of the Marais. Lisa is very gentle and her treatments are incredibly soothing.
For the dedicated ones, a Japanese infrared sauna (the Iyashi Dome) is available after the treatment.
Very powerful to detoxify.
Online booking for Lisa Beaucage
Centre Clément: 7 rue des Guillemites, Paris 4th. 01 40 09 24 57
Maison Sisley, aka the Rolls Royce of Parisian salons.
The setting is just outstanding and the treatments are phenomenal. Best of my life.
Online bookings
Maison Sisley: 5 avenue de Friedland, Paris 8th. 01 86 21 11 11
Adrien Coelho. This gifted hairdresser returned home after a decade in the US to set up shop at Café Kitsuné in France, where actresses from the Comédie-Française and politicians gather. He showed me his signature line of minimalist hair care products: four products capable of doing what 10 normally do.
Online reservations or call 01 42 97 43 98 / 06 61 52 84 33
Salon Très Confidentiel : 44 - 45 Galerie Montpensier, Paris 1st.
Jeanne Casimir. Jeanne is a very dedicated and skilled masseuse who's worked in the cosmetics industry for twelve years, at Aesop and LA Bruket. Her "Reboot" massages act on the skin and the mind.
She'll put you right at ease and you'll leave feeling glowy and relaxed.
Jeanne Casimir at Innerskin : 59 rue des Francs Bourgeois, Paris 4th (until April 18).
Online reservations
© Jean Philippe Lebee
The Dashing One: Camille Yolaine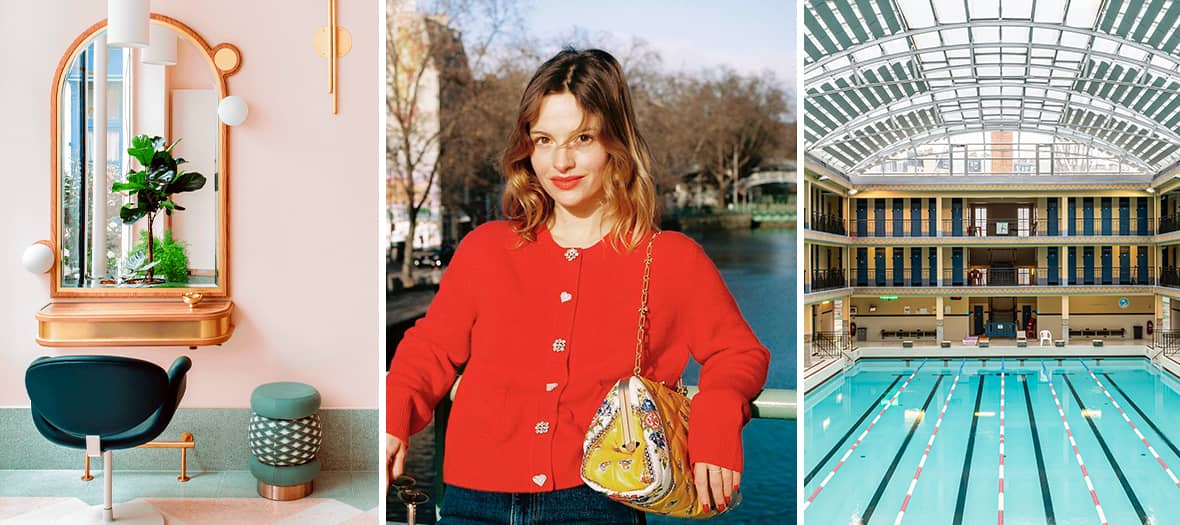 Her job : Founder of Yolaine Paris
Kobido By Mag. A small practice located in a beautiful old building not too far from the Bon Marché.
I've been a regular for over a year. Magalie is an incredible facialist, she swears on natural products and has an extremely gentle touch.
Kobido By Mag : 5 rue de la planche Paris 7th. 06 21 52 56 86. Online reservations
Rose Cartel. A beauty spot in the Marais with a very cool decor and underground cabins that'll make you think you're on a boat. I like to go there in springtime for Renata Franca lymphatic drainages - a great way to slim down legs before wearing skirts.
Rose Cartel : 10 rue de Picardie, Paris 3rd. 01 45 35 27 41. Online reservations
Delphine Courteille. An outstanding hairdresser (I should know, I've tried countless of them).
She's able to cut your hair to the last strand to achieve the perfect hairdo.
In her courtyard salon near the Tuileries, you may occasionally run into Isabelle Adjani or Sophie Fontanel.
Next appointment on my wish-list: the "memory blow-dry", a new treatment that is said to work miracles to tame your hair.
Delphine Courteille : 28, rue du Mont Thabor, Paris 1st. Online reservation or call 01 47 03 35 35
Louis Trautwein. The best colorist. This David Mallet alum takes care of Jennifer Aniston, Angèle, Camille Razat (of all people). Needless to say - he's in high demand, but worth the wait.
Reservations by e-mail : louis.trautwein@gmail.com. Instagram : louisremyhair
La piscine Pailleron. I am crazy about this vintage pool with large windows. They offer a variety of classes that are great for draining and working the muscles: aquagym, aquaboxing, aquabike...
The perfect solution to have lighter legs. Bonus point: inexpensive.
Piscine Pailleron : 32 rue Edouard Pailleron, Paris 19th.
Institut Luca Bagnara. Luca owns a remarkable address book. And for good reason: he is an exceptional masseur who knows how to tune into the body. He's developed his own tools for madero therapy.
A mad experience, you'll leave feeling like a different person.
Online reservations
Institut Luca Bagnara : 17 place Dauphine, Paris 1er. 07 86 81 09 26.
© Instagram / @dolorescfr
The Chic One: Bénédicte Burguet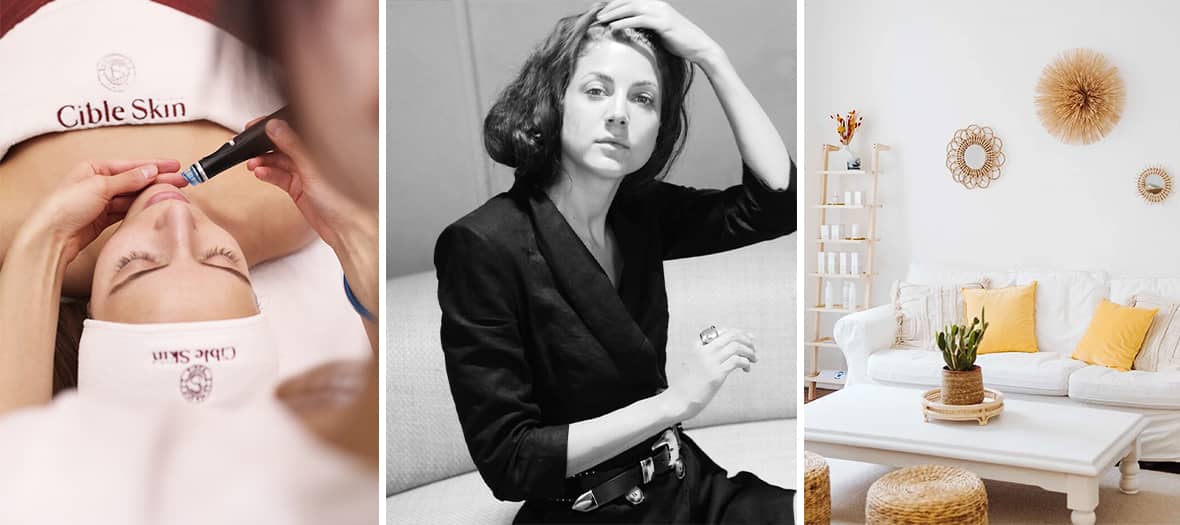 Her job : Fashion Editor at Vanity Fair.
Dr Antoni Calmon. My go-to beauty doctor. Notwithstanding the stunning place, he's an expert in facial aesthetics and has a deep understanding of the female face structure.
He is extremely cautious and knows when to say "no".
Online reservations
Instagram : @drantonicalmon
Dr Antoni Calmon : 35 avenue Franklin Delano Roosevelt Paris 8th. 01 40 05 51 89
Cible Skin. A place that offers the most cutting edge facials. I think it's probably the best place to pamper your skin. They have the most efficient techniques in town. I recommend the anti-aging protocol with growth factors.
A must.
Online reservations Instagram : @cibleskin.paris
Cible Skin : 31 rue François 1st, Paris 8e. 01 44 13 61 30.
Kobido Faucheur. Authentic Kobido, as it should be. I have never been a fan of pampering, I like deep massages. Sisters Margot and Othilie Faucheur took over from their mother Aline.
They host guests in a small and very cute apartment on the garden level in the 16th district.
Reservation by phone at 01 86 52 87 37
Kobido Faucheur, 57 rue Boissière, Paris 16th.
L'Atelier du sourcil. I have been going once a month for eyebrow waxing and eyelash tinting.
I highly recommend Maryline who respects my desire for a natural look.
Online reservations
L'atelier du sourcil - Paris Colisée : 50 rue du Colisée, Paris 8th. 01 78 90 17 17
Le Hammam de la Grande Mosquée. The place is not glamorous but it does offer the best scrub in all of Paris. You are initially sprayed with black soap then scrubbed vigorously before being rinsed with a hose. A real treat!
I would recommend going there in the summertime. Contrary to popular belief,  the best time to cool off is when it's hot.
No reservations required, open exclusively to women non-stop from 10am to 9pm. Hammam de la Grande Mosquée : 39 rue Geoffroy-Saint-Hilaire Paris 5th.
01 43 31 38 20.
The Bohemian One: Laetitia Genet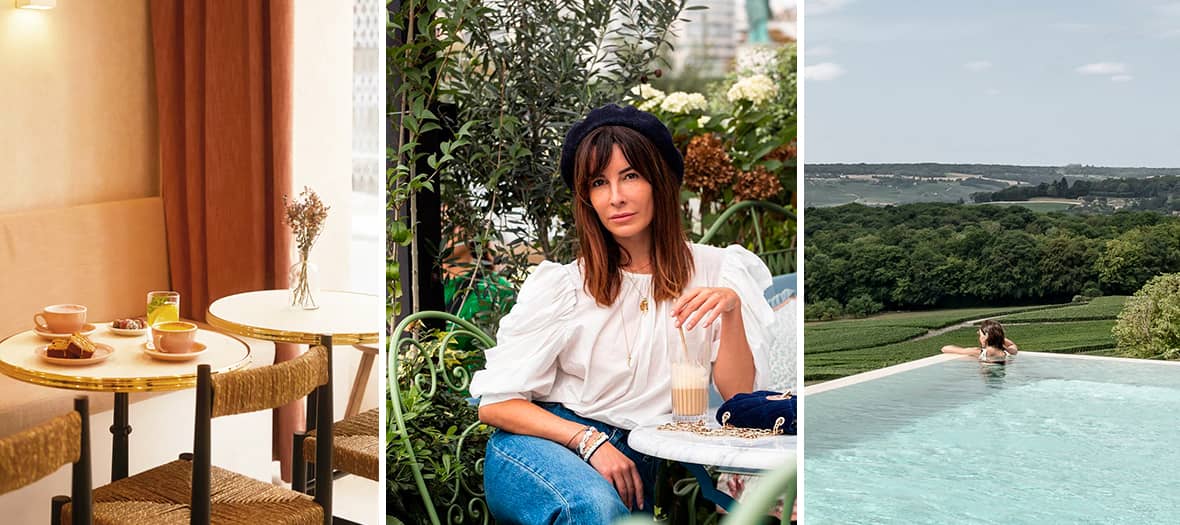 Her job : Model & Influencer.
Laura Forget at Centre aïA. My friend Laura has fairy hands. I like to go there between photoshoots to enjoy her fantastic energizing massages. She uses a very unique technique called the Lemniscate, shaped like an 8 on the whole body, it helps release body and mind tension.
Online reservations. Contact info: 06 66 36 77 90.
Instagram : @santédelauraCentre aïA -Trocadéro : 4 rue Saint Didier Paris 16th.
Belleyme. I like to go there with my partner for the infrared sauna which feels amazing.
The place is intimate and cosy, there is also a small boutique and a coffee shop to sip great lattes after the treatments.
Online reservations.
Belleyme - Marais : 8 rue Charles-François Dupuis, Paris 3e. 01 44 49 90 31.
Mon Q Club. Gym classes in nightclubs: the concept's terrific. I love the instructor Jenny, she focuses on arms, abs and buttocks, super thorough classes with killer playlists: Rihanna, Beyoncé....
You'll have fun while shaping up.
Online reservations
Mon Q Club : 105 Rue du Faubourg du Temple, Paris 10th.
Dr Catherine de Goursac, aka the skincare guru. I go there for injections, botox, tensor threads...
Personally, I think she is the best because she is on the cutting edge without overdoing it.
I can hardly wait to try out the new Korean protocol for the eye contour, she is the only practitioner in Paris to perform it.
Online booking on Doctolib
Centre médical Niel : 81, avenue Niel, Paris 17th. 01 47 54 93 20 / 01 47 64 35 33.
Le Royal Champagne. A dreamy location for a wellness getaway 40 minutes from Paris.
A starred restaurant in a former 19th century post house with a magnificent spa overlooking the vineyards.
Online reservations
Le Royal Champagne : 9 rue de la République, in Champillon. 03 26 52 87 11.
© Valentin Le Cron
The Fun One: Marine Vignes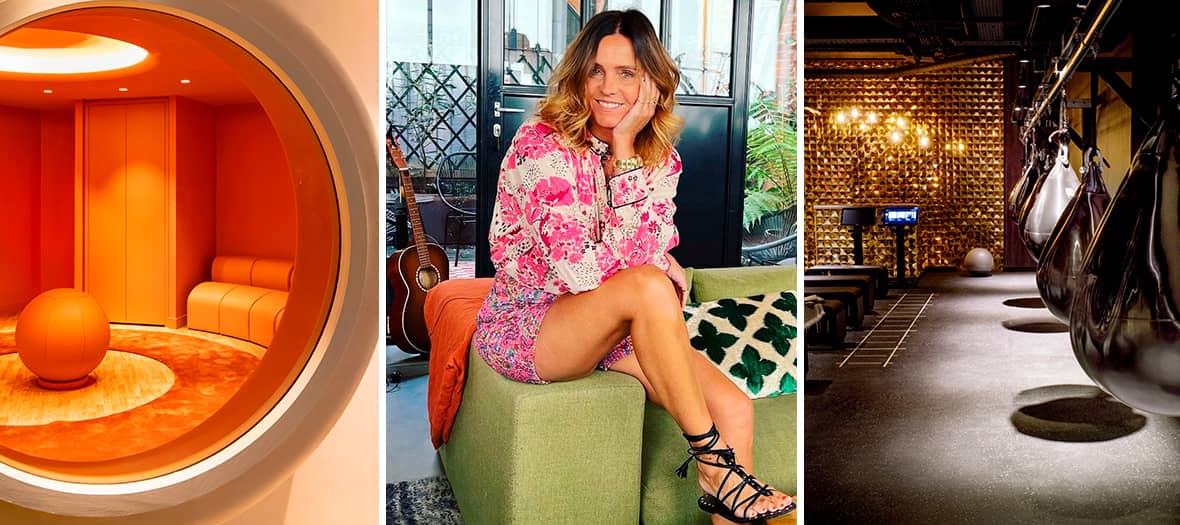 Her job : TV Host & Creator of the Love and Let Dye brand.
La Petite Maison Absolution. They offer organic, clean products, I just love their brand! Been going there twice a month for a personalized facial with Elodie. The salon is very nice, in a small street near the canal Saint-Martin.
Online reservations
Institut : 30 rue des Vinaigriers, Paris 10th. 01 40 18 36 94
Dermologica à la Wellness Galerie. Perfect for hurried women, like me! You can get a face mapping with a skin assessment machine and a 30-minute facial.
Super fast and highly effective. Perfect for those seeking an instant glow.
Online reservations
Welness Galerie Lafayette : 40 bd Haussmann, Paris 9th
Richard Delassus. The most accomplished colorist in Paris, and a good friend.
A studio hairdresser who studied and worked with Christophe Robin in high-end salons.
Instagram: @richarddelassus
Le studio Olivier Gay. On the top floor of a building in the Rue de Penthièvre, the place is wild, it has a tropical greenhouse and is filled with birds... I have my eyebrow microblading touch-ups done there with the boss Olivier, Walter or Farida. The results are unreal with a very natural dot by dot tattoo.
Online reservations
Studio Olivier Gay : 24 rue de Penthièvre, Paris 8th. 06 20 60 71 51.
Heimat by Waris Dirie. A new fitness room, 100% female, that just opened in the 16th district of Paris.
The concept, the equipment and the place are fantastic.
They also hold inspirational lectures. I'll definitely urge my best friend to join.
Online membership application Heimat : 35 rue Paul Valéry, Paris 16th. 01 86 65 90 77
© Thibaut Voisin et Didier Delmas
Also discover the hottest dance class in Paris and our favorite tatoo artists in Paris.