You have no doubt seen the red lanterns sprouting like small mushrooms all over Paris to celebrate the Chinese New Year and announce the transition to the Year of the Water Rabbit . What if we had a good meal under the guise of wishes for happiness and prosperity? On a street food market , in karaoke mode , in the middle of a lion dance or in front of a royal feast: a short list of proposals that will change your mind.
In a fancy bar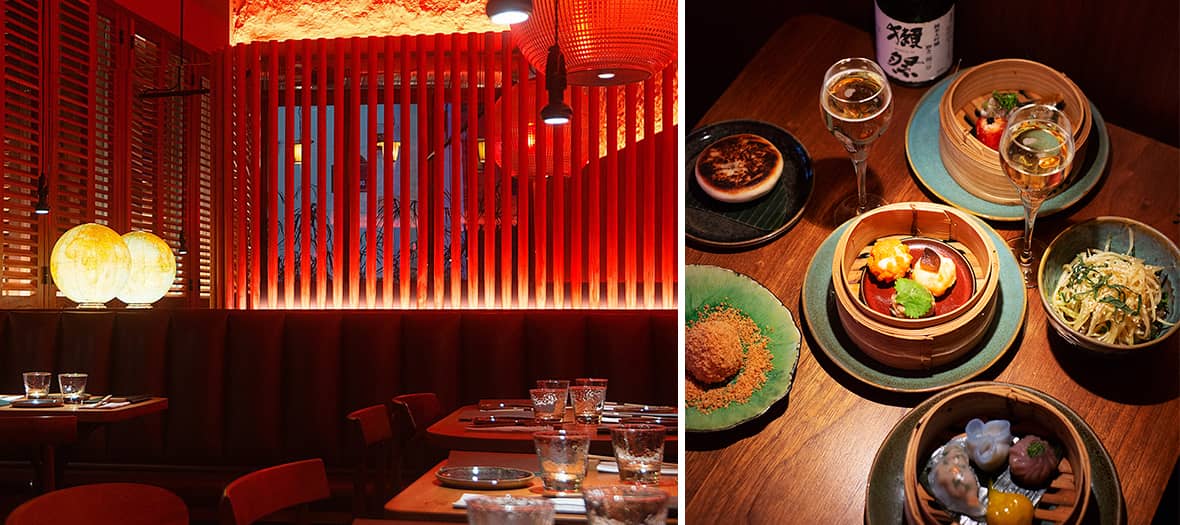 Lovers of Asian glamor will enjoy curling up in the cozy decor of the Steam Bar , a glamorous club like in Hong Kong … hidden in the heart of Saint-Germain-des-prés . A glamorous atmosphere worthy of In The Mood For Love emerges from this decor by Gabriel Pistre which mixes pop decor all in lanterns and neon lights and noble materials, without forgetting the cocktail bar which distills intoxicating potions such as the Cocktail Hong Kong Kiss (Cognac, Cointreau, kumquat, cinnamon, black pepper and lime).
To be savored with the end of your chopsticks for a lunar dinner : spring roll (€9), miso saté eggplant (€9), prawn ravioli and the chef's extraordinary steams, siu mai with prawns (€14), beef and pork, Completely veggie Blue Lotus ravioli (taro, potatoes and white onion and rhubarb), aubergine hakao and Kanako gyoza (€12).
Steam Bar , 2 rue Sabot Paris 6th, New Year's tasting menu, €65, from January 16 to 22 by reservation .
In kitsch karaoke mode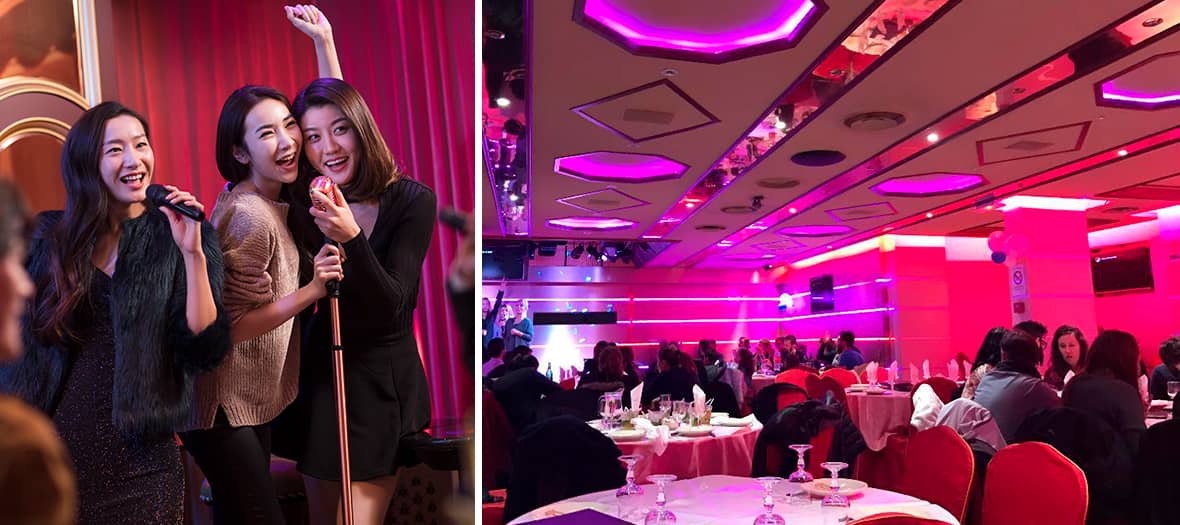 The pinnacle of kitsch, this is where it happens. Nestled in the heart of Belleville , Chinatown appears as the unexpected landmark of Parisian fashionistas, starting with Eugénie Trochu and the Vogue team , to sing loudly with friends, a microphone in hand in front of screens that broadcast you in the two huge rooms of the restaurant. In other words, the LOL meeting to trust for this crazy evening.
Remember to reserve this often crowded spot, especially on a festive evening to settle down as a group around the large round tables with a rotating tray to share all the Asian specialties combined ( nems galore, steamed rolls , beef with onions , soup spicy, cantonese rice , spring rolls , chicken curry) and choose your songs from a long repertoire as we like.
Belleville Chinatown , 27 rue du Buisson Saint-Louis, Paris 10th, open Tuesday to Thursday from 6 p.m. to 12:30 a.m., Friday and Saturday from 11:30 a.m. to 2:30 p.m. and from 6 p.m. to 1:30 a.m. Reservations 01 42 39 34 18.
On a signature street food market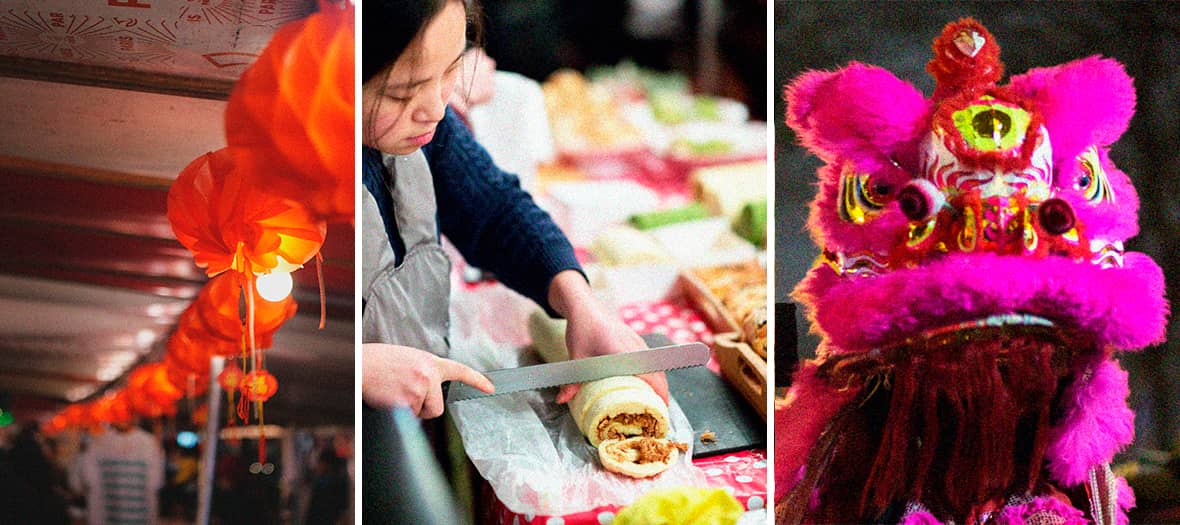 It's like being in the streets of Hong Kong or Shanghai ... Can you smell the crispy chicken and delicious steaming Peking buns ? To celebrate the Chinese New Year as it should be, the essential Food Market team returns with its " Asian street food market " in Belleville , to discover the whole range of Asian flavors, to the rhythm of the undulations of the lion dance. To be devoured among the stands: baozis, nian gaos and gua baos. Mmm!
The Chinese New Year Food Market on Thursday January 26 from 6 p.m. to 10:30 p.m. on Boulevard de Belleville, Metro: Couronnes and Ménilmontant.
In an ultra-trendy Chinese restaurant
Let's go to Mao Dumpling , the ultimate street address of Adrien Zheng where the stars of the Marais flock to celebrate the New Year with a new dragon on the ceiling by offering its customers the famous red envelopes with coupon tickets including crazy gifts: promo codes of €100 to €200 to be used on Ubereats , meals at Le Mao and free entries for the special Asian hip-hop event organized at Club Haussmann on Friday January 20 in partnership with Shinderu entertainment , where other goodies will be up for grabs ( VIP access to all events, trip to Taiwan for two people, etc.). The icing on the cake: a real demonstration of the lion dance from 6:30 p.m. on Sunday January 22, specially organized by the restaurant.
Special dish to order: the assortment of house dumplings : jiaozis with cheddar, pork with chives, ginger chicken and veggie (€36) not to mention the Chives pancakes (€8) with stylish beers and cocktails like the Shanghai Mule ( €12). And the really good bling dessert: the 24 Carat Gold Bun , a fried brioche to dip in milk jam or salted butter caramel (€6).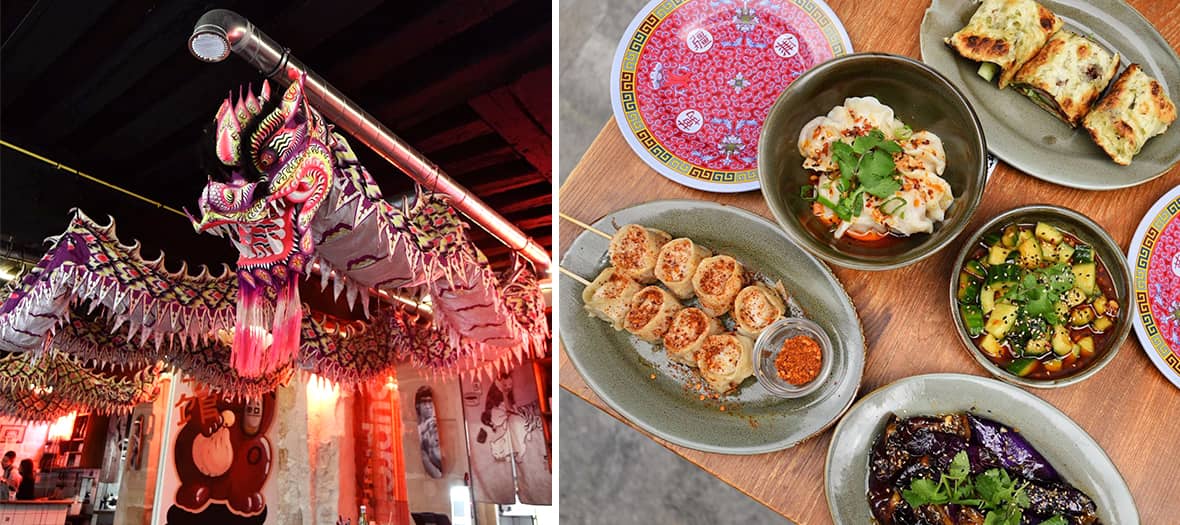 Lion dance on Sunday January 22 from 6.30 p.m. at Mao Dumpling , 28 rue de Saintonge, Paris 4th, 01 45 35 27 98
They are to Chinese food what Big Mamma is to Italian meals: a crazy and trendy success in a stunning setting with an ultra-fancy Parisian clientele. So when Bao Family celebrates the New Year, it's bound to be really cool with a great atmosphere. As guests: small dishes simmered for the occasion: pork jiaozis (€11) or veggie with Chinese spring onion and shiitake (€10), . For dessert: you must order a rabbit baozi, a sweet bao with a black sesame heart and white rabbit (€10). Psst: the Bao Family has grown and has just opened the latest addition to the family, Bao Express , right in time for the festivities. The art of living through Hong Kong 's pop culture is celebrated there, and the same menu as its brothers Petit Bao and Gros Bao will be offered.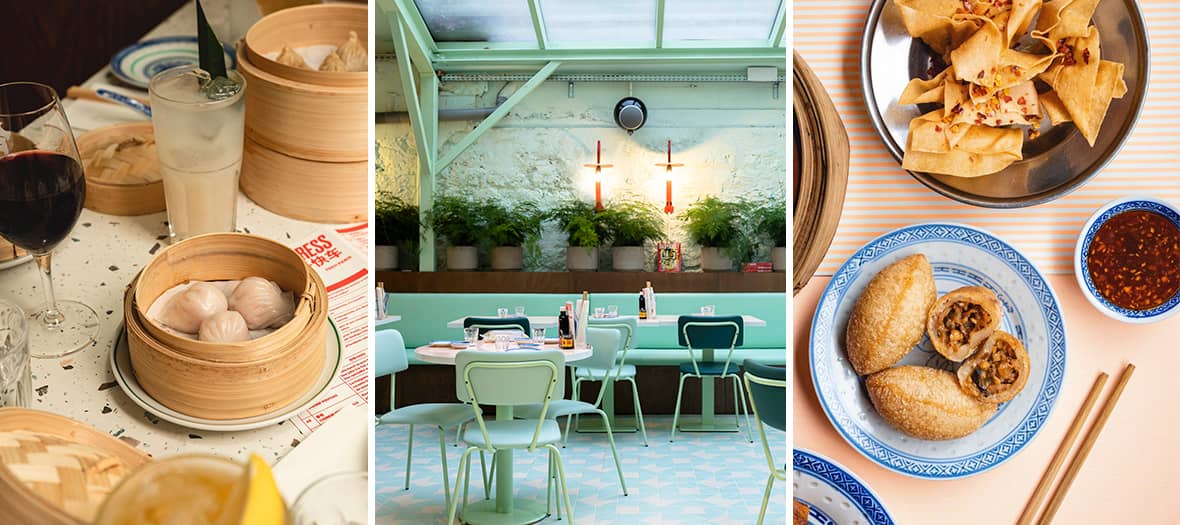 Gros Bao , 72, Quai de Jemmapes Paris 10th, Petit Bao , 116, rue Saint-Denis Paris 2nd, Bao express , 10 rue Bréguet Paris 11th
© Geraldine Martens and Instagram /@supkroll
In royal feast mode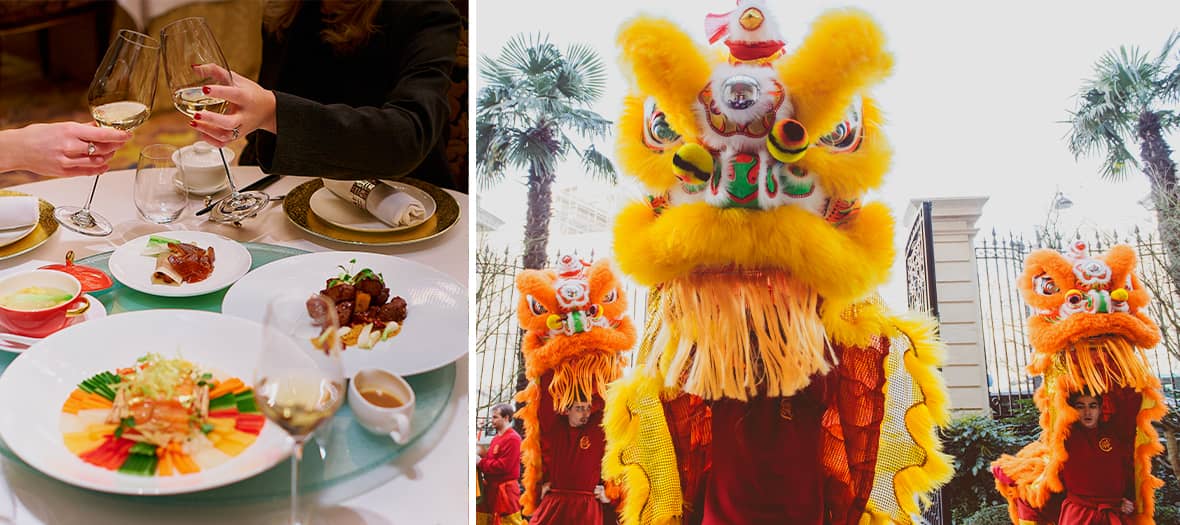 This is the experience to try once in a lifetime. For a celebratory dinner worthy of the great imperial families, rush into the wow decor of the Shang Palace , the only starred Chinese restaurant in France, where the chef of the Shangri-La Samuel Lee deploys a menu (€188 per person) with the most finest in the Cantonese repertoire: Lo Hei sashimi, langoustine wonton soup, Shang Palace -style lacquered duck, blue lobster sautéed with ginger, wheat noodles, Japanese wagyu beef sautéed with black truffles, pork and cabbage ravioli Chinese. To finish, a dessert signed Maxence Barbot and Samuel Lee : the sweet clementine , a gourmet recipe made up of clementine jam, a crunchy vanilla biscuit and a creamy vanilla mousse.
Lions Dance on Sunday January 22 at 11:30 a.m., Menu available from Thursday January 19 to Monday January 23, 2023 at the Shang Palace , open Thursday to Monday from 12 p.m. to 2 p.m. and from 7 p.m. to 10 p.m., online reservation .
10 avenue d'Iéna, 75116 Paris. Reservations on 01 53 67 19 92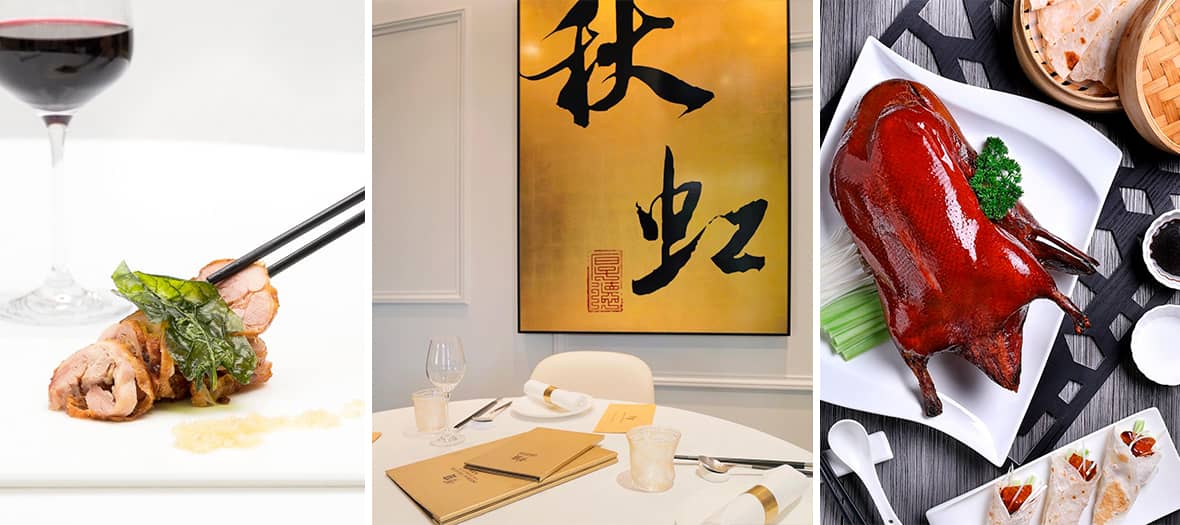 At the Imperial Treasure:
His traditional Peking-style lacquered duck is one of the dishes you won't forget. In the heart of the Golden Triangle, the Imperial Treasure gastronomic table restores its letters of nobility to the specialties of the Celestial Empire… and proves to be a refined cocoon to celebrate the New Year. On the menu, we find the three imperial treasures as a starter: bass ballotine and lamb shank, smoked soft-boiled egg with Chinese tea and Rova caviar with vinegared cucumber rolls. To follow, a mythical xiao long bao , fried Gillardeau oysters and its " Lion's head " broth, without forgetting the famous lacquered duck whose crunchy skin is soaked in sugar to then curl up in a bed of fresh vegetables cut into roll in a rice pancake. Blue lobster, poached ravioli, an assortment of desserts: it's all there...
Imperial Treasure 44 rue de Bassano, Paris 8th, open Wednesday to Sunday from noon to 2:30 p.m. and from 7 p.m. to 10:30 p.m., Special Chinese New Year menu on January 22, count €188 per person.
© Gilles Trillard and Raphaël Pincas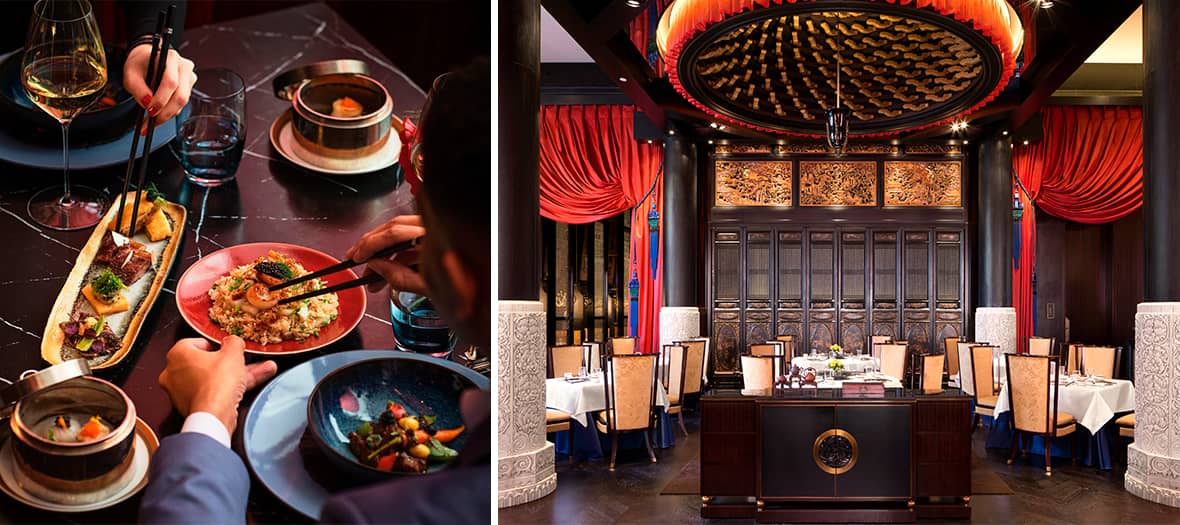 We celebrate the reunion dinner in the sublime restaurant of the Peninsula , while respecting Asian traditions on which time has no impact. The dining experience kicks off with an assortment of starters prepared by Chef Tak . We continue with an Atlantic salmon in the traditional Lo Hei confection (mixture of vegetables and fish), before tasting the chef's selection of dim sums (abalones, carabineros shrimp, vegetables and truffles), a traditional Chinese soup , sautéed lobster, beef tenderloin with garlic and chilli sauce and Chinese noodles with braised brown crab. For dessert ? Glutinous rice pearls infused in ginger syrup, a red bean bun, or the traditional New Year 's cake, Nian Gao . A surprise for the attention of the guests will be to be discovered in the red envelopes...
"The reunion dinner" at Lili (€238 per person) at the Peninsula Paris , 19 avenue Kléber, Paris 16th on Saturday January 21 from 6.30 p.m., Lion dance from 8 p.m., reservations on 01 58 12 67 50 or by email to lilippr@peninsula.com
© Louise Mariner
Foray into the real Chinatown of the 13th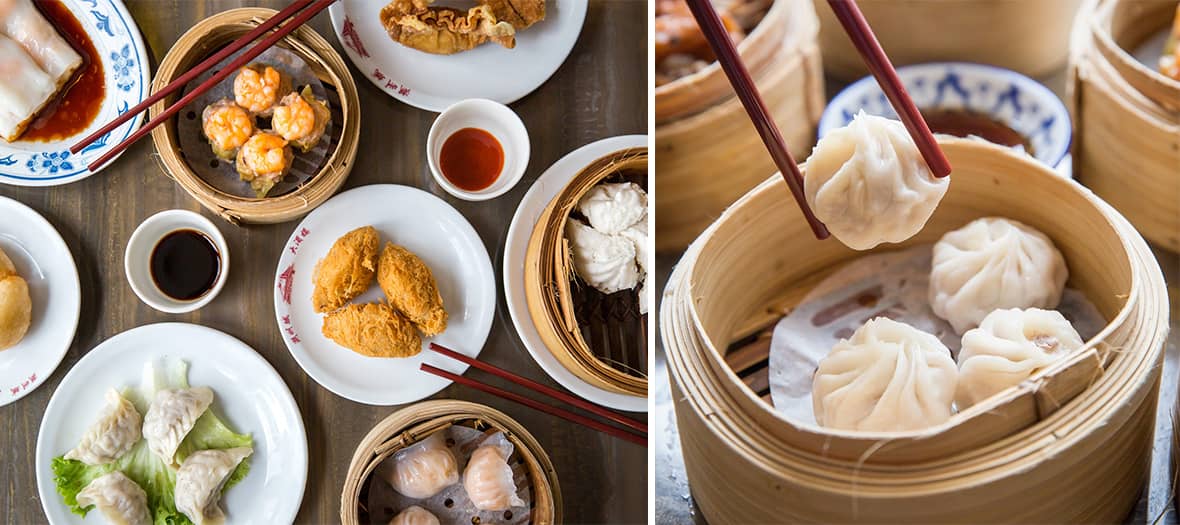 Impossible to dream of a more picturesque and exotic address to celebrate the New Year as in the Chinese community of the 13th, which finds itself tirelessly at China Massena . This institution is a trip to the Chinese restaurants of Hong Kong with a luminous pink ceiling, the appearance of a family banquet hall and steamer carts.
What do we eat there? For the New Year, we arrive in smala to devour a lacquered piglet, lobster and dumplings. For those who prefer to order à la carte, the Beijing-style lacquered duck in three preparations (€68) remains a must. The little ones will love ordering and recommending these little baskets filled with varied and too yummy bites (vegetable and shrimp ravioli, siu mais, fried shrimp ravioli, pork or coconut buns for dessert), spin the central platter and run in the aisles to see the lobsters.
China Massena 13 place de Vénétie, Paris 13th, open daily from 11:30 a.m. to 3 p.m. and from 6:30 p.m. to 10:30 p.m. Special New Year's menu on January 21 and 22 in the evening at €568 for 10 people. Reservations on 01 45 83 98 88 .
Also discover Chef Sukwon Yong's Bibimbap and Brigade du tigre The Michelin Nugget to test urgently