You have no doubt seen the red lanterns sprouting like small mushrooms all over Paris to celebrate the Chinese New Year . This year again, covid obliges, no parade. Phew: all the pretexts are good for having a good meal and partying under the guise of wishes for happiness and prosperity, to announce the passage to the year of the water tiger. On a street food market, in karaoke mode, in the middle of a lion dance or in front of a royal feast: a short list of proposals that will change your mind.
In a fancy bar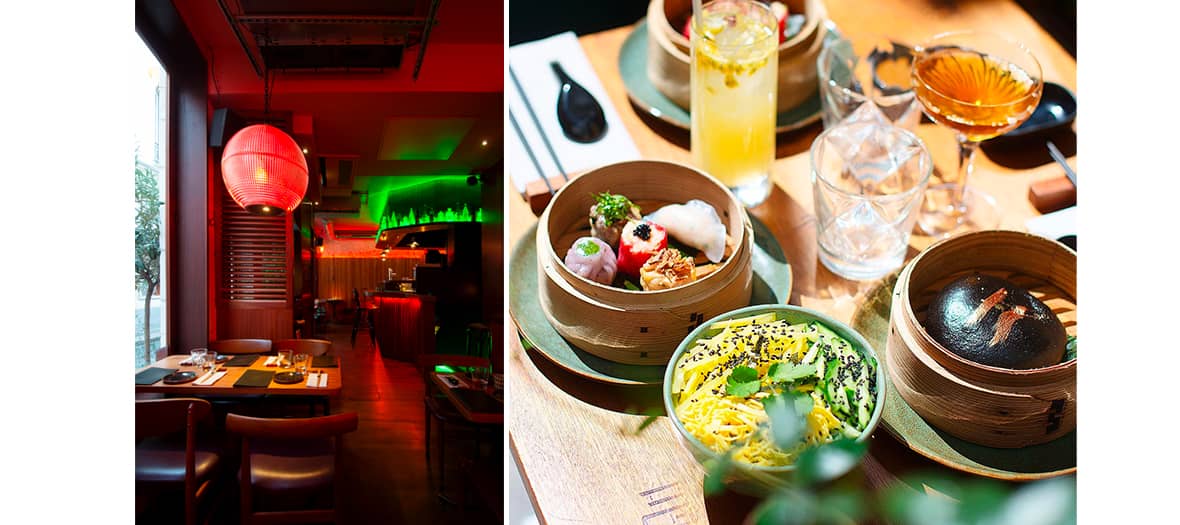 Lovers of Asian glamor will enjoy curling up in the cozy decor of the Steam Bar , a glamorous club like in Hong Kong… hidden in the heart of Saint-Germain-des-prés . A glamorous atmosphere worthy of In The Mood For Love emerges from this decor by Gabriel Pistre which mixes pop decor all in lanterns and neon lights and noble materials, without forgetting the cocktail bar which distills intoxicating potions such as the Cocktail Hong Kong Kiss (Cognac, Cointreau, kumquat, cinnamon, black pepper and lime).
To be tasted with the end of the chopsticks for a lunar dinner: spring roll, miso saté eggplant, prawn ravioli and the chef's extraordinary steams, siu mai with prawns, beef and pork, pork ravioli, eggplant hakao and Kanako gyoza.
Steam Bar, 2 rue Sabot Paris 6e
New Year's tasting menu, 65 euros, from February 1 to 6 by reservation .
In kitsch karaoke mode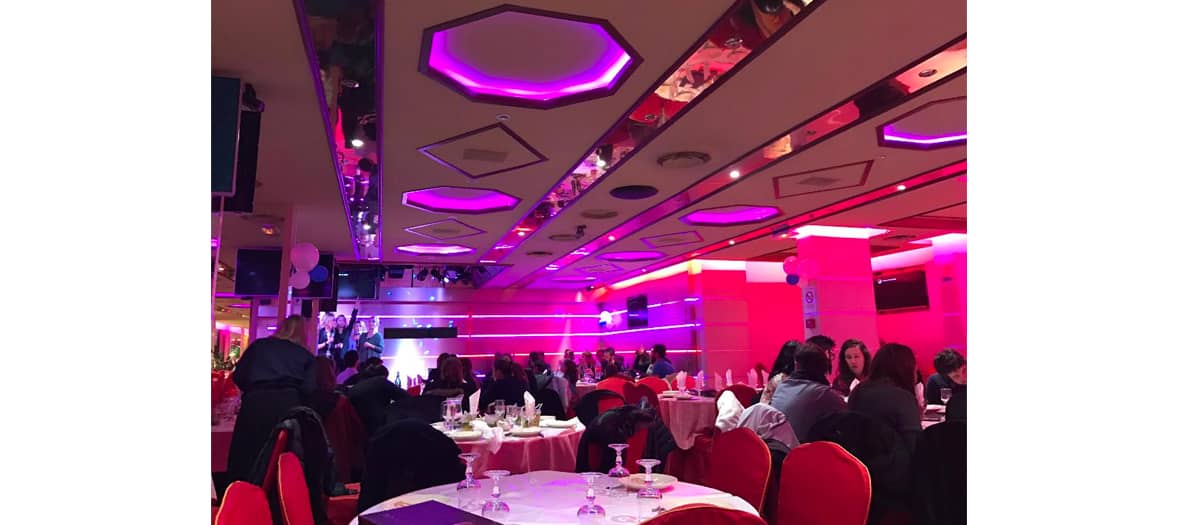 The pinnacle of kitsch, this is where it happens. Nestled in the heart of Belleville , Chinatown appears as the unexpected landmark of Parisian fashionistas, starting with Eugénie Trochu and the Vogue team, to sing loudly with girlfriends, microphone in hand in front of screens that broadcast you in the two huge rooms of the restaurant. Suffice to say the appointment lol to trust for this crazy evening.
Remember to reserve this often crowded spot, especially on a festive evening to settle in a group around the large round tables with a rotating tray to share all the Asian specialties combined (nems galore, steamed rolls, beef with onions, soup spicy, Cantonese rice, spring rolls, chicken curry) and choose your songs from a long repertoire as we like.
Open every evening, until 1:30 a.m. 27 rue du Buisson Saint-Louis, Paris 10th
Reservations: 01 42 39 34 18
On a signature street food market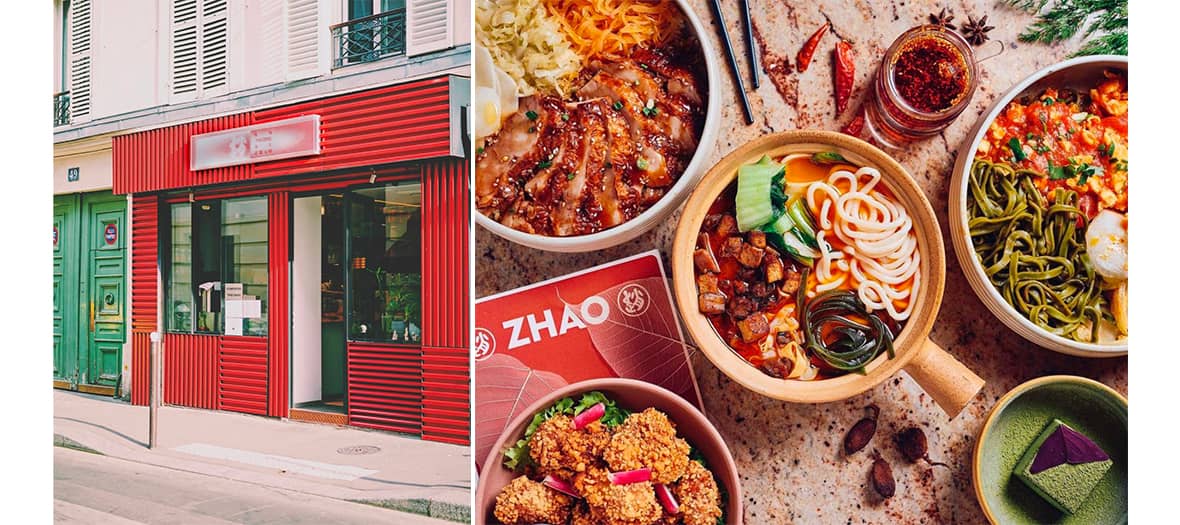 It's like being in the streets of Hong Kong or Shanghai ... Can you smell the crispy chicken and delicious steaming Peking buns? To celebrate the Chinese New Year as it should be, the essential Food Market team returns with its " Asian street food market " in Belleville , in collaboration with the pope of Chinese signature cuisine Mr. Zhao ( Taverne de Zhao & cie ) with the added bonus of the super lion dance parade.
To be devoured among the stands: a grilled suckling pig with spicy sauce, Jianbing Guozi, thousand crepe cakes with lychee or rose.
The Chinese New Year Food Market , meet on Thursday February 3 from 6 p.m. to 10:30 p.m. on Boulevard de Belleville, Metro: Couronnes and Ménilmontant.
In an ultra-trendy Chinese restaurant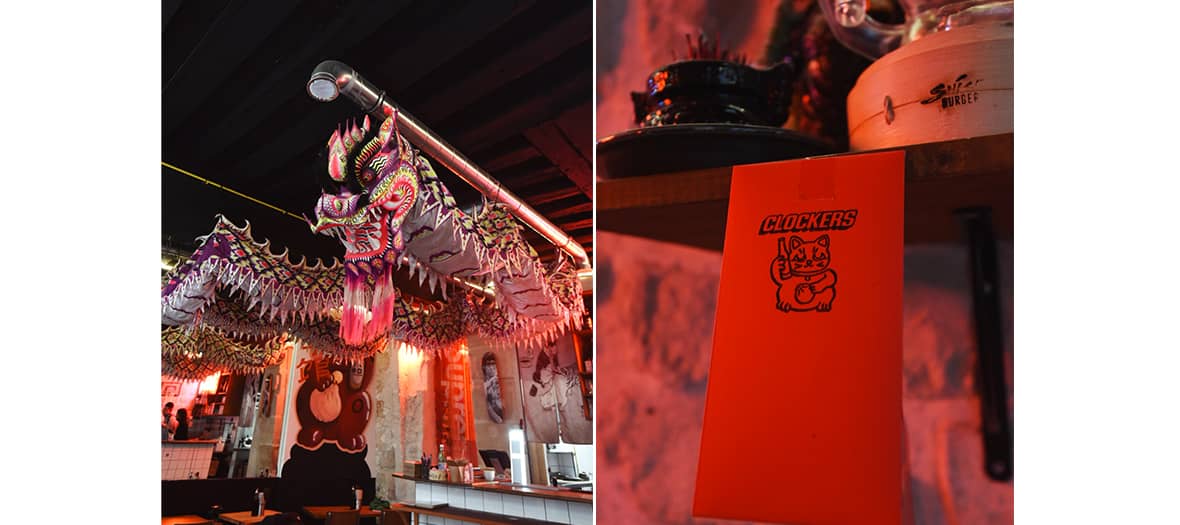 We go to Mao Dumpling , Adrien Zheng's ultimate street address where the stars of the Marais flock to celebrate the New Year with a new dragon on the ceiling by offering its customers the famous red envelopes with tickets from February 1 coupons including splurge gifts: dinner and goodies, but also t-shirts and trainers to be won at Clockers. The icing on the cake: a real demonstration of the lion dance , on Saturday February 5, specially organized by the restaurant.
Special dish to order: the assortment of house dumplings: cheddar jiaozis, pork with chives, ginger chicken and veggie (€36) without forgetting the Beefroll, a pancake roll of chives around braised beef, cucumber and coriander (€10) with stylish beers and cocktails like the Shanghai Mule (€12). And the really good bling dessert: the 24 Carat Gold Bun, a fried brioche to dip in milk jam or salted butter caramel (€5).
Lion dance on Saturday February 5 from 6.30 p.m. at Mao Dumpling , 28 rue de Saintonge, Paris 4th, 01 45 35 27 98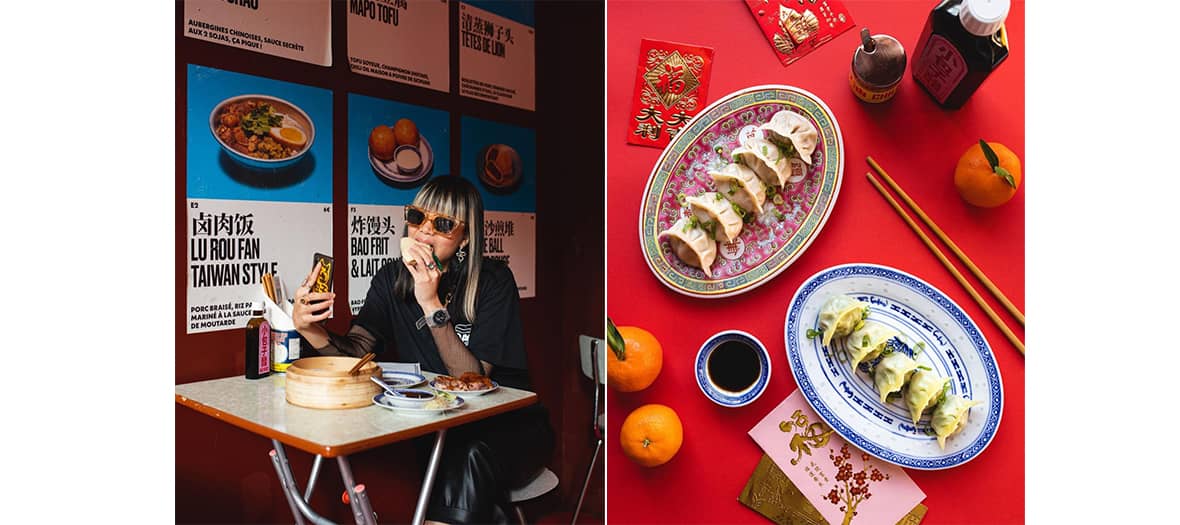 They are to Chinese food what Big Mamma is to Italian meals: a crazy and trendy success in a stunning setting with an ultra-fancy Parisian clientele. So when Bao Family celebrates the New Year, it's bound to be really cool with a great atmosphere. As guests: small simmered dishes for the occasion: jiaozi with beef and daikon radish, organic or veggie ginger (€7), the "lion's heads ", these famous meatballs of pork, shiitake and water chestnuts (€13 ), vapors with a hot broth inside, free-range pork, lobster, organic ginger (€15). For dessert: you must order the small balls of sweet sticky rice coated in sesame, mung beans and coconut (€5).
New Year's menu available Tuesday, February 1, served at Gros Bao , 72, Quai de Jemmapes Paris 10th, Petit Bao , 116, rue Saint-Denis Paris 2nd.
In royal feast mode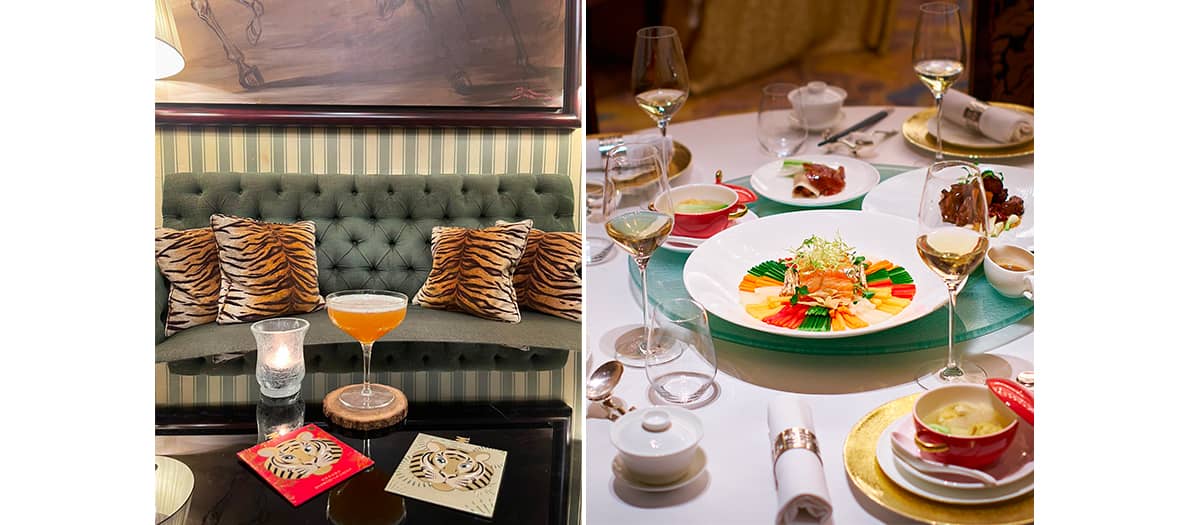 This is the experience to try once in a lifetime. For a festive dinner worthy of the great imperial families, we rush into the wow decor of the Shang Palace , the only starred Chinese restaurant in France, where the chef of the Shangri-La Samuel Lee deploys a menu with the most delicate dishes from the Cantonese repertoire... Among this feast, we will find the famous Lo Hei salmon sashimi which bring good luck, the cult Peking duck, the fabulous blue lobster sautéed with ginger and spring onions accompanied by noodles.
Good to know: for a chill experience in palace bar mode, we curl up at the botaniste bar around a Prancing Tiger cocktail (€28) accompanied by an assortment of dim sums (€58).
From Thursday January 27 to Tuesday February 1, 2022 at the Shang Palace by reservation .
10 avenue d'Iéna, 75116 Paris. Reservations on 01 53 67 19 92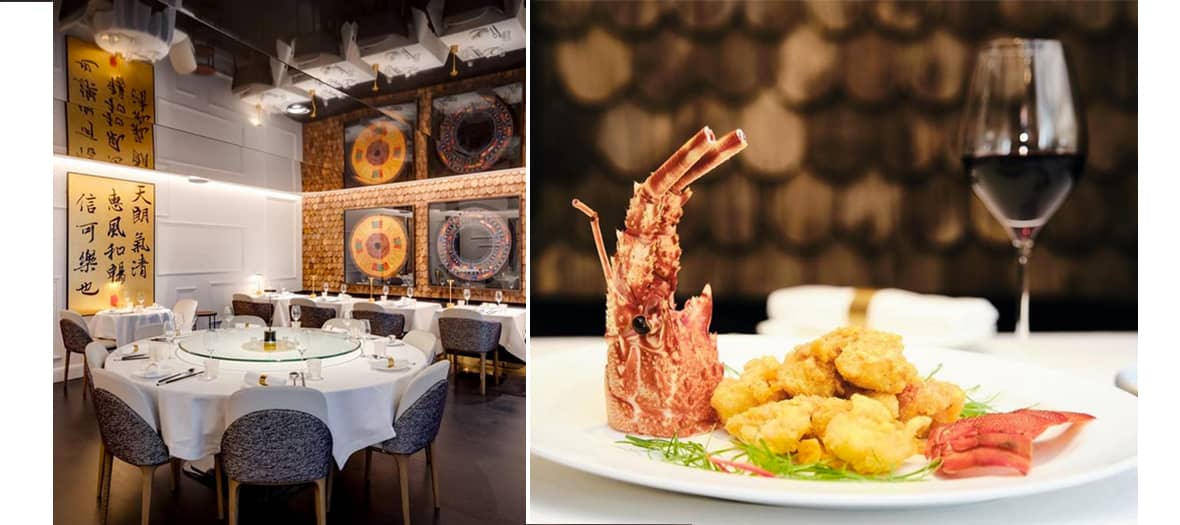 His traditional Peking-style lacquered duck is one of the dishes you won't forget. In the heart of the Golden Triangle, the Imperial Treasure gastronomic table restores its letters of nobility to the specialties of the Celestial Empire… and proves to be a refined cocoon to celebrate the New Year. On the menu, we find the xiao long bao with King Crab and its Siu Mai with black truffle cream, fried Gillardeau oysters accompanied by caviar or, therefore, the famous lacquered duck whose crunchy skin is dipped in sugar to curl up then in a bed of fresh cut vegetables to roll in a rice pancake. Before leaving, we collect the essential little red envelope that hides a gift...
Special Chinese New Year menu on January 31 and February 1, count €168 per person.
44 rue de Bassano, Paris 8th.
Foray into the real Chinatown of the 13th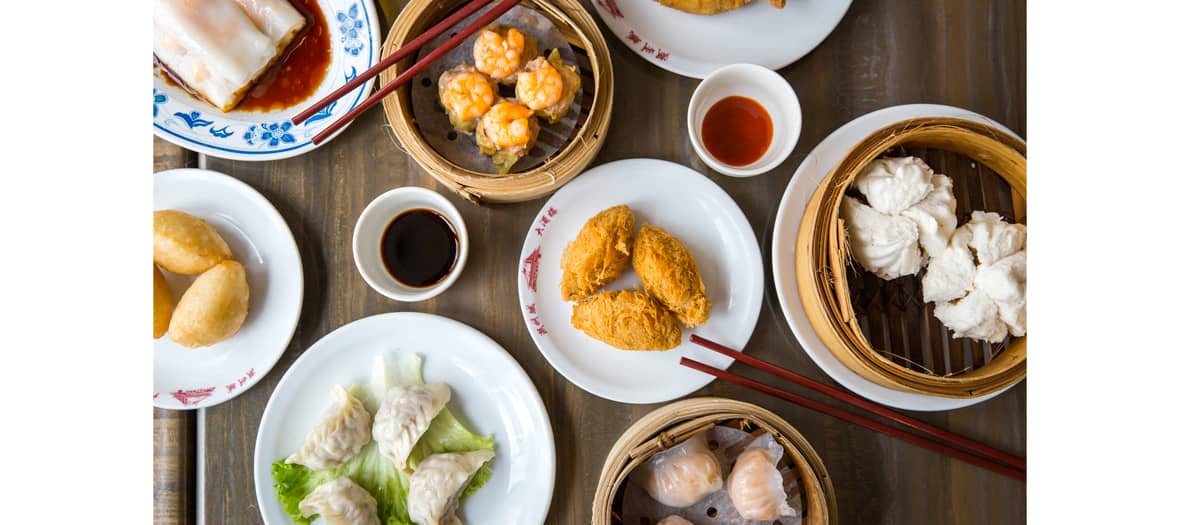 Impossible to dream of a more picturesque and exotic address to celebrate the New Year as in the Chinese community of the 13th which finds itself tirelessly at China Massena . This institution is a trip to the Chinese restaurants of Hong Kong with a luminous pink ceiling and the appearance of a family banquet hall and steamer carts.
What do we eat there? For the New Year, we arrive in smala to devour a lacquered piglet, lobster and dumplings. For those who prefer to order à la carte, the Beijing-style lacquered duck in three preparations (€68) remains a must. The little ones will love ordering and recommending these little baskets filled with varied and too yummy bites (vegetable and shrimp dumplings, siu mai, fried shrimp dumplings, pork or coconut buns for dessert), spin the central platter and run in the aisles to see the lobsters.
Open every day, noon and evening. Special New Year's menu on January 30 and 31 in the evening at 538 euros for 10 people, drinks and wines included at Chine Massena 13 place de Vénétie, Paris - 13th. Reservations on 01 45 83 98 88
Also discover the Valentine's Day dinners to order and Brigade du Tigre, the Michelin nugget to test urgently .