Even if it means remaining confined, all pretexts are good to party at home, particularly on February 12 to celebrate the Chinese New Year and the transition to the year of the buffalo .

Here we go: we refuel at Tang Frères or Paris Store in the 13th arrondissement to decorate your house with pretty paper lanterns, do the lion dance, dress well, but above all, we treat ourselves to good food, under cover of wishes for happiness and prosperity. Street, foodie or chic version: a small list of proposals that will change your mind.
In sharp foodie mode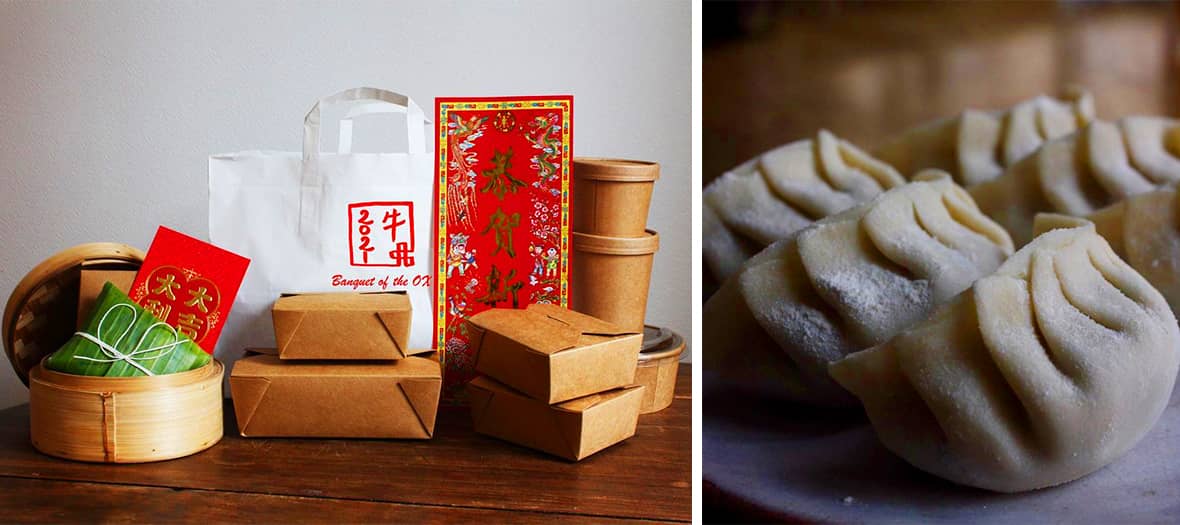 © instagram / banquetoftheox
Obviously, Adeline Grattard , the most disruptive star chef in gastronomy at her Yam'tcha table, caused a sensation with his dinner deal directly from his Chinese counter Lai'Tcha . Yum. On the program: turnip cake with Périgord truffle, " Lo Pak Ko ", pot of Saint-Jacques and special oysters with mushrooms, " Cour d'Armoise " chicken sautéed in Cantonese style and a ball of rice with black sesame and chocolate, osmanthus and ginger syrup.
Chinese New Year menu € 60 on Friday February 12 and Saturday February 13 to order and collect at Lai'Tcha, 7 rue du Jour, Paris 1er
The " Banquet of the OX " is an association of greedy criminals created to celebrate the Chinese New Year by six chefs, including Emily Chia , the brilliant chef of the Grand Bain in Belleville. Suddenly, we adhere directly to this box of egg kit for two people with, among other things, winter melon soup, Daikon radish cake, dumplings, sticky rice with vegetables, beef with 5 spices, fried wontons with peanuts, peanut pie. pineapple… Yum.
Order in DM or by email commande.ton.box@gmail.com to pick up by Click & Collect at Dame Jane, 39 rue Ramponeau, Paris 20th district or in delivery from February 11 to 15
Version street food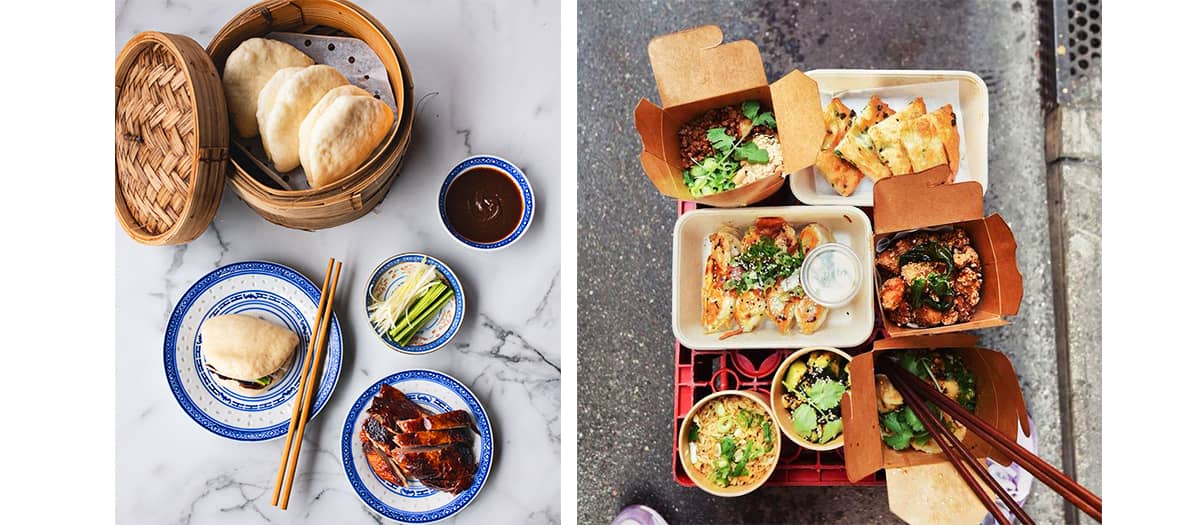 © CAROLE CHEUNG
© instagram/maodumplingbar
They are to Chinese food what Big Mamma is to Italian meals: a crazy and trendy success. So when Bao Family celebrates the New Year, it's inevitably cool with a guest star of a Peking duck with hoisin sauce and dumplings filled with lacquered duck to accompany it, for the original touch (18 €). The other equally effective option: the box (18 €) full of festive delicacies garnished with imperial pâtés, small cakes of fried radishes and ravioli which correspond for us to the galette des rois in the Empire of the Rising Sun.
Menu from Friday February 12 to Sunday February 14 to take away at Gros Bao ( 72 Quai de Jemmapes, Paris 110e) , in click & collect via Bao Family and available on Deliveroo .
The alternative ? We go to Mao Dumpling , the ultimately street address of Adrien Zheng where the stars of the Marais flock to celebrate the New Year by offering their customers the famous red envelopes with coupon tickets including gifts, goodies and t- shirts to be won. Special dish: an assortment of 4 house dumplings: cheddar jiaozis, pork, chives, ginger chicken and veggie (€ 36 per tray for 4 people). Not to mention the Mao Dog (€ 10), a chive pancake roll around a beef sausage and omelette. And the bling dessert that's too good: the 24 Carat Gold Bun, a fried brioche to be dipped in milk jam or salted butter caramel.
From February 11 to 13 in click & collect at Mao Dumpling Bar , 28 rue de Saintonge, Paris 4th or on UberEats for delivery
The small dishes in the big ones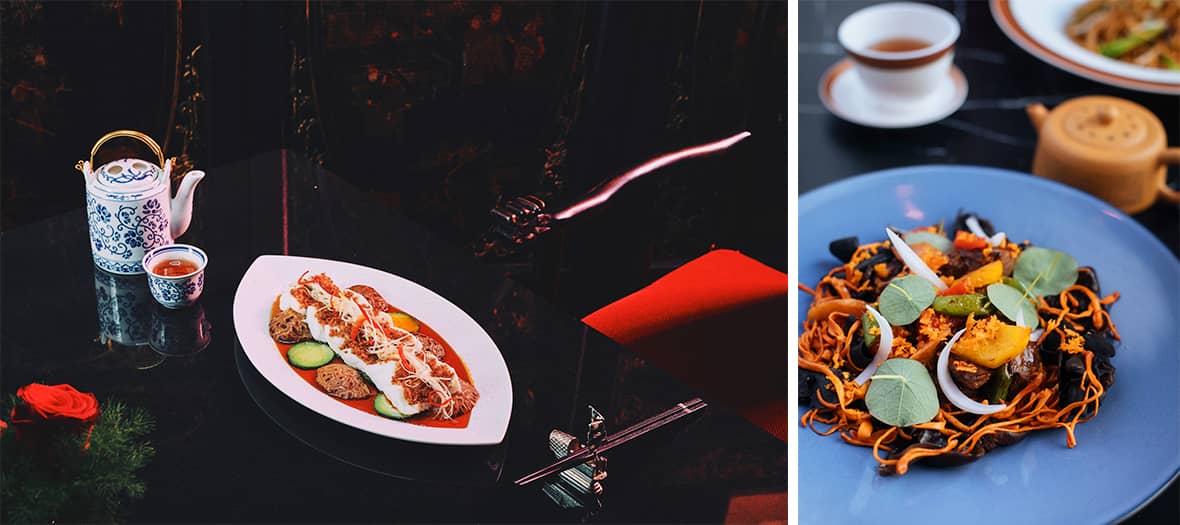 © The Peninsula
We no longer present Tsé Yang , an address as cult as it is delicious in Chinese gastronomy which, for the year of the buffalo, relocates its festive menu at home worthy of traditional meals in large families. In this case: chicken appetizer with oriental spices, smoked soy mille-feuille stuffed with mushrooms, sea bream fillets sautéed in a wok with crunchy vegetables served with Cantonese rice. And coconut pearls with soy cream to complete the whole.
45 € per person. Orders on 01 47 20 70 22. Pick up in click & collect at Tsé Yang , 25 avenue Pierre 1er de Serbia, Paris 16th
For a wow dinner and a contemporary grand restaurant experience, Dicky Tole , the Hong Kong chef of the Peninsula le Lili's gourmet table, signs a 5-course lunar feast (120 €): tofu skin in crispy pancakes, braised cod fillet in casserole dish and Hoisin sauce, Charolais beef sautéed Kung Pao style and citrus creamy with orange blossom, kumquat and caramelized pine nuts.
From February 11 to 13. Reservations online or by phone on 01 58 12 28 88. Free delivery in Paris and the suburbs or by click & collect at the Peninsula, 19 avenue Kléber, Paris 16th
Also discover the Valentine's Day dinners to order and Tiger Brigade, the Michelin nugget to be tested urgently .