You adored Grace & Frankie, the two funky 70-year-olds on Netflix, fasten your seat belts: the streaming platform is coming out with its masculine version, The Kominsky Method, a very amusing sitcom with Michael Douglas and Alan Arkin, as stylish grandpas with scathing humour. Old age is a shipwreck? Tsssss… Politically incorrect and resolutely feel good: probably the funniest thing to watch on screens at the moment.
Ex-glory of Hollywood, Sandy Kominsky (Michael Douglas, 72 years old, with his wrinkles and greyish hair of incredible charm) reconverted as coach for actors is confronted with the issues of getting older, along with his best buddy Norman Newlander (the excellent Alan Arkin from Little Miss Sunshine). While the latter is trying to get over from the death of his darling wife Eileen and yet another rehab of his daughter Phoebe (Lisa Edelstein, mythical as a high strung 40-year-old, stoned 7/7), Sandy is rejuvenated by Lisa, his 50-year-old crush (a young chick!). But watch out for an iffy prostate …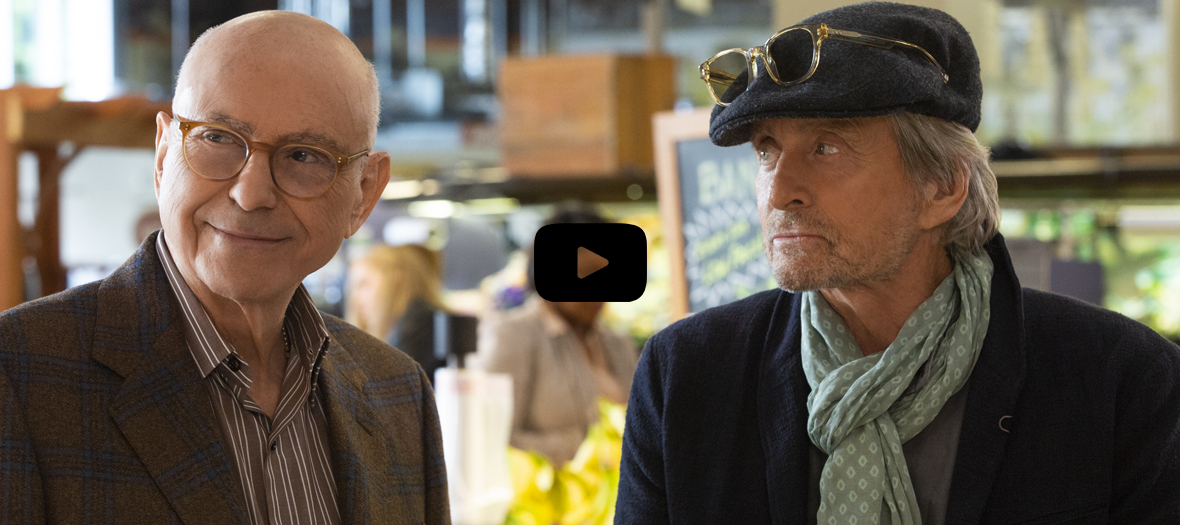 So just imagine the tragi-comical potential of this pitch. Between a euphoric funeral (with a gospel chorale and a Barbra Streisand drag queen, there is lots of action) as well as a memorable consultation at the urologist (played by Danny de Vito, that priceless old hand): hilarious continual cult scenes. Ageing, yes, but with panache!
The comical genius of Chuck Lorre, the father of The Big Bang Theory
Behind this off-beat show, the boss of the US sitcom: producer and scriptwriter Chuck Lorre: Dharma and Greg, My uncle Charlie, Disjointed and mostly the box-office hit The Big Bang Theory (250 episodes) and his prequel Young Sheldon. His secret: a faithful balance between clever dialogues and scenes with rare emotion. Or how to jump from laughter to tears in two seconds. Because behind its seemingly lightness, this not so fuddy-duddy series tackles taboo subjects without any filters (sickness, death, senior sex). All without any vulgarity or pathos. Bravo.
Verdict: a real fountain of youth
Euphoric, tender, funny… a great series that boosts the morale and confirms the saying: the best jams are made in old pots!
Coming out the 16th of November on Netflix.
Also discover season 3 of Dix Pour Cent back on France 2.