When hair is dull, stringy or with broken ends, a good in-depth treatment is the saving step before scissors go into action. With their keen sense of sacrifice oblige, the editorial team accepted to try out these four incredible capillary protocols that will bring back hope to all those who are depressed by their hair condition.
Hovig Etoyan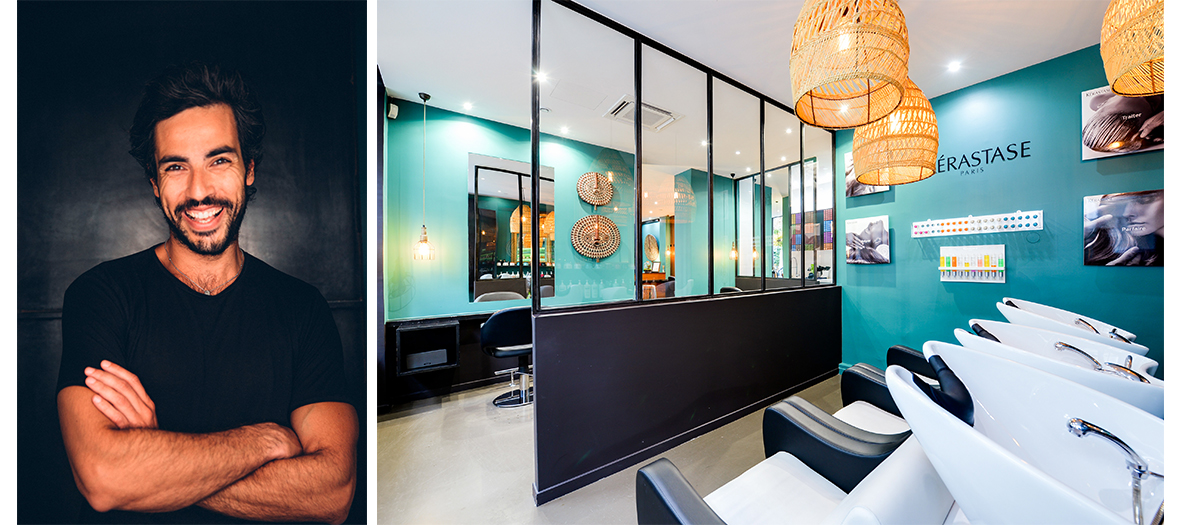 We go there for: the new absolute signature treatment by Hovig Etoyan.
Of Lebanese origin, Hovig Etoyan spent his childhood observing the women of his family getting their hair done and chatting in the hair salons. From this he developed a passion for great looking hair and opened in 2016 his own address in Saint-Germain-des-Prés. The novelty? A Kérastase protocol in four steps that gives a new life to tired manes.
First a diagnosis is established by filming the scalp ("These are the residues of your dry shampoo!") and by answering a questionnaire on what you expect from the treatment. Then, the hair is cleansed from all its impurities (pollution, dust) with an energizing scrub. Hair is ready to receive the mask, before being placed under a huge ultra high-tech large cap filled with steam, that looks quite silly. Scales open up wide and absorb the moisturizing mask during about 20 minutes. Still wet, you hair looks incredibly soft and the treatment ends with the application of a radiance serum applied on the root. After the blow dry, the mass feels light, ultra-soft with a visible effect lasting up to three.
Hovig Etoyan Absolute Treatment, 1h30, starting at 130 euros
Hovig Etoyan, 11 Rue Coëtlogon, 75006 Paris
The Leonor Greyl Institute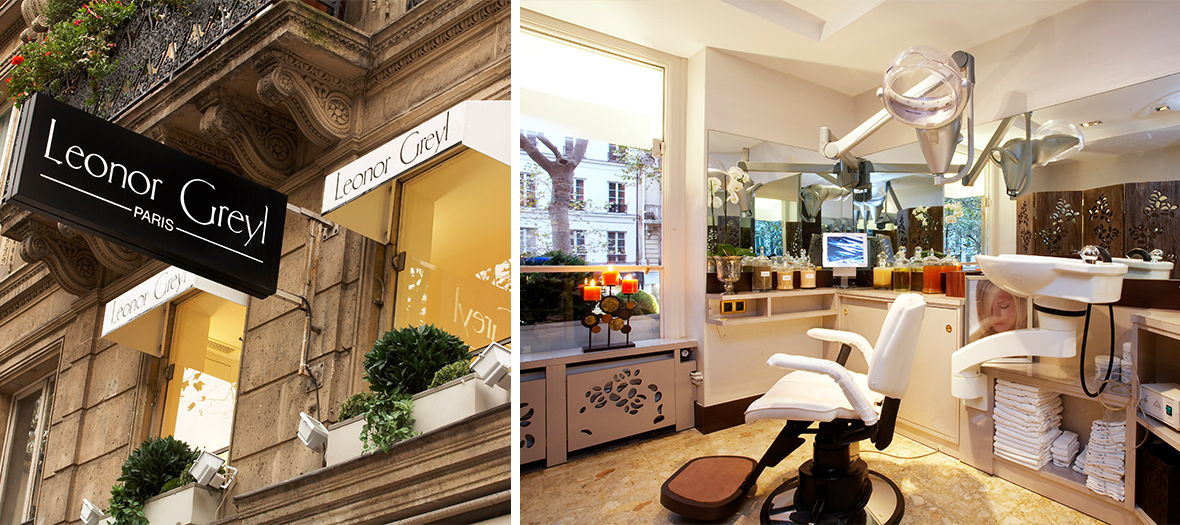 We go there for: an in-depth customized treatment.
At the heart of Paris, a real spa dedicated to hair with two nice cabins where the protocols are undertaken by hair experts with natural active ingredients adapted to each problem: anti-age, anti-loss, repair or to revive colour. After a diagnosis made thanks to a camera that enlarges the size of the hair 200 times, the expert chooses the most adapted protocol.
The treatment can begin with the application of a personalized cataplasm and a succession of divine massages that will boost microcirculation, repair and reinforce the capillary fiber. The result is a handsome and supple hair.
90 minutes, €95 to €150  depending on the length of the hair, with styling included
Institut Leonor Greyl, 15 Rue Tronchet, 75008 Paris
Le 4 maison de Coiffure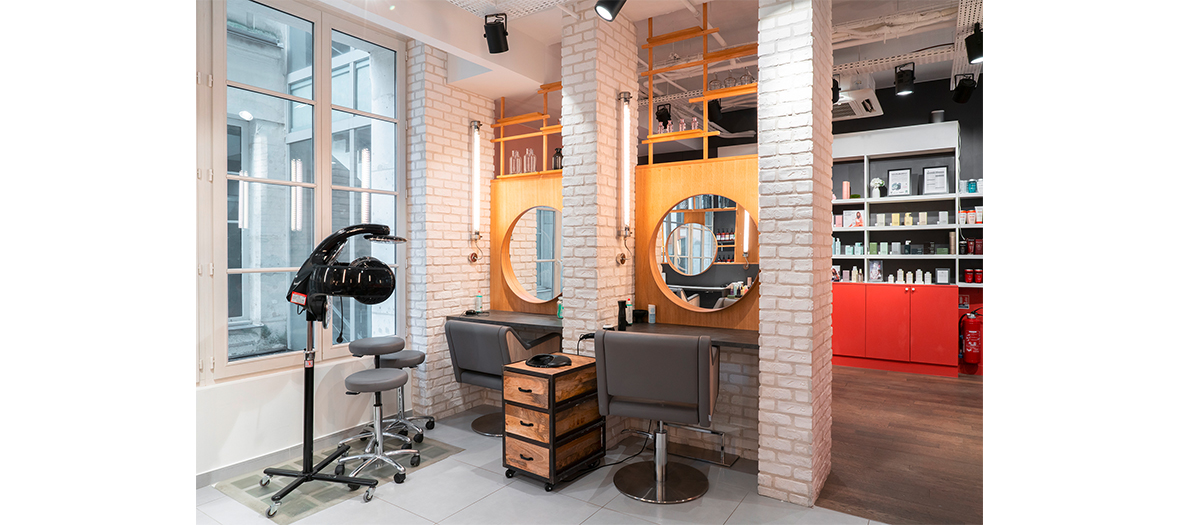 We go there for: a relaxing and detox treatment signed Davines.
Even if Mehdi, the house maestro, is mostly a hair specialist with a few years spent at Christophe Robin, his pretty salon at the heart of the 11th also happens to be a real hair spa. Two treatments are offered here: a half-hour one dedicated to lengths and another more complete one, with extra work on the scalp. After a wonderful massage of essential oils that helps you to relax, Mehdi looks at the state of your hair to determine the adapted protocol.
The treatment starts with a scrub shampoo to eliminate all the impurities and residues from products accumulated on the scalp and the ends; then a serum is applied to open the scales and allow the following treatment applied as a mask and filled with keratin for better penetration right to the heart of hair. Result: superb hair, detoxified and repulped for several months.
Classic treatment €25  ½ hour on the ends, deep treatment €35  for 1 hour on the scalp and ends
Le 4 maison de Coiffure, 4 Rue de la Pierre Levée, 75011 Paris
Burgundy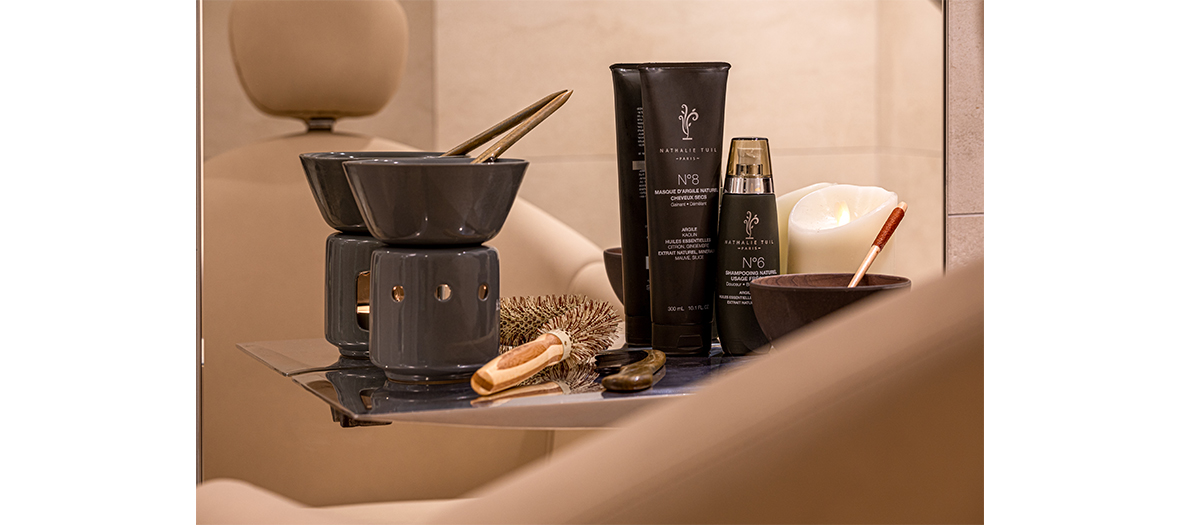 We go there for: The hair treatment by Nathalie Tuil Paris©.
To expand her amazing vegetal treatment, the most natural of Parisian hair dressers, aka Nathalie Tuil, decided to train a team of beauticians from a deluxe hotel—at the outset not at all hair expert. So, the 5 star Le Burgundy welcomes since September a small hair dressing salon in order for its faithful clients and others to try the treatment.
The idea? Detoxify hair by removing all traces of chemical products that are present in ALL the shampoos and treatments purchases in supermarkets (sob, sob !). Strand by strand on dry hair, white clay is applied on all the scalp and lengths. A chignon is formed and we suddenly look like a statue. While your mane is being cleansed in depth, you take advantage of the expert hands of the beautician for a very relaxing skull and shoulder massage. Joy. The treatment ends with two shampoos to rinse off the material, now freed of all impurities, followed by a last nourishing treatment. Only small issue, the hair is simply worked on with a hair dryer since the girls are not blow dry pros. Not a problem since natural drying is highly recommended: "The less it is solicited, the better hair does!". Strong point when coming out: the smell. Hair smells nice and clean for days, impossible to stop sniffing it.
Nathalie Tuil at Spa Le Burgundy, 30/45min treatment starting at €110, complete treatment 1h15/30 starting at €210
6-8 Rue Duphot, 75001 Paris
Also discover Sources, the new clean boutique of the 4th and the best hairdresser in Paris