Pushing open the door at Rose Bunker, is a little like skipping back in time: here all creations are unique, and elaborated from period pieces either second-hand or recycled materials.
Result, we find ourselves in a vintage /Ali-Baba tavern ideal to find a special gift, since they run a wide gamut of choice: a first generation Minitel, 125 euros; an old sewing machine, 49 euros) as well as the most zany items (frames in recycled jerry cans, 15 euros; coat hanger featuring kids books from the bibliothèque verte, 29 euros).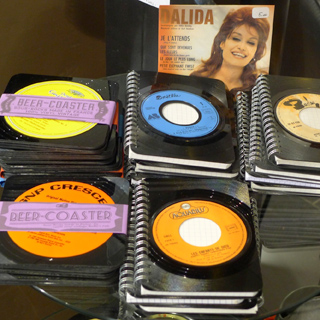 We like : the dishware at 2 euros each, Duralex cafeteria glasses for 5 euros, a vintage tea set for kids at 49 euros, the old Formica buffet (280 euros)… in other words, a serendipity of choice!
The ideal address for vintage loving bobos, where each object that has gone through the expert hands of Eric, creator of the brand, magically becomes a unique fashion and decor accessory. Vintage, we agree, but so beautiful !