Green is the new black. More than a trend, in Paris and elsewhere, ecology and environment have reached the rank of lifestyle. Ready to join the movement?
Goal: zero waist
At The Naked Shop, first boutique specialized in liquid products sold as bulk, the war against plastic is declared in an adorable wood concept-store installed at the heart of bobo land: Oberkampf.
Neither palm oil nor coloring, or preservatives, even less petrochemical offshoots—everything is clean and Made in France. Here, the name of the game is the local spirit since the idea is to count kilometers, the distance to reach each supplier is even displayed in the boutique.
Hurray for chic bulk: containers in minimalist and sophisticated glass are particularly sexy and desirable. Same combat for ultra trendy products, sourced amongst the top green artisans.
How does it work?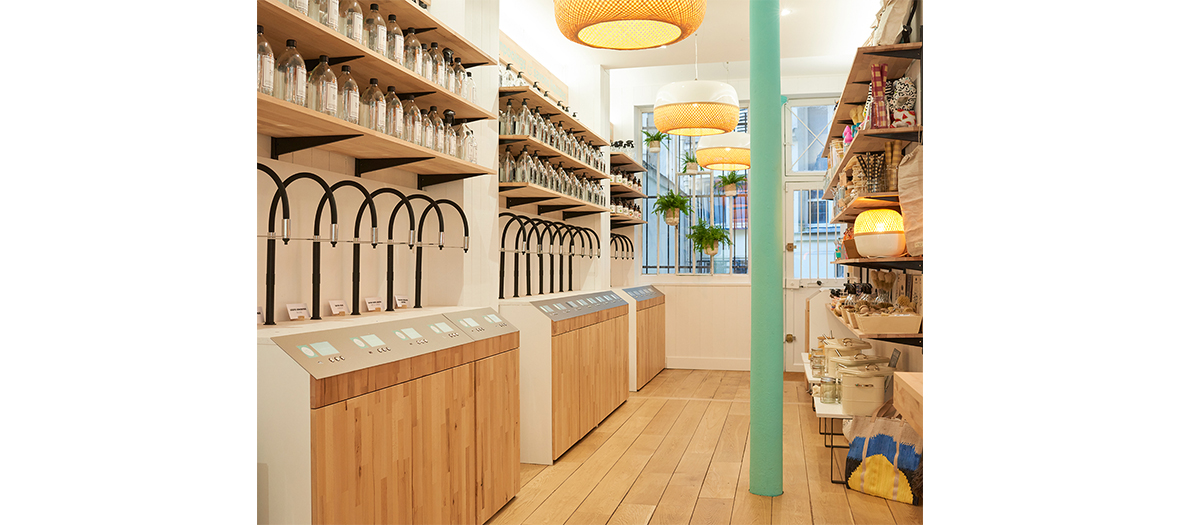 In total, more than thirty automatic high-tech automatic dispensers — a little bit in the spirit of draft beer taps— that deliver household supplies and body treatments over the counter.
So serve yourself in lime green dishwashing liquid (€5,9/litre), red fruit clothing detergent (it really smells wonderful… €7.9 /litre), honey shampoo (€14/litre), coconut oil (€19/litre), eucalyptus essential oil (€6/10ml)…
Liquid… But also solid. Here, one also finds super trendy solid shampoos like the one with coconut milk for dry hair (€12) but also makeup removal discs to say goodbye to disposable cotton (€14.9) or a rechargeable toothbrush in Caliquo wood, conceived to last a lifetime (€30)...
Only must, bringing your own container. You zapped? The Naked Shop has set up a consignment system with glass bottles that can be used as long as you wish. The day you return the bottle, we will reimburse you its price.
Also discover the best Hammams and saunas in Paris
Naked Shop, 75 Rue Oberkampf Paris 75011