It's the high mass of cool finch: the Fooding guide is coming out this evening (€ 15). This is an opportunity for the disruptive gastronomic guide to deliver his new favorite addresses throughout France and to award prizes to the best ...
For 21 years, Le Fooding has unearthed, before anyone else, nugget places, inns and tables of madness to the taste of the time. The opportunity for Christine Doublet, editorial director, to decipher their annual list.
Auberge de la Roche in Valdeblore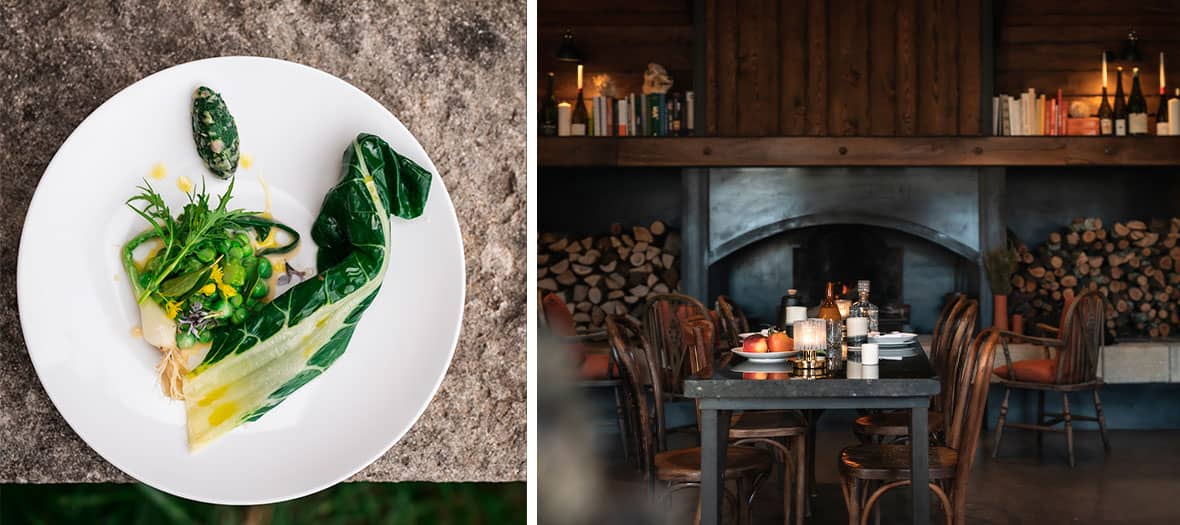 The pitch. If there was only one trip to be had this year, it would be this one. A place that combines praise and prizes: both best table of the year and best room. Located at the foot of the Mercantour , 1 hour from Nice, the Auberge de la Roche has been restored by Mickaëlle Chabat with her husband, the Quebeck chef Louis-Philippe Riel ( Bistrot Paul Bert and Le 6 Paul Bert ) and the toque vibrant Alexis Bijaoui ( Blue Hill in New York, Relae in Copenhagen, Alain Passard, Garance) The bet? " A large dining room articulated around a sublime freestone fireplace, where the two chefs concoct a menu shot."
Why do you absolutely have to go? " They deserve 2 prizes in one! In itself: it's the coolest bed and breakfast of the year: you sleep with an insane view of the mountain, a stove or a real fireplace in your room, with small cookies and super herbal teas that you will love. wait ; an insane bathroom, not to mention the crazy breakfast (brioche, granola, homemade sausage is phew, mmmmh) before going for long hikes. On the other hand: it's the best table of the year where we come in basketball and we dine in front of the fireplace with a crazy playlist. It's super simple and sophisticated at the same time. I have fond memories of candied celery served with sabayon. A madness. Frankly ? I only dream of one thing: to go back there when it snows, "admits Christine Doublet .
Count 50 € minimum for lunch, rooms to p. from 330 €. Open from Friday evening to Monday evening, from 12:30 p.m. to 1:30 p.m. and from 7:30 p.m. to 8:30 p.m.
Auberge de la Roche , La Roche, 06420 Valdeblore, Mercantour, 04 93 05 19 07.
Auberge Sauvage in Servon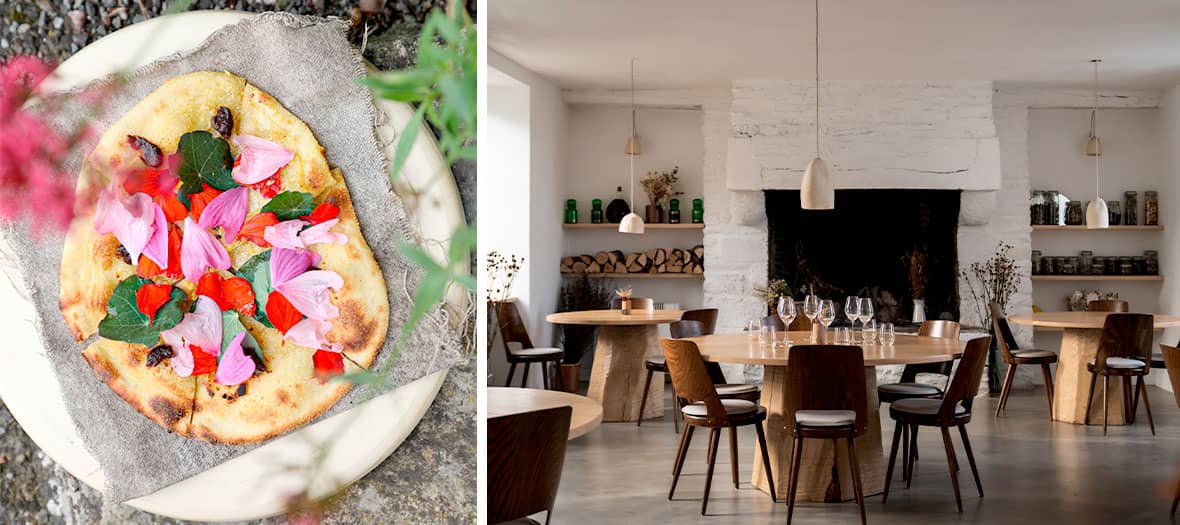 The pitch. Ten kilometers from Mont-Saint-Michel, Jessica Schein and Thomas Benady perform a formidable locavore score in their Auberge Sauvage dressed in wood and white and won the Fooding d'Amour prize.
Why do you absolutely have to go? " It's the dream place that remains very affordable for a little foodie weekend (even without a car: we go by TGV to Rennes then towards Pontorson). This small hostel of 3 ultra-charming rooms was opened by a young too cute couple 15 minutes from Mont Saint-Michel, in a rural village in the middle of nowhere with little brekkie Madness: bread and homemade butter, jam from the garden ... She manages the rooms, the service and the wine. He is behind the stove. In the evening: Jessica and Thomas serve a tasting menu in "vegetable garden to table " mode which is too good. They even go out during dinner to look for small herbs in the garden with the headlamp. The cuisine is simple, delicious, super modern, very plant-based with small quantities of fish (sustainable catch that comes from the bay) or meat. They are very flexible ", explains Christine Doublet.
From 36 to 50 € for lunch, and dinner with tasting menu on p. from 45 €. Open from Thursday to Monday, between 12 p.m. to 1:30 p.m., and from 7:30 p.m. to 9:30 p.m.
Auberge Sauvage , 3 place Saint-Martin, 50170 Servon, 02 33 60 17 92
© Anne claire Heraud, Aurore Nguyen and Jessica Schein
Livingston in Marseille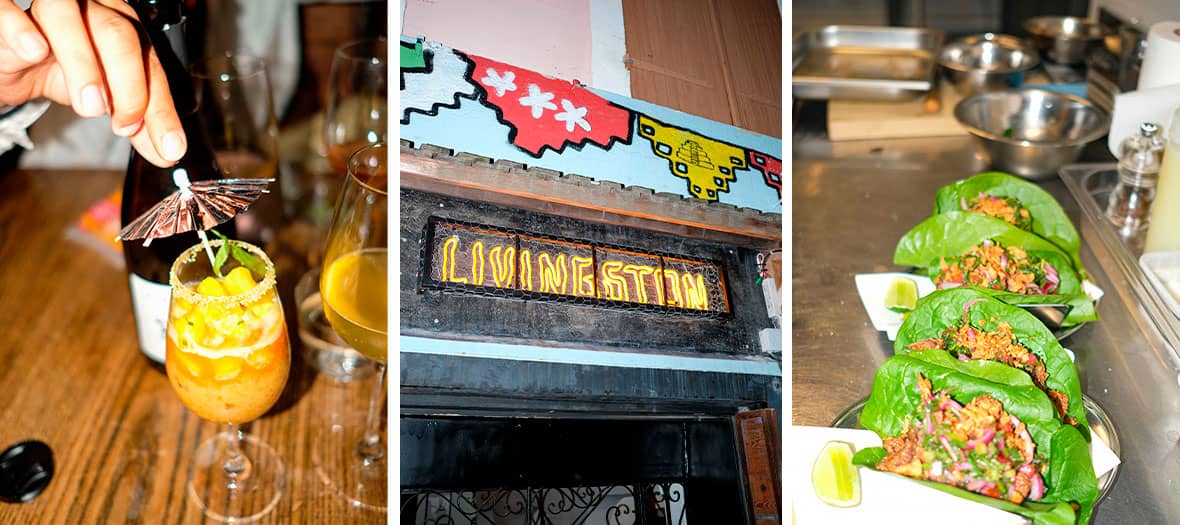 The pitch. The first orange wine bar in Marseille opened by Laura Vidal, Harry Cummins and Julia Mitton (La Mercerie), with the young Valentin Raffali on the Cours Julien.
Why do you absolutely have to go? " We had not awarded the Bar à Délices award since Déviant in 2018, to tell you how cool the address is! It really is the best place for a night out with friends with a great atmosphere, great wines and great food. Really, chef Valentin Raffali never rests on his laurels, changes the menu every day and imagines the best we can eat when we drink shots: croquettes, focaccias with stracciatella and truffle, fried peppers. For the record: the trio of La Mercerie created a residence at Le Chardon in Arles this summer with this young demented chef. It went so well that they perpetuated the thing by opening a wine bar all together in Marseille while keeping the facade of the old bar which must have been Mexican with too cool characters. In short: it's always armored, so you have to remember to book! ", Advises Christine Doublet.
Between 16 and 35 €. Open Wednesday to Sunday, 7 p.m. to 11:30 p.m.
Livingston , 5 rue Crudère, 13006 Mars eille, 04 96 10 00 00
© Adrian Bautista
Pizza stick in Perpignan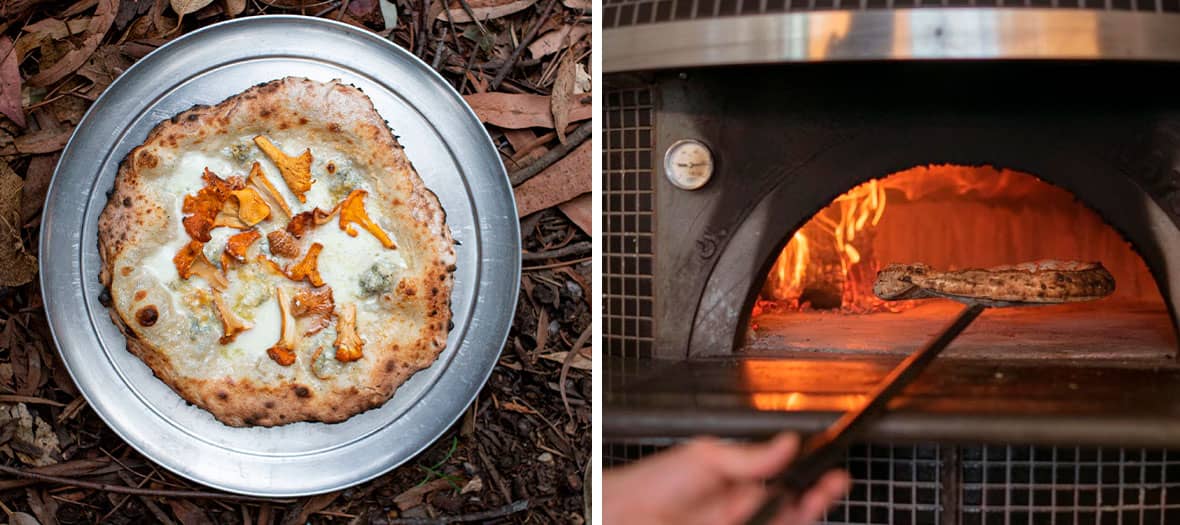 The pitch. And the best pizza in France can be eaten in… Perpignan, in slowly fermented sourdough dough, golden at 500 ° C, prepared by Bastien Beaudouin ! To be enjoyed under an umbrella pine in front of the Tet or in the imposing room with immaculate tiles.
Why do you absolutely have to go? " They are open every day, and even on Sunday evenings in Perpignan, there is an incredible atmosphere. The room is built around the oven surrounded by a huge bar where people sit and drink shots (there is an incredible natural wine list with 400-500 references) while waiting for their Neapolitan pizza made with great local produce . There are the great classics ( Margarita, Spicy ) but also seasonal pizzas such as chanterelle mushroom pizza in autumn… or yellow tomatoes and anchovies in summer. In fine weather: there is also the terrace which overlooks the Tet, the river in Perpignan. "
Between 16 and 35 €. Open Wednesday to Sunday, 7:30 p.m. to midnight.
Baston , 72 avenue Louis Torcatis, 66000 Perpignan, 06 02 12 20 80
© the social food and © Instagram / @bastonpz
Baston in Bordeaux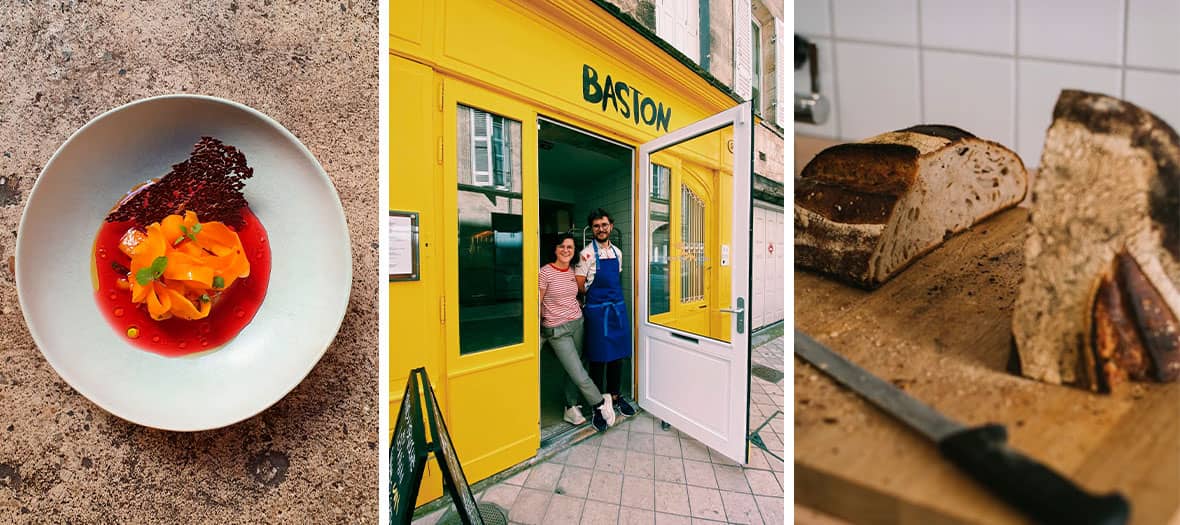 The pitch. Behind a chick yellow frontage hides a bakery-canteen with minimal decor where Pauline Celle and Julien Borie delight their world morning, noon and evening.
Why do you absolutely have to go? " The place is in" the "street with the coolest restaurants and terraces in Bordeaux in a row behind Bibi, Le Charabia . She is a baker. He is the chief. It looks like the back room of a bakery: everything is white with bread ovens and shelves full of loaves of bread. If you are passing through Bordeaux, you can stop by at any time to find what you are looking for. In the morning, you can buy focaccias , large loaves of bread , an incredible homemade sandwich for a picnic at lunchtime or a good table for dinner in Bordeaux . In the evening, they light up the neon lights and the place turns into a real restaurant with a selection of ten small plates and dishes. Me, I had an incredible rib of pig with good small wines ", analyzes Christine Doublet.
Between 16 and 35 €. Open Tuesday to Saturday, between 12 p.m. and 2 p.m., and 7 p.m. and 9:30 p.m. (bread from 10 a.m.).
Baston , 50 rue du Hâ, 33000 Bordeaux, 05 57 83 77 10
© Maxime Morcelet © Julia the gourmet break and © Baston
Micro Sillon in Lyon and Sillon in Biarritz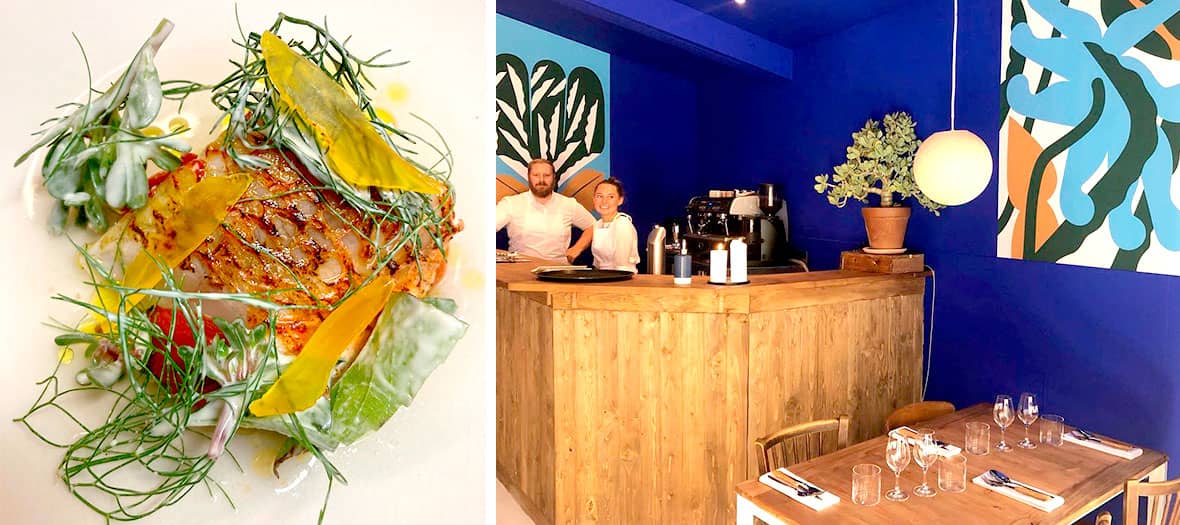 The pitch. " Three years after turning off the stoves at his table in Lyon, the virtuoso Mathieu Rostaing-Tayard has traced his route and his Sillon on the Basque coast , in a cocoon ripoliné with Majorelle blue. In Lyon , he delights in high-taste, micro-adapted cuisine in his new barav ', which is expertly managed by sommelier Joanna Figuet . "
Why do you absolutely have to go? Mathieu Rostaing-Tayard has already had a Fooding award with the Sillon café, which he has since closed, before opening two restaurants. In this difficult period for restaurateurs, the chef is not abandoning Lyon, but supports and highlights his former sommelier Joanna. We enjoy ceviches , dips , super cold meats and cheeses . In Biarritz, where he has just arrived, he works, reopens it in January with his real signature cuisine and all the local products. In short: this is the address that must absolutely be tested in the Basque country in 2022!
Sillon , 2 rue Jean Bart, 64200 Biarritz. From 36 to 50 €, open Monday from 10 a.m. to 2:30 p.m., and Thursday to Tuesday from 8 p.m. to 11 p.m.
Micro Sillon , 6 place Fernand Rey, 69001 Lyon. From 16 to 35 €, open from Thursday to Monday, grocery store from 2 p.m., cellar from 6 p.m. to 11 p.m.
© Instagram / @sillonbiarritz
Method in La-Couarde-sur-Mer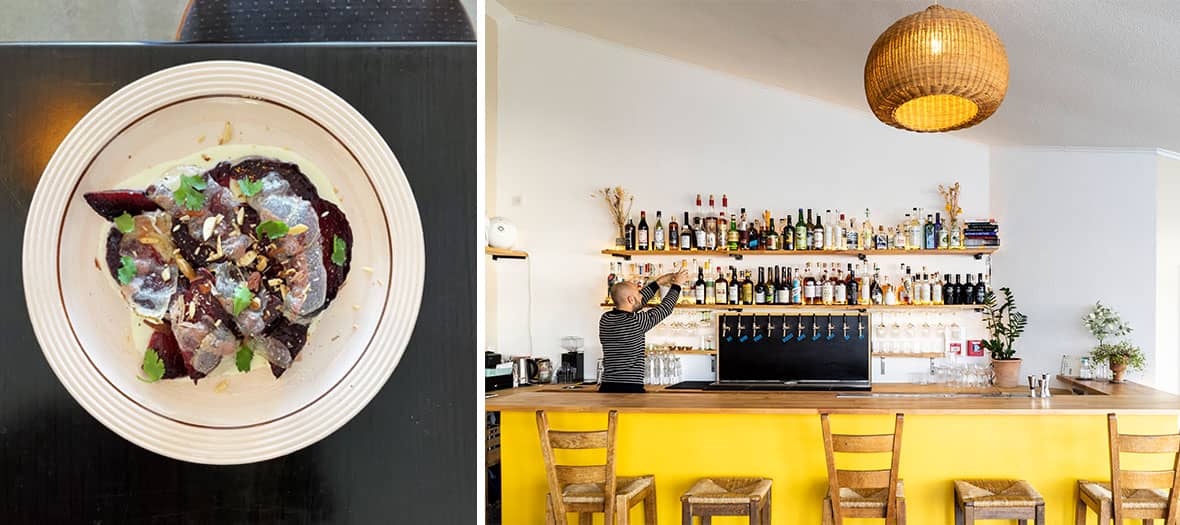 The pitch. Who would have thought that the best author's bar of the year ... would be posted in front of the market in La Couarde-sur-Mer, on the Ile de Ré where " Tristan Rainteau has lined up six carefully sourced creations "?
Why do you absolutely have to go? " Finally a place worthy of the name to have a drink on the Île de Ré. It is one of the rare cocktail bars in France that does a job of sourcing alcohol from small independent producers with the same precision as in food. My choice would go well towards his " Vieux Normand ": calvados, Catalan vermouth, fig leaf liqueur ", recommends Christine Doublet.
Count 12 € for a cocktail. Open Tuesday to Thursday, from 12 p.m. to midnight, and Saturdays and Sundays from 12 p.m. to 2 a.m.

Method , 21B avenue le Mail, 17670 La Couarde-sur-Mer. 06 11 20 92 30
Sun in Savigny-lès-Beaune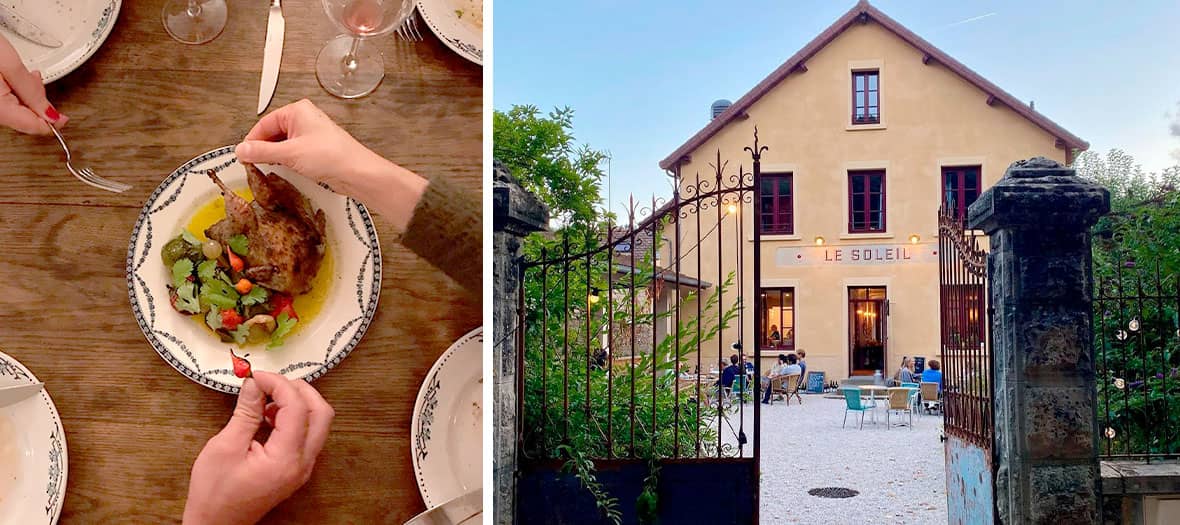 The pitch. In the " best antidepressant " category, I ask? Le Soleil. " The boiling Lola Taboury-Bize has returned to the old house next to the family vineyard for a dry gossip! Outside, a terrace infused wild groves, in a room with tiled bar barrel staves and subway tiled kitchen, where the Head Laila Aouba (former Yard in Belleville) string-filled tapas siettes delicacy. "
Why do you absolutely have to go? " It's extremely charming in a small yellow cottage with a dining room with an open kitchen. The ideal trip for a short weekend in Beaune, to feast and chill after a visit to the hospices. I had a magical time in the courtyard, in the sun. Everything is fresh and there is something for all appetites. Small hunger for me with two very good starters: smoked trout with a small fennel salad, and a very milky mozzarella with cabbage and sardines before a great chocolate tart. The guys next to me were eating huge schnitzels that looked crazy, "says Christine Doublet.
Open Mondays and Thursdays from 6 p.m. to midnight, Fridays and Saturdays from noon to 2 p.m. and from 6 p.m. to midnight, and Sundays from 12 p.m. to 6 p.m.
Le Soleil , 1 allée des Tilleuls, 21420 Savigny-lès-Beaune, 03 80 20 21 02
© Instagram / @ entre_3000 and @ le_soleil_savignylesbeaune
Also discover Yakuza, the new Japanese table that rivals Nobu and a journey at the Luz Grand Hotel