Ordering a burger presented under a silver dome, comfortably installed in a suite, wearing a fluffy bathrobe… A deluxe dream come true.

If most restaurants and hotels are closed, room services are working around the clock! An enticing alibi that just might encourage Parisians to let go of the kids, husband or small studio… And take off for the weekend without leaving Paris while being totally pampered! Even better: considering the context: boutique-hotels and palaces are going to offer to their new clientele a new deluxe treatment—of course there even might be upgrades to superior rooms as often as possible.
On the programme: a gastronomic feast, a love session, laps in the pool and the best TV dinner in your life. Care to join us?
LA RÉSERVE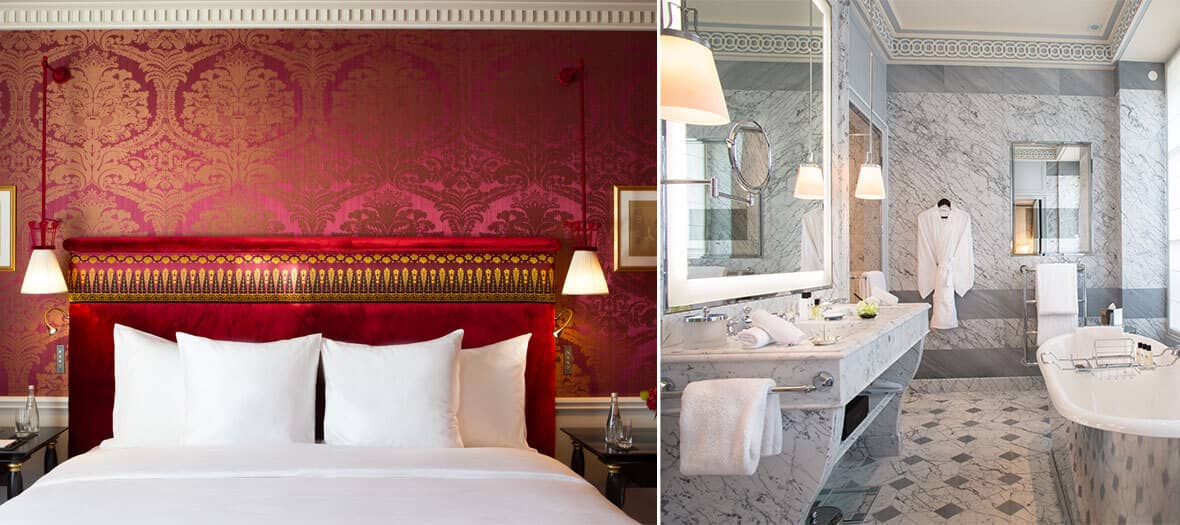 The location. Installed in the former private mansion of Pierre Cardin, right next to the Élysée, the smallest palace in Paris has preserved the Belle Époque spirit of the famous couturier with a particularly chic and intimate decor imagined by Jacques Garcia, featuring velvet, wood panelling and Versailles parquet floors. Without forgetting bathrooms worthy of princesses around the world and a few suites with a small terrace looking onto the Eiffel Tower and the Champs-Élysées gardens.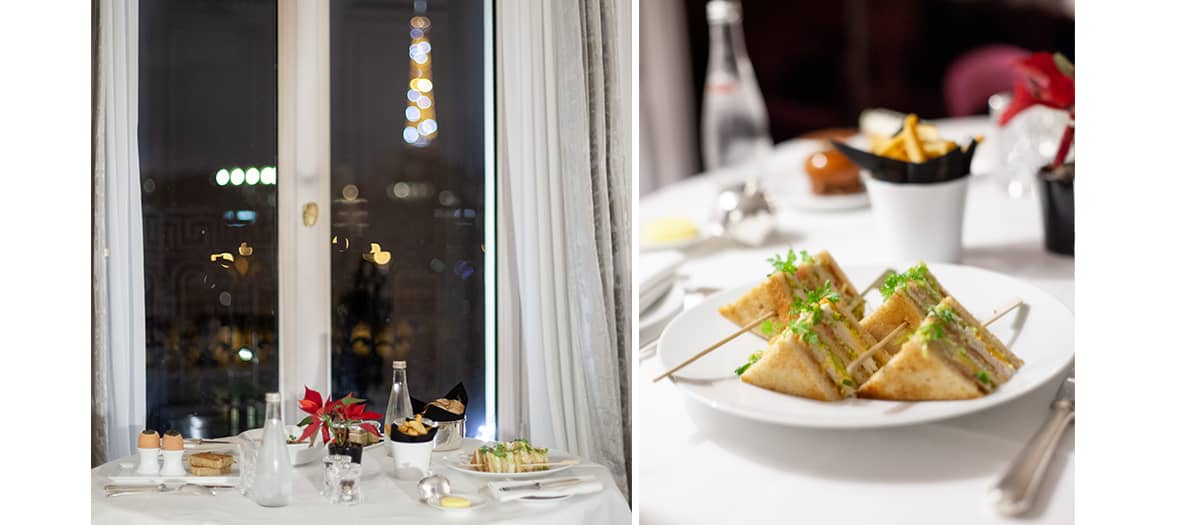 Room service. The gastronomical carte blanche dinner of two-starred chef Jérome Banctel. The alternative: the classic room service menu with a preference for their burger & fries.
The added plus. The possibility of taking advantage of all the rooms in this private mansion as though you were the lady of the manor: reading by the fireplace in the small drawing room. Concocting your own happy hour cocktail or snack at the Honesty Bar. Diving in the pool (it can be privatized for free, just for you, during 1h.). There is also the cigarette-champagne option (or cognac-cigar) in the smoking room...
"Paris est une fête" option at €740 for 2 persons including one night, carte blanche chef dinner for two + breakfast served in the room.
La Réserve Paris 42 Avenue Gabriel, Paris 75008
HÔTEL ROCHECHOUART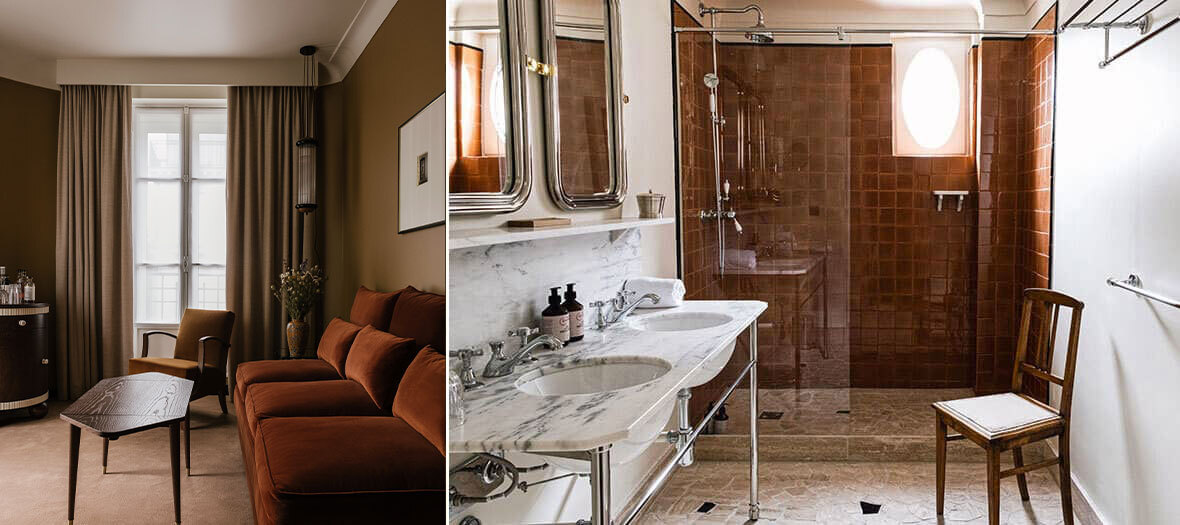 It's the new hotel everyone is talking about and which has just opened its doors. The most recent newcomer of the Orso group was designed by the Festen architect's studio (Les Roches Rouges, that's them). The in-room result is quite amazing in a perfect 1930s style: retro touches, vintage furniture, incredible view…
Room service. The brasserie is up to its reputation and its signature dishes are served in the room: foie gras, leeks with vinaigrette, risotto with chicken tidbits and girolles mushrooms, top notch meat, a crêpes cake and floating islands, all to be enjoyed with natural wines and cocktails. Heaven can wait!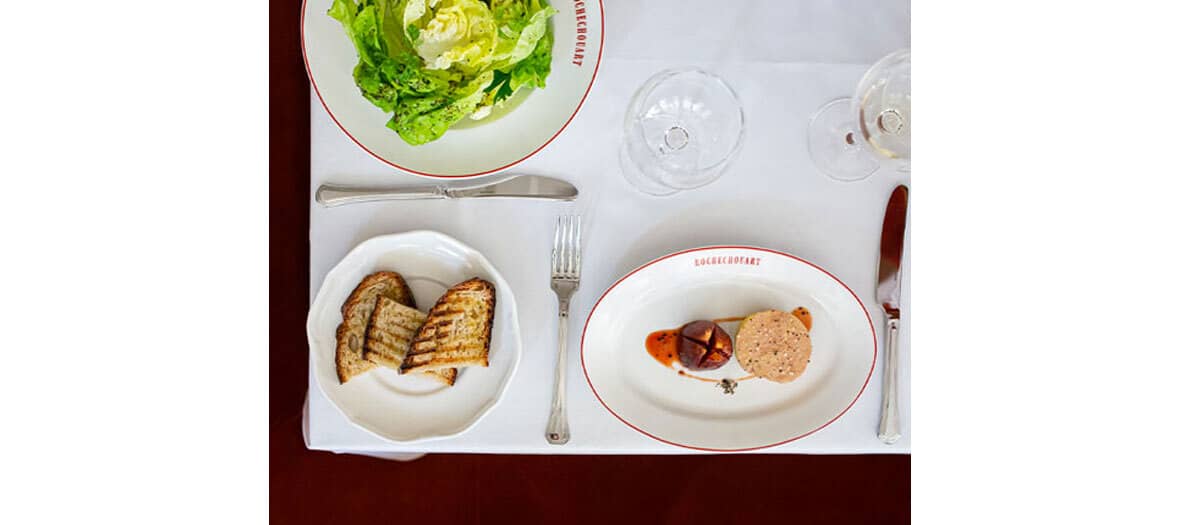 The added plus. If it's too complicated to go spend a night at the hotel: there is the possibility of having Rochechouart come to your house with the great formula "Pick assiette". Not, only will they deliver terrific small dishes, but also the entire tableware: plates, tablecloths, bamboo straws and glass coasters. A total change of scenery!
Starting at €200 per room for 2 persons including one night, dinners and breakfasts offered.
Hotel Rochechouart 55 Boulevard de Rochechouart, Paris 75018
PLAZA ATHÉNÉE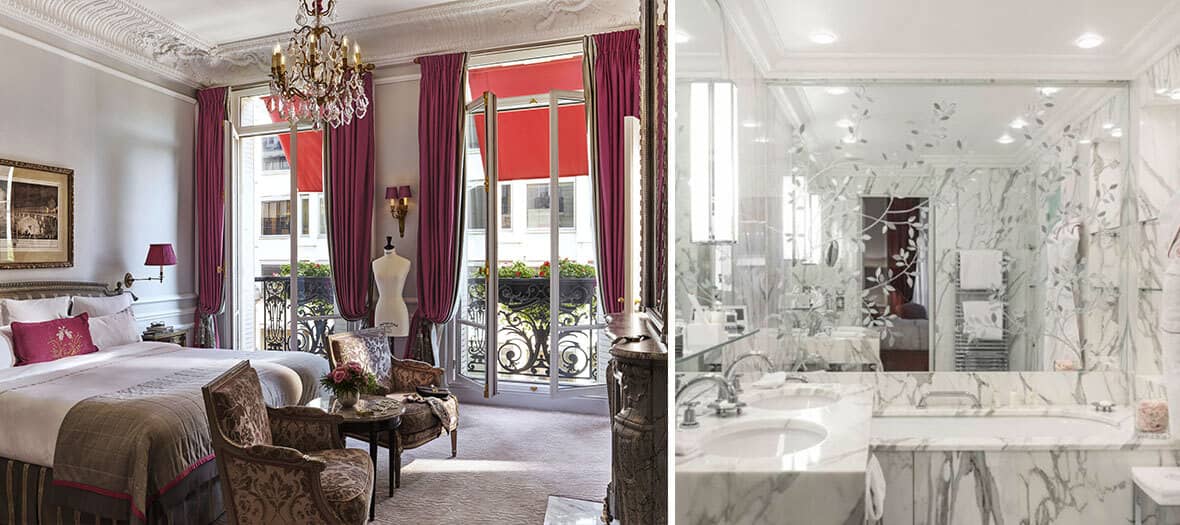 The location. Immortalized in cult films and TV series of the Parisienne (Fauteuils d'orchestre, Sex and The City…), favoured by the coolest public par les personalities, the red palace of the Avenue Montaigne is a legend. And this second lockdown could really be an occasion to push open the door of this deluxe emblem to truly verify whether this venue is up to its reputation.
Room service. All the signature dishes of the Brasserie Plaza under the helm of Alain Ducasse: club sandwich with lobster with house sauce, Label Rouge smoked salmon from Scotland, raw tartare beef spiced as you wish, breast of chicken from the Landes…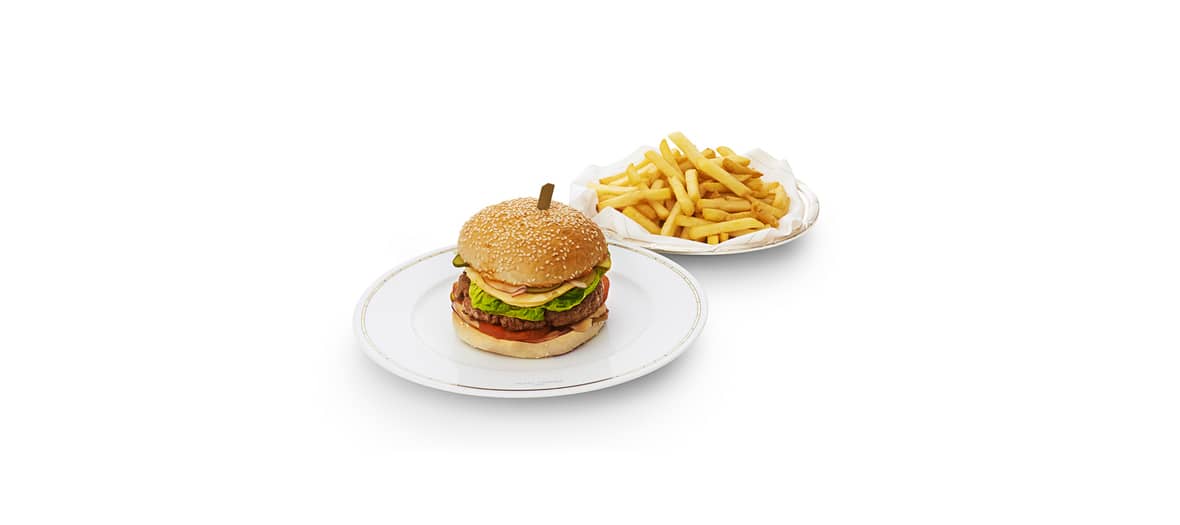 The added plus. Totally luxurious rooms. The magical occasion to clink champagne glasses with Paris from your balcony.
Room starting at €690. Plaza Athénée 25 Avenue Montaigne, Paris 75008
HÔTEL DES GRANDS BOULEVARDS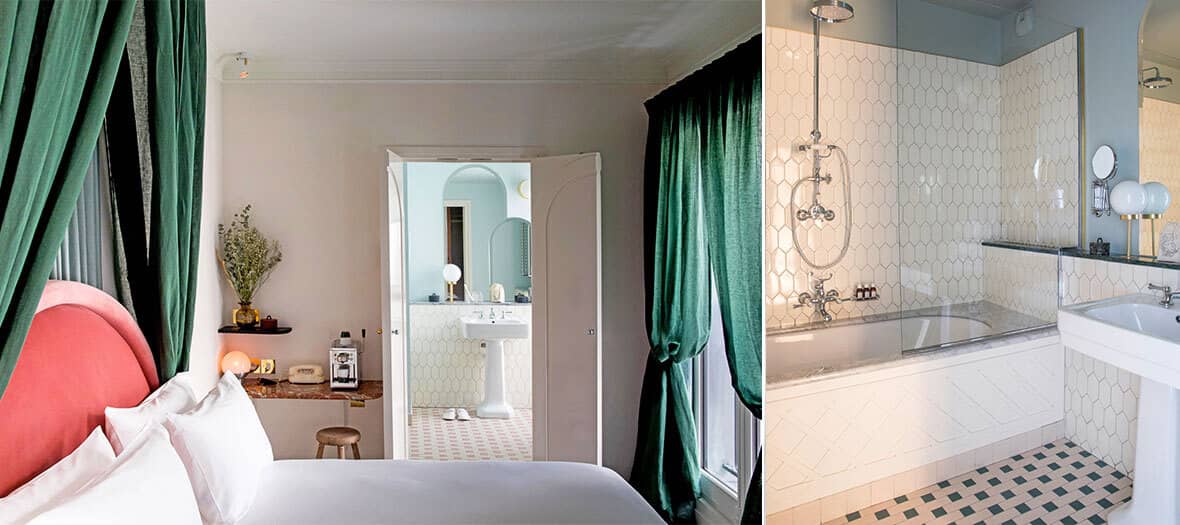 The location. It's without a doubt one of the most well-designed Parisian hotels signed by the Experimental Group. Decorator Dorothée Meilichzon conceived this atypical venue as a mix between ultra-chic and the bucolic spirit of Marie-Antoinette's petit Trianon. There are many details as reminders of this royal atmosphere: cast iron pans, washed out blue tiling, linen, aged wood and majestic four-poster beds.
Room service. If you have never tested his cuisine, you will be delighted to discover the chef of Italian bistronomy, Giovanni Passerini, who takes over room service at dinner time with signature dishes: pasta of the day, carpaccio of organic Black Angus beef and chocolate mousse.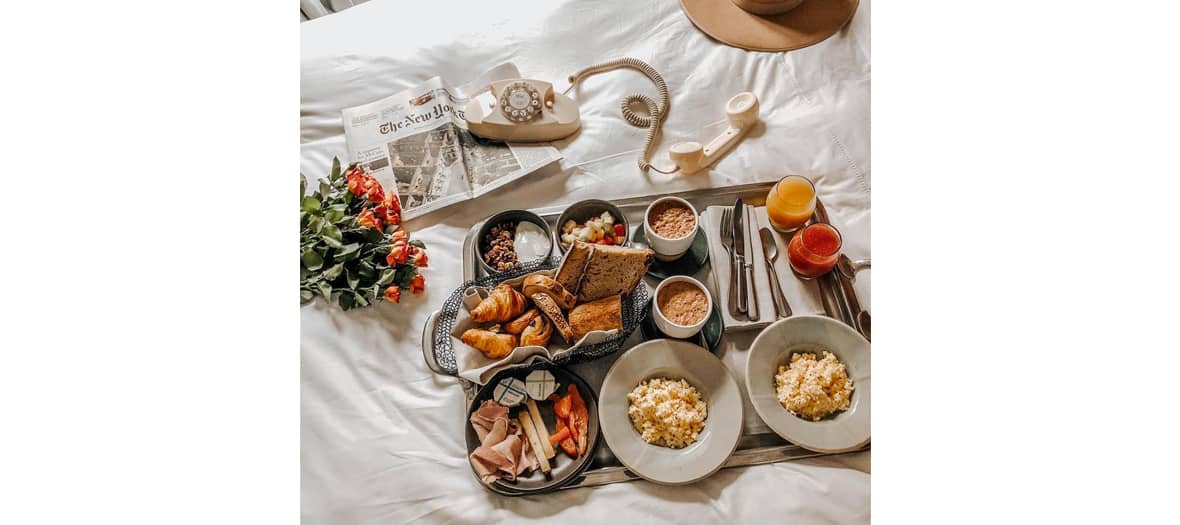 The added plus. Upgrading is guaranteed with a terrific breakfast "Parisian escapade offer" starting at €209 with complimentary breakfast and late 2PM check out.
Hôtel des Grands Boulevards 17 Boulevard Poissonnière, Paris 75002
LE BRISTOL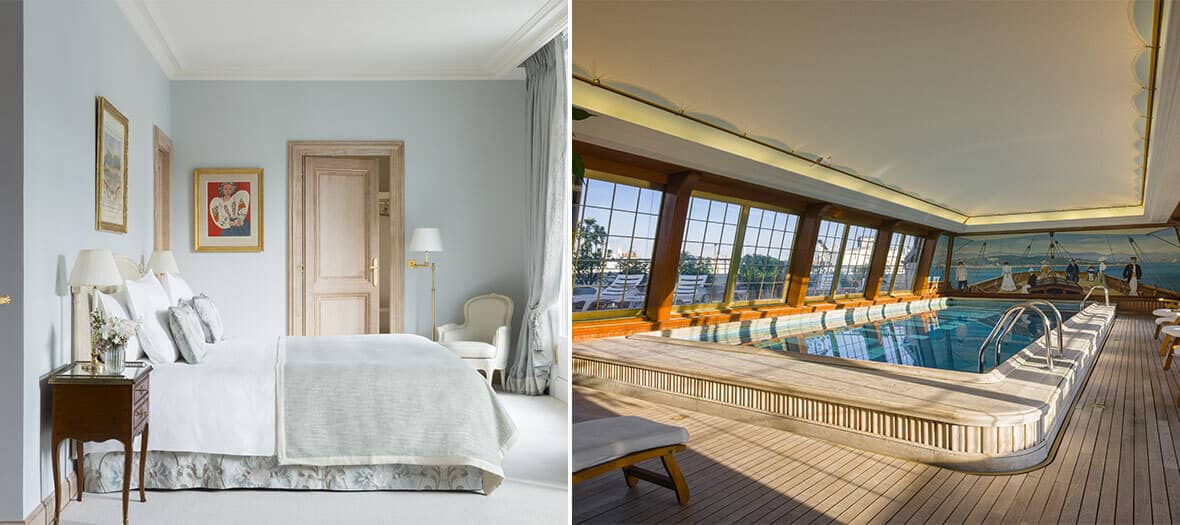 The location. Pushing open the door of the Bristol is like stepping into a wildly Parisian dream. This family-style palace has remained open during the lockdown so that guests can enjoy its superb garden, reception salons and upscale bedrooms, with of course the possibility of having access until 10pm to the incredible pool on the 6th floor, conceived like an all-wood sail boat. Total bliss. And the good news for animal lovers is that the truly pet friendly, le Bristol is happy to welcome canines and felines­­—they will even be offered a special basket worthy of Marie-Antoinette.
Room service: it's Eric Frechon himself and pastry chef Julien Alvarez in the kitchen who will delight gourmets with a "gastronomy in room service", presented on a table with crispy white linen and silverware. À la carte, the best-sellers of their starred brasserie: King Crab avocado and grapefruit, vinaigrette with coriander, duck foie gras and toasted country bread, fettuccini with a Neapolitan sauce, filet of beef with a green pepper sauce, string beans and match stick potatoes, grilled sole, and for dessert, the mythical millefeuille with Bourbon vanilla.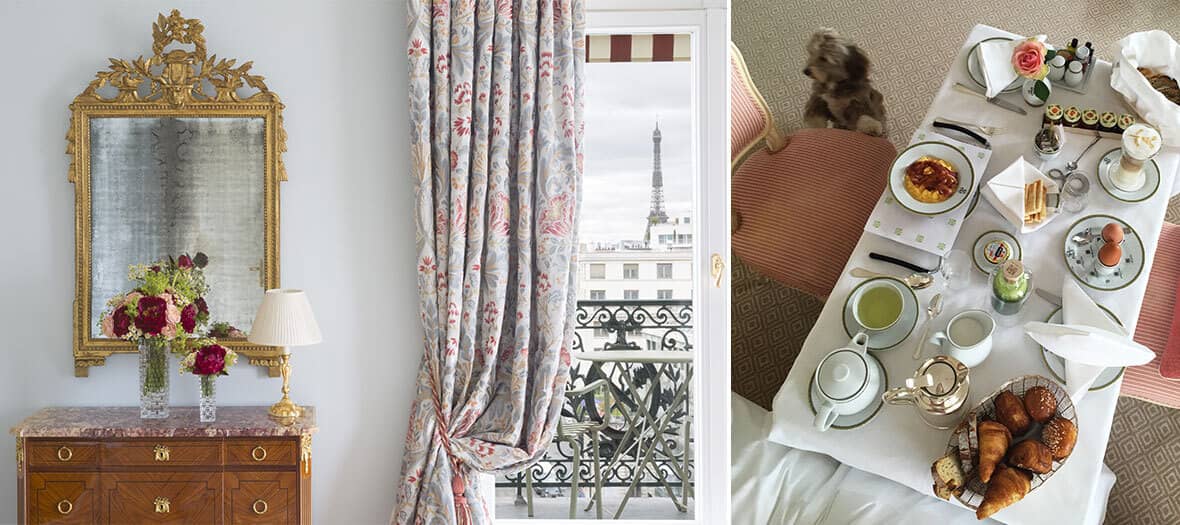 The added plus. Taking off for a real weekend with the "Cocorico" offer at € 690: arrival as early as 9am and a departure at 7pm the next day, with an upgrade in a deluxe room and an American-style lunch in order to say in bed all day long.
Le Bristol Paris 112 Rue du Faubourg Saint-Honoré, Paris 75008
L'HÔTEL PARTICULIER MONTMARTRE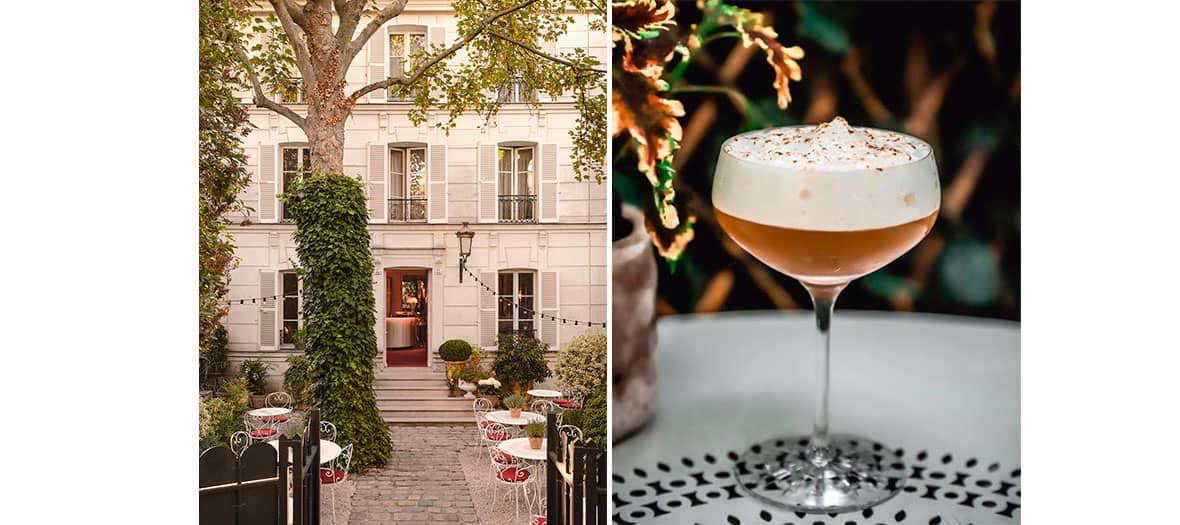 The location. No need to introduce this very posh homestead, as Parisian as it is secretive, hidden in a discreet one-way street of Montmartre. Ultimately bucolic, l'Hôtel Particulier, the smallest hotel in Paris is known for its bar and amazing garden. It shelters 5 exceptional suites where you will be treated to a bottle of chilled champagne!
Room service. Faithful to their know-how, great cocktails can be taken up to the room, served on a silver platter, as though you were an English Lord. Ideal to be sipped in a bubble bath. However, if you want more solid eats, order a burger from PNY.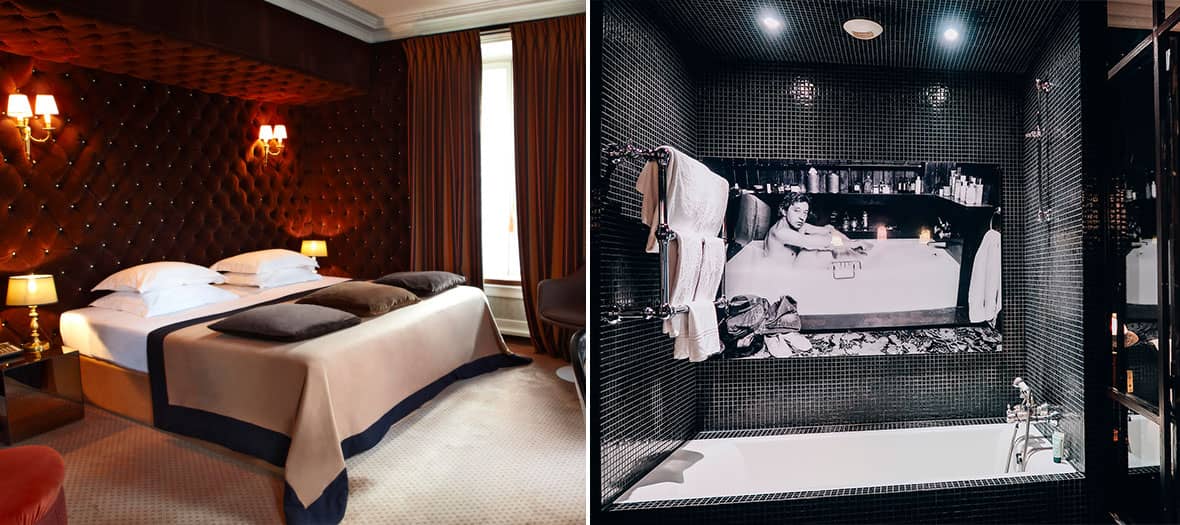 The added plus. Total disconnection as though you were in the country, with the possibility of sipping your coffee in the sun-filled garden, reading a book or following a yoga session on your iPad under the trees.
€290 for a suite with a bottle of Veuve Clicquot champagne and complimentary breakfast.
Hôtel Particulier Montmartre 23 Avenue Junot, Paris 75018
LE LUTÉTIA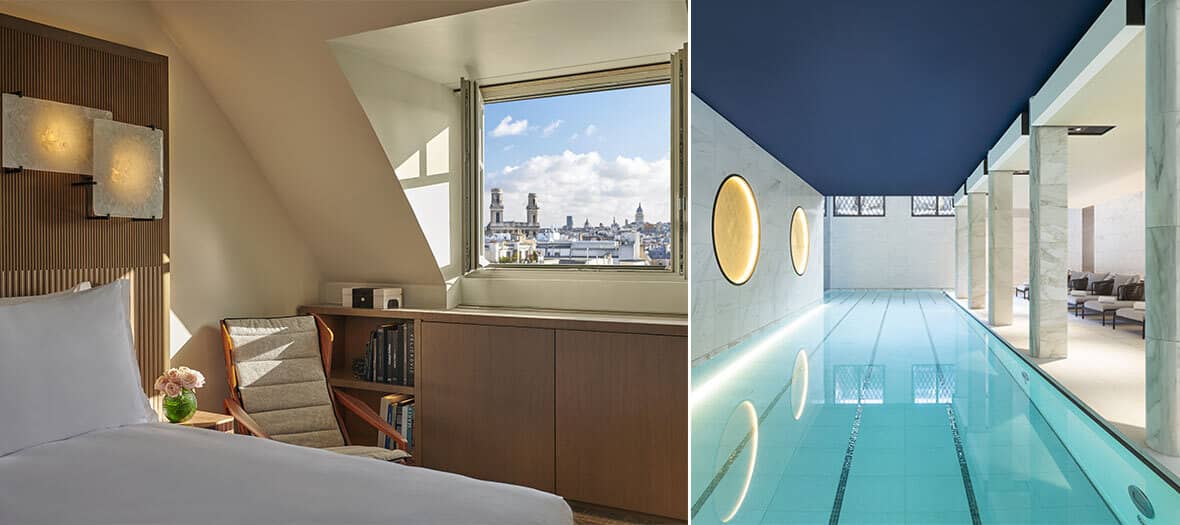 The location. Totally renovated by architect Jean-Michel Wilmotte, the mythical Left Bank hotel is more than ever worth the detour with its bedrooms of exquisite taste inspired by the 30s, as well as a very contemporary and masculine style. An occasion to finally infiltrate this establishment engraved in the mythology of Parisian chic.
Room service. The dishes of the cult brasserie Lutetia invite themselves in your suite with a view of the Eiffel Tower. The ultimate chic for a touch of Saint-Germain-des-Prés: exceptional smoked Norwegian salmon, burrata with truffle or foie gras, grilled steak and French fries, macaroni all'arrabiatta before a perfect blueberry tart, all accompanied by a good bottle of wine. A princely American-style breakfast served in bed.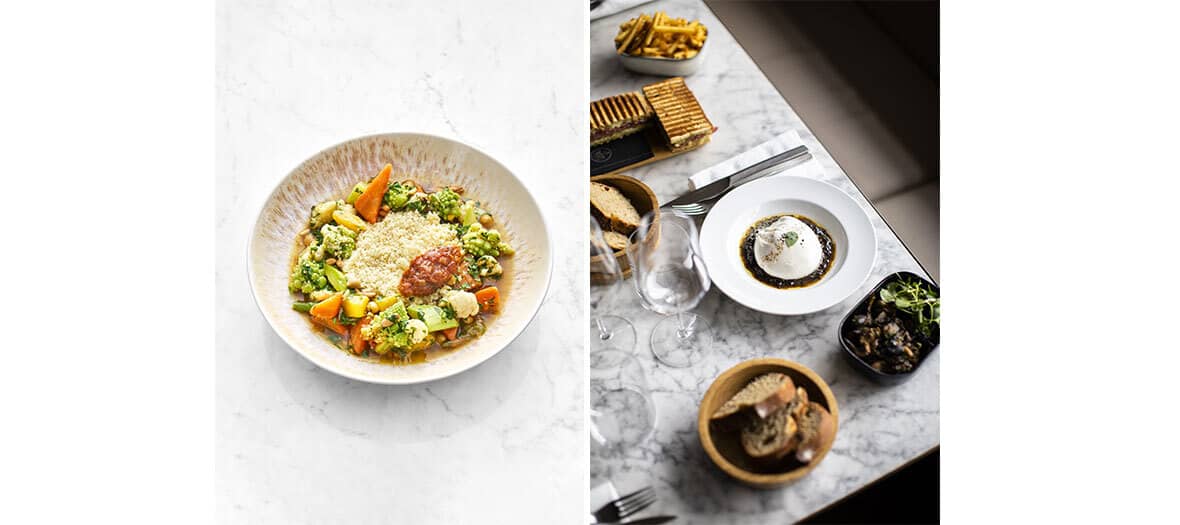 The added plus. Being able to privatise the amazing pool and gym "just for you" for 1h.
Offre Bonsoir Paris at €750 for 2 persons including the room, dinner and breakfasts. Hôtel Lutetia 45 Boulevard Raspail, Paris 75006
MAMMA SHELTER PARIS WEST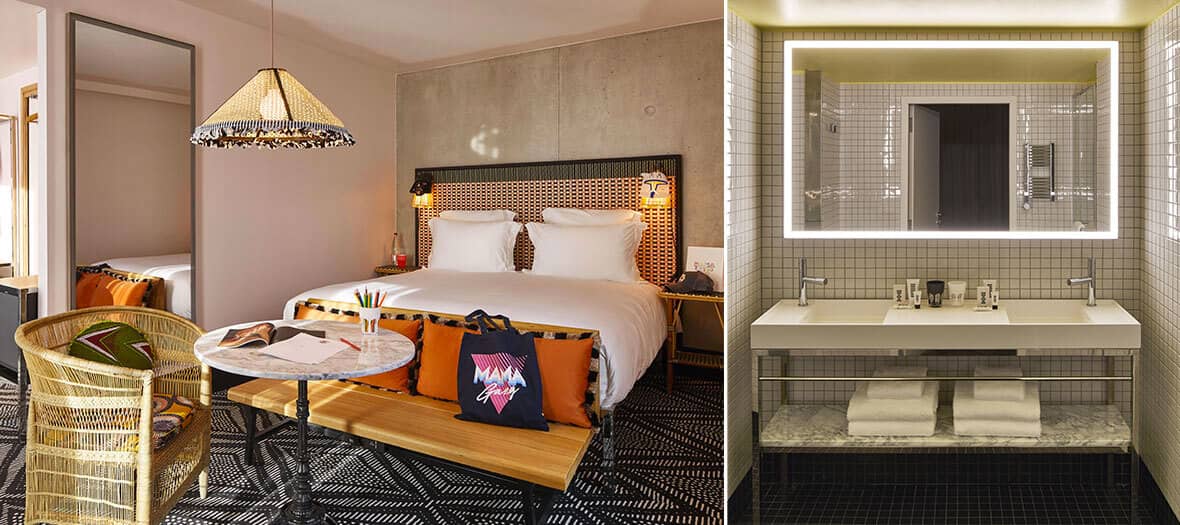 We already mentioned the new Mamma installed near Porte de Versailles. Business is business, and the establishment has kept it doors open with affordable prices during the lockdown. On the programme: pretty colourful rooms to set down your luggage and enjoy a change of scenery.
Room service. Ultimate comfort food! The kitchen goes all out to pamper its guests, starting with dishes inspired by Italian mamas: lasagna, spare ribs lacquered with spices, duck shepherd's pie and tiramisu!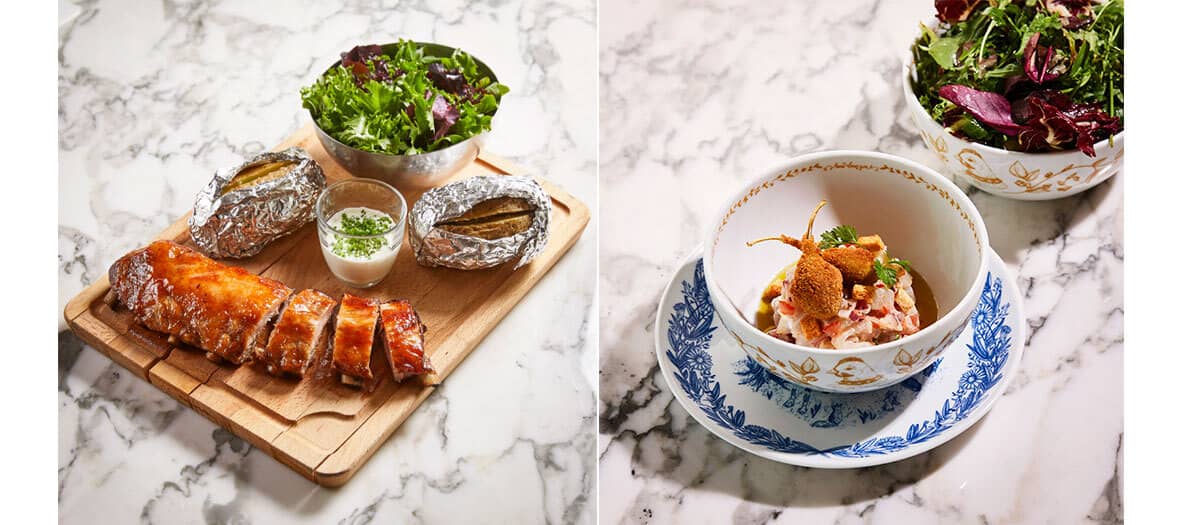 The added plus. The possibility of downloading your key on your mobile phone.
Formule Hot Deal starting at €89 for 2, including room + breakfast
Mamma Shelter Paris West 20 Avenue de la Porte de la Plaine, Paris 75015