« A real vegetable garden that holds in a 30 m2 studio, you are joking? ». The first time the Prêt à pousser team spoke about their project, we laughed on the sly. But that was before discovering the latest invention of a winning team, quite determined to give Parisians the possibility of cultivating their gardens right from their pocket flats. Without having to do anything, to boot…!
In other words, here is the new chic accessory that is going to pimp your culinary talents. Baptized  "LILO", this amazing indoor garden allows you to grow your own production of aromatic herbs in a tiny corner of your kitchen, with no upkeep whatsoever. Basil to pimp your mozzarella, thyme for your grilled meats, parsley to twist your taboulés, mint to dip in your tea… In short, a 100% local no-hassle in-house harvest, thanks to a very clever and entirely autonomous patented system.
But concretely, how does it work? Like a Nespresso machine, thanks to its capsules! If you don't have a green thumb, no more worries about over-watering or messing up. At the outset, you pour a little bit of water to make the plant float in its pot and then you don't touch anything ever again. The integrated LED lighting reproduces sunlight and is enough to make the herbs grow, winter and summer, through biodegradable capsules rechargeable every 3 months.
The must? Connect your LILO through the dedicated app to follow growth in real time, receive push notifications, determine the luminous strength and receive ideas for recipes.  A 2.0 bucolic wonder. This will really impress your guests at your next dinner party.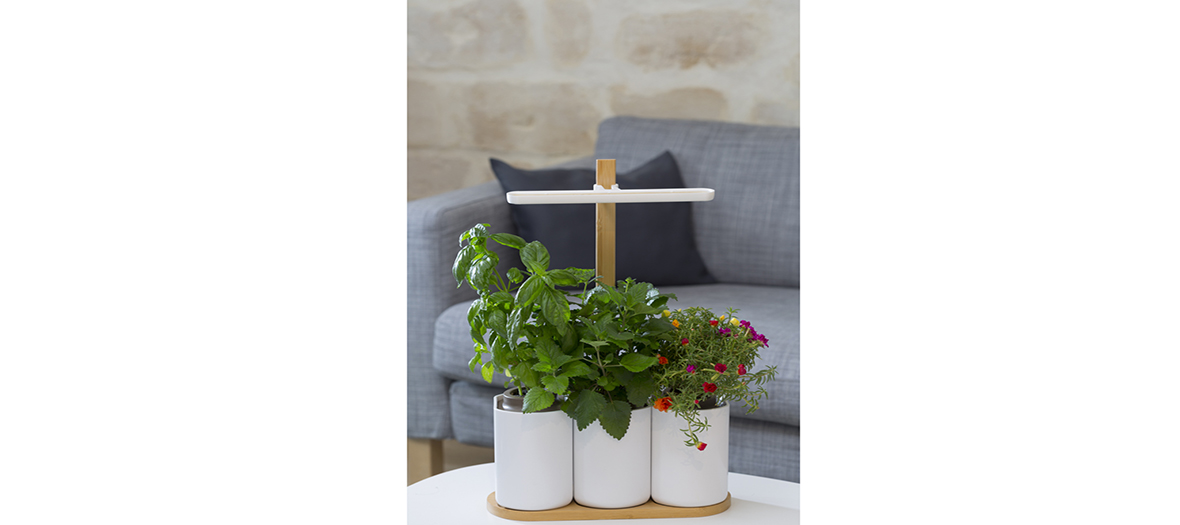 LILO, 99,90 €, sold on www.pretapousser.fr, at Fnac, Boulanger, Truffaut, Jardiland and Nature & Découvertes, as well as a selection of concept-stores such as La Fabrique in Paris.
Also discover grow shrooms at home.