The future is assured. France finally has the spiritual follow-up of Deneuve and Belmondo, kid sister of Cécile de France and Dujardin. A real comedy belle, Alice Pol has imposed herself at the new new talent with outstanding friendly carisma? Her tell-tale films? Emotifs Anonymes, Supercondriaque, Un + une, the last Claude Lelouch, as well as Cézanne et moi, where she plays the leading feminine part next to Guillaume Canet and Guillaume Gallienne. Main role in Raid Dingue, the new film by Dany Boon, she interprets the hilarious role parachuted in the elite RAID corps. A hilarious comedy, half-way between French movie La Chèvre and Bridget Jones. Delightful.
The pitch of the film
It's the story of Johanna Pasquali, a girly cop, who works in a quiet area of Paris and dreams of becoming a hero—being part of the elite. Since she lacks a few qualities, to make it simple, her father, Minister of Defence, is going to give her some pull so that she can partake in the entry contest of the famous RAID elite corps. There, she falls on Eugène Froissard, played by Dany Boon, who happens to be extremely misogynous because his wife dumped him for his brother… And he makes things very difficult for her!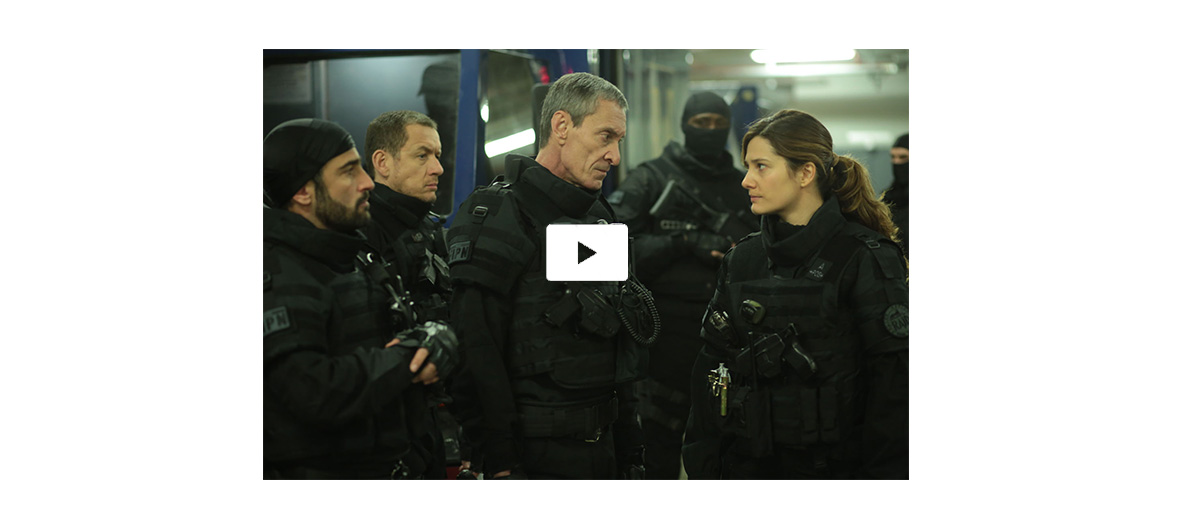 In Raid Dingue, you play the part of someone who gets a lot of pull…
... What does this bring to mind ?
I really don't ask myself the question because basically I don't come from this background. If one has the chance of getting a little pull, it's no doubt human and normal to take advantage of it. And if one does not, then you have to deal with a few closed doors, like me, and that's life!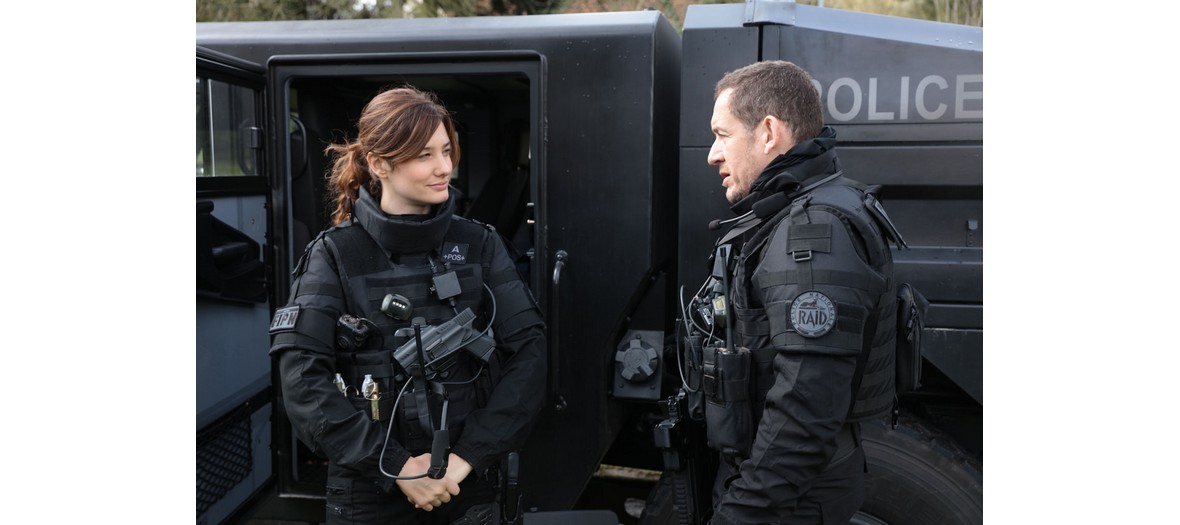 © Pathé Distribution
There are some very macho guys in the film...
... Do stereotypes at the movies make you laugh?
Yes, of course. Caricatures at the movies are meant to be twisted, prove the contrary of what they incarnate and spark debates. After 120 filming dates (each one with their comments), the reaction that made me howl with laughter, is Eliott, a small boy who says: "I just love it when you slap the head of boys!" Mythical.
What stereotype annoys you about girls?
The good old cliché that consists in saying that actresses are haughty and distant. Being exposed makes one a little anxious, so sometimes I close up…but I have met many very sweet actresses, not at all haughty as one may think…
An actress that made you feel like following this career?
When I was little, I wanted to be a magician's assistant so I was not really interested in actresses! But Catherine Deneuve continues to make me dream always and always. Not only for her debuts, but the way she managed her entire career. She continued playing with new, young film directors—she has this kind of freedom, this extreme but at the same time a masculine force… She is immortal, I truly adore this about her. A must-see is Elle s'en va by Emmanuelle Bercot. It's one of the best films that I have seen these past few years.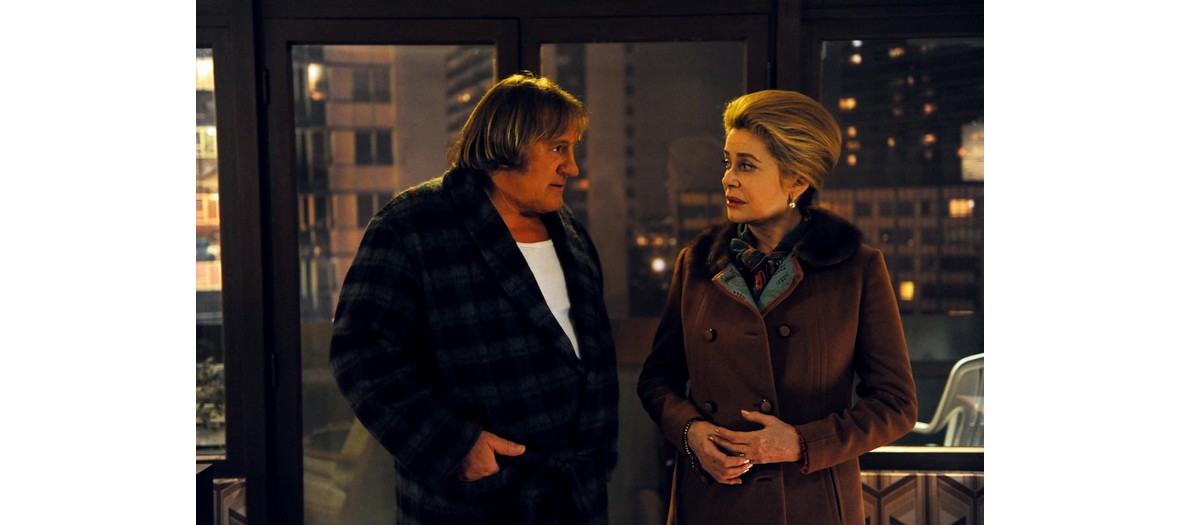 © Mars Distribution
How do you prepare your roles?
For each film, I slip into the skin of the character and I really work the physical side. I did lots of sports with a coach before the Raid Dingue training sessions. I also work on my voice and posture. However, I no longer work with comedy teachers, I feel like being in direct contact with my film director… And if I really must play something unknown to me, I gather information by watching documentaries, by reading...
What is a non-filming day like?
It's a dream day when I'm off the set: wolfing down chocolate in front of the TV in my jogging clothes and shopping online to relax at the same time. I'm really addicted to the box. After Raid Dingue, I moved on directly to another film, and that's really a good thing because I cannot stand doing nothing. I really love the filming life. Except on the first day, when I'm super anxious.
What is your favourite cinema in Paris?
It depends on the moments. When I want to catch a film quickly: I go to Odéon because they have lots of intimate rooms, and there is always something to see. Otherwise, I adore UGC Bercy at Cour Saint Emilion with all the popcorns, candy… It's got an out-of-town holiday touch I love!
If you had to keep 3 gym exercises from your RAID training?
Squats, that's fatal, just like circuits in the Bootcamp spirit where one must perform a series of exercises very quickly, alternating between muscle toning, cardio… I also did some boxing, perfect for good body work out!
Also discover the first bootcamp in Paris.
If you had to be part of an elite corps, which one would you chose?
Whichever would want me (laughs)! Heroes such firemen or doctors, those who sacrifice themselves for others— it's always very impressive.
Your secret behind this perfect skin?
A very warm towel all over the face and patches under the eyes in the morning—to be left on at least 30 minutes!
Also discover the best masks for a radiant complexion.
Your life-saving outfit when you are on a promotional tour?
A nice high waist pair of raw denim jeans with a cute top and mostly: high heels!