Sheltered from the Saint-Germain-des-Prés frenzy, this very pretty boutique right near the Saint Sulpice church, is just the ticket if you are looking for accessories and trendy jewelry.
Behind the conceot, Amal, jeweler and gem specialist imagined a chic and contemporary decor like a precious setting in which gold leaf is reflected in the mirrors.
This ultra cozy temple of refinement is filled with highly desirable trendy pieces. Upscale and fantasy jewelry, bags, small leather goods, must-have signed by talented independent designers, to buy for grand occasions or… Just to offer yourself a little treat!
We like : the skinny rings paved with white or black diamonds that come in yellow, pink and white gold, resolutely graphic earrings, small bracelets inlaid with semi-precious stones to wear as lucky charms and ethnic-chic jewelry in natural feathers. Small treasures to discover starting at 25 €, a bonus for the wallet.
The small plus : the super warm welcome and the personalized advice of a super pro who repairs, transforms, gives advice on customization.
The must for sustainable glamour and penniless fashionistas: here, they buy back your old gold jewelry at the going market … or to swap against another piece in the shop, because here all the jewelry is made with recycled gold…
A very eco-friendly gesture tidies up our drawers while avoiding the exploitation of gold mines and river pollution due to mercury.
Being ethical, is chic… and economical !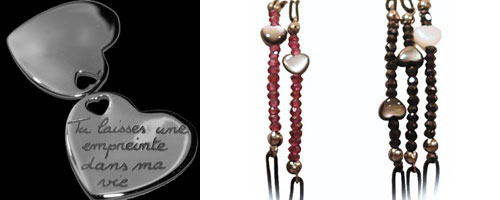 The hot tip : from 05/02 to 20/02, for Saint Valentine's Day, for any purchase of Empreinte jewelry in silver or gold, Anna Louis engraves your name, a drawing and/or imprint in the « Empreinte » heart, normally engraving costs 35 € TTC) (in the limit of available stocks), or for any other purchase and with the presentation of this article, you will be offered a « Cupidon » bracelet in fine stones worth 35€.
More information here
Open Tuesday to Saturday from noon to 7pm