If, as for its founder Anne-K, Fran Fine and Carrie Bradshaw are your fashion icons, then this brand new providential vintage boutique is made for you. Gable on avenue Parmentier , Bimbo 's Barbie pink carpet draws us to her wardrobe inspired by the 1990s and 2000s with lots of leopard prints, denim and pretty flowers.
The temple of 90's fashionistas
Why Bimbo ? " Far from being pejorative, a bimbo is simply someone who wants to be noticed! ", describes Anne-K, used to wearing clothes and accessories worthy of Paris Hilton . Passionate about fashion, this native of Lyon has always fantasized about designer pieces without necessarily having the budget. Suddenly, by dint of spending her days between flea markets and auctions for her and her friends, she comes across this perfect place and launches her shop and her eshop. Bingo!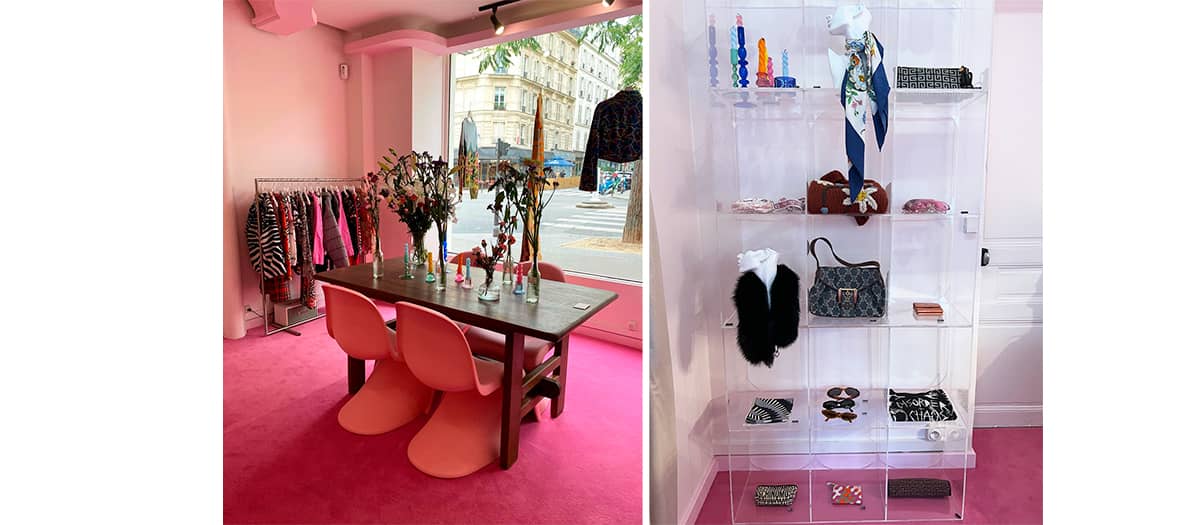 The nuggets that caught our eye
The selection, sharp and precise, immediately plunges into an episode of Sex & The City and Une nanny d'enfer with pink Kenzo pants (€90), an electric blue puffer jacket (€185) or a camel suede jacket (€90 ) Versace , a Dior denim belt (€245), a striped terrycloth sweater (€90) and a leopard denim jacket (€85) Sonia Rykiel , a Paco Rabanne white skirt (€75), a Céline denim bag (€465), an incredible black jacket with Moschino buttons (€345), a Castelbajac heart print skirt (€80), a striped shirt (€90), gingham trousers (€75) or a flocked t-shirt strawberry (€110) Dolce & Gabbana , a Chanel wallet (€385) or even a Burberry tartan shirt with neon details (€175).
Courrèges fans will not be left out with a pretty selection aligned with market prices: pink and green checked skirt (€265), red and pink sweater dress (€245) and mini red, lilac or black vinyl bag ( €265). To try on a playlist necessarily in the theme, from Britney Spears to Black Eyed Peas .
Open Tuesday to Saturday from 11 a.m. to 7 p.m.
Also discover our 5 favorite consignment stores and Ganni's first Parisian store in the Marais.