Rihanna , Jennifer Aniston , Kim Kardashian and even Lady Gaga and top Alessandra Ambrosio have long been convinced of its virtues against stress, fatigue and anxiety. We no longer present CBD or cannabidiol , " happiness molecule " from hemp guaranteed without THC (and therefore without psychotropic effects). If a plethora of new brands have made it their spearhead and have endlessly declined products, Being already stands out with its glossy universe, its concise collection and its high quality CBD.
The anti-stress routine to adopt urgently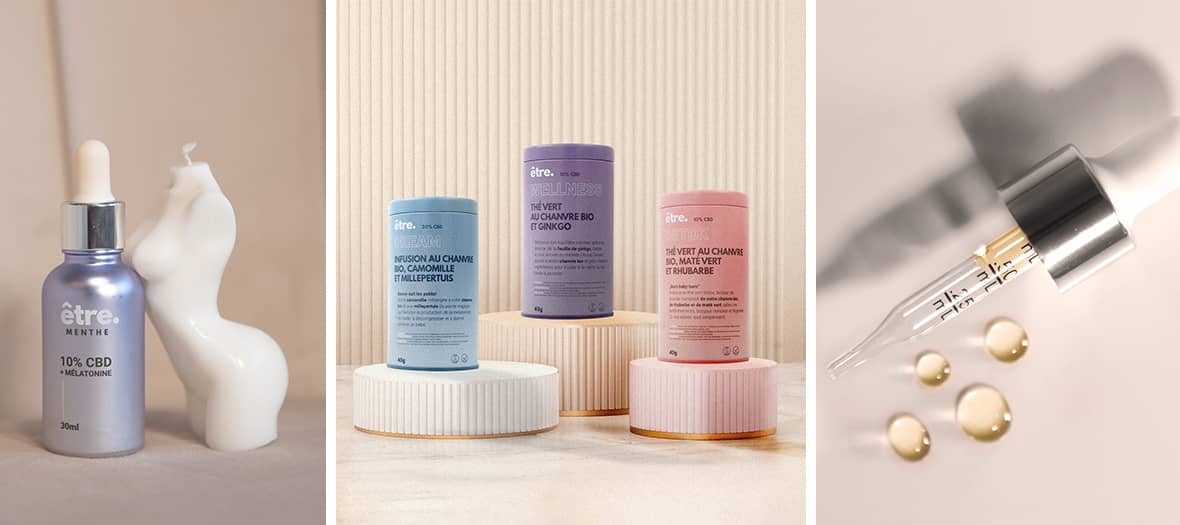 The secret of Being to guarantee an optimal result? A 100% French hemp (extremely rare) coming directly from organic fields in Brittany , then cold extracted to preserve all its essential nutritional principles (omega 3-6-9, vitamin E…). This gives in particular therapeutic teas and herbal teas stuffed with superfoods such as ginseng , matcha or ginko (€19.90 - €29.90) or even the magical oil rich in melatonin – the sleep hormone – ideal for sleeping like a baby and preserve the youthfulness of its cells thanks to its antioxidant properties (€79.90).
Special mention for the ultra-concentrated oils (€39.90) to slip under the tongue, naturally flavored with the good tastes of strawberry, mint or vanilla to avoid the very herbaceous side of hemp, not always pleasant for discerning palates. A few drops a day are enough to regain balance. Since we tell you!
All information on etre-cbd.com