It was during her very first pregnancy that Jesta (aka Jestatouille since the creation of his Instagram food page) has gained 28 kg in a few months. After her childbirth, she could not find her slender and slim figure that she was jealous of in front of the episodes of Koh Lanta , a show where she ends up a finalist alongside the one who will be her future husband.

The adventurer has therefore found the magic recipe to lose her pounds (without exercising): simmering good, healthy and quick meals. Her followers discover the secret to her impressive weight loss through the 65 healthy and balanced recipes in her book. The proof in 3 easy and healthy recipes.
Tips n ° 1: revisit stuffed vegetables
Why adopt them? "A great classic, you will tell me… But we are not going to follow granny's recipe by adding breadcrumbs and 3 eggs in the stuffing, because it would not be light at all. I used to eat stuffed vegetables with rice, but I realized that this recipe is sufficient on its own: vegetables and a little meat. You can vary the vegetables to be stuffed, of course, " explains Jesta.
The ingredients (for 2): 2 yellow peppers + 1 red pepper + 2 large mushrooms to stuff + 400 g minced meat 5% fat + 2 onions + 3 cloves of garlic + 1 bunch of parsley + 1 egg yolk
Recipe :
Preheat the oven to 180 ° C (th. 6). Wash the vegetables, cut the peppers in half and seed them. Remove the tail of the mushrooms to be stuffed. Peel and mince the onions and garlic . Wash and chop a little parsley . In a salad bowl, mix with your hands the minced meat, egg yolk, parsley, onions and garlic until you obtain a homogeneous filling. Add salt and pepper. Place the stuffing in the peppers and mushrooms then place them on a baking sheet covered with baking paper and bake for 30 min.
Tips n ° 2: Detox juice to compensate for excess
" After having chained the excesses, this detox juice is the perfect ally to cleanse your body a little. I like to drink one to close or start a new week. "
For 1 large glass
10 min preparation
The ingredients: 3 green granny apples (preferably organic) + 1 cucumber + 1 lemon (the juice) + a few mint leaves + ice cubes
Recipe :
Cut the apples and cucumber into pieces. Squeeze the lemon. Put the juice in the blender (or the mixer) then add the cucumber and apples, mint and ice cubes. Blend until you get the consistency you want. Pour into a glass and enjoy chilled.
Ice cubes keep the juice fresh. Ideal in the morning to cleanse the stomach of any excess from the day before.
Tip n ° 3: bleed banana porridge with dark chocolate
Why adopt it? "This porridge , I " bled " it, as they say! For a while, I prepared it every evening and I thought as I went to bed: " I can't wait to eat it for breakfast tomorrow morning! ". Don't hesitate to prepare it the day before to save time: wait until the next day to heat it up and perform step 2 " , explains Jesta. " Agave syrup is a natural sugar that is more beneficial for the health than classic sugar, honestly we don't feel any difference in taste. Regarding the amount of water to put in, it took me a while to find the perfect consistency for my porridges. Because the more water you add, the creamier it will be; however I like it very compact so I put the water until it exceeds the preparation by 2 or 3 cm. You will find the perfect consistency for you. "
Ingredients (for 2): 50 g of oatmeal + 4 walnut kernels + ½ banana + 2 squares of 70% dark chocolate + Agave syrup (optional)
Recipe :
Arrange the oatmeal in a bowl, add the 4 crushed walnuts then the half a banana cut into slices. Pour water over it. Mix everything, then heat in the microwave for 1 min. Second, cut chocolate shavings using a peeler. Add them, they will gently melt on your preparation. Pour in a little agave syrup (if you want) and enjoy.
© Extracts from the book Jestatouille by Jesta Hillmann, page 94: Photographer Laurent Moynat, Styling Julie Soucail at Hachette Cuisine. Pages 22 and 61: Photographs of recipes by Bernard Radvaner, Styling of recipes by Jesiel Maxan, at Hachette Cuisine.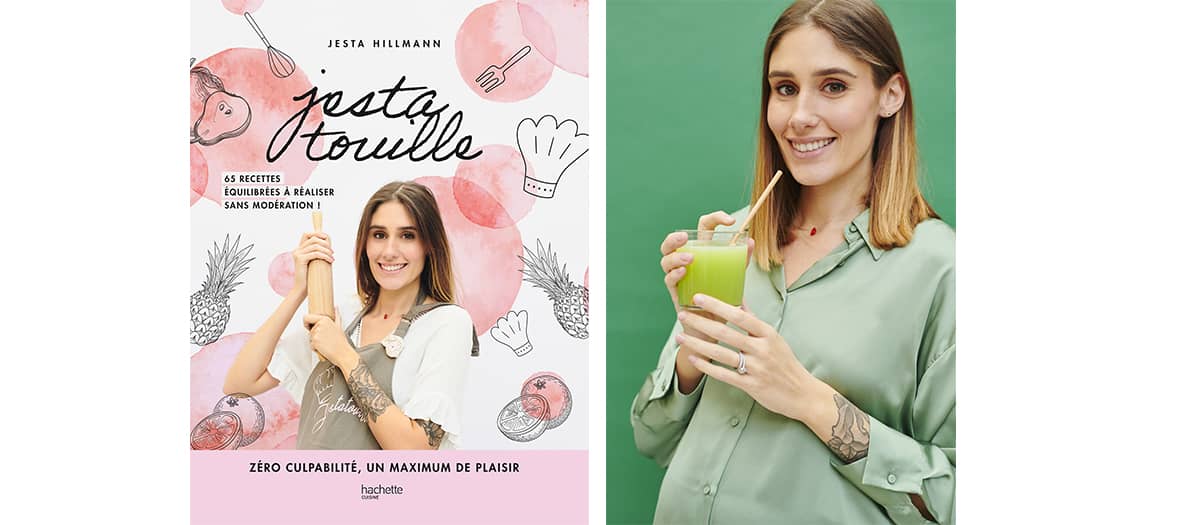 Also find the new spring rituals to adopt and Belleyme, the first Parisian café-sauna .