Between the liver in PLS after the holidays, the squatting winter and the late files piling up on the to-do, a break is essential. You don't have the time or the well-stocked bank account to go to Bali? No soucy : the Do it Team has unearthed the best retreats for you to align your chakras and break without leaving your home (or almost). Om sweet home.
The most holistic: Namastrip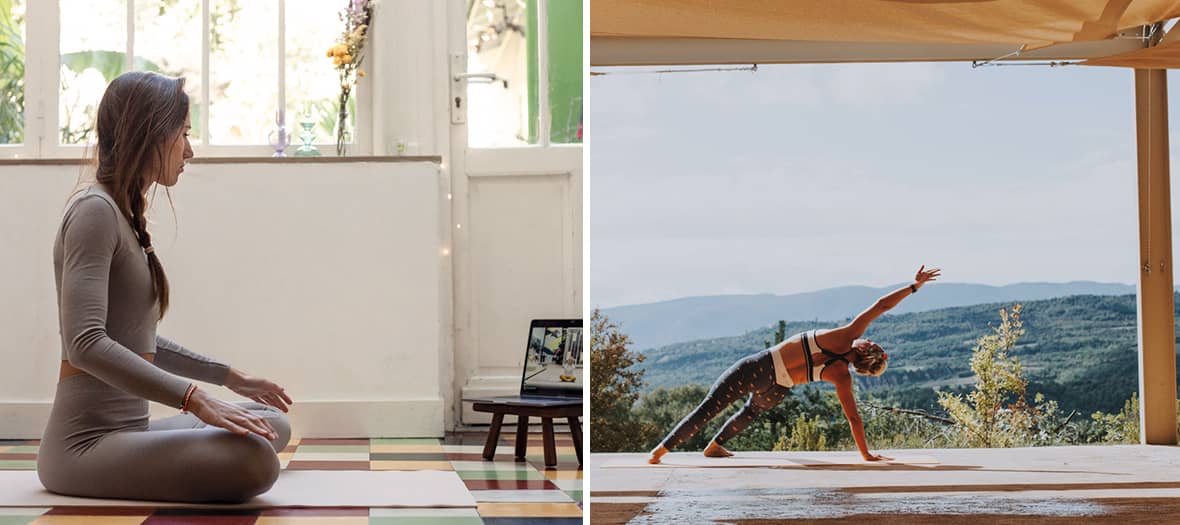 The concept: A real digital studio with more than 400 videos in 25 disciplines: pilates, yoga, personal development, qi gong, floor bar, HIIT..., thematic workshops, coaching, guided meditations, lives, ebooks of recipes in collaboration with Make Me Healthy expert in food rebalancing…
In other words: a veritable barracks of Ali Baba of wellness to satisfy all the desires of slow life whether you are at the end of the world on a business trip or curled up at home in cocooning mode.
Our opinion: An ultra-complete all-inclusive platform to pamper yourself inside out, with a hot cast of teachers and experts (naturopaths, coaches, etc.). Good to know: the digital offer is coupled with a flesh-and-blood agency that deals with immersive stays in France and Morocco.
Namastrip Retreats - Subscription 1 month €19, 3 months €45, 1 year €120.
The most One shot: Pleace
The concept: LA PAUSE, a stylish home retreat concept curated by Emilie Veyretout, former beauty editor-in-chief of Le Figaro who has tested EVERYTHING in terms of wellness experiences.
In practice. A pretty box in pop colors with the crème de la crème of feel good experts just for you. On the menu: a mini-retreat of a turnkey day or four hours of video to recharge the batteries with crazy workshops: dance with Tatiana Seguin, dancer for Kylie Minogue or Beyoncé, breathwork, the breathing method which is a hit with its creator Susan Oubari, hypnosis with Léonard Anthony, author of the cult Goodbye fatigue! And also: a wellness guide, tips and tests, journaling, a smoothie recipe by Wild and The Moon...
Our opinion: The perfect anti-burn-out kit to sculpt your mindset and treat yourself to a bubble of good vibes directly from your living room, alone or with friends. Keep in touch: to come on the same concept the Creativity, Relationships, Sexual Energy boxes...
Pleace - Box €80
The most glamorous: Fauchon X Le Tigre Yoga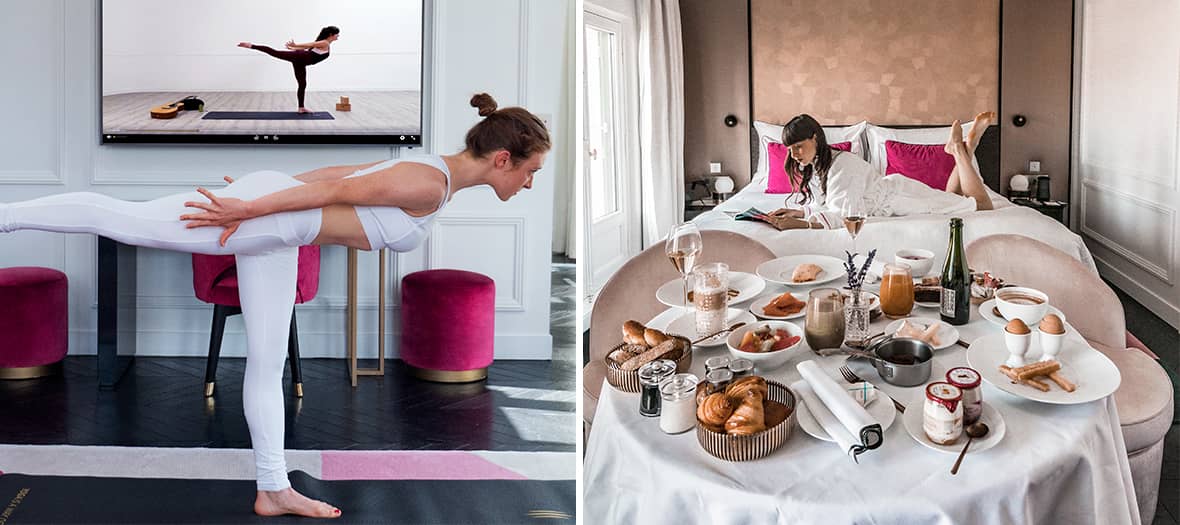 The concept: yoga yes, but in a palace! The most gourmet of Parisian hotels pampers its VIP clientele with this well-being formula that will satisfy healthy girls in search of luxury for a short stay in staycation mode or more if affinity.
Let the Me time begin! Aim instead: under the roof an ultra glamorous suite pimped with pink and black with moldings and parquet, queen size bed, crazy bathroom with Japanese toilets, matching dressing room and the famous Fauchon gourmet bar filled with homemade sweets. All with a breathtaking view of the Place de la Madeleine.
On arrival, the most delicate attention awaits the princesses for a day: a box including a scented candle, moisturizing milk, heating mask for the eyes, fluffy slippers and an assortment of macaroons to make the experience even more precious and rare.
Who to orchestrate this delicious enchanted parenthesis? The boss of the Parisian yoga game I named Elodie Garamond, creator of the Tiger Yoga Club application, has concocted a personalized playlist with anti-jet lag, digestion programs... But also: more than 600 hours of video lessons in 30 disciplines: vinyasa, pilates, meditation, eye yoga, sophrology… Pssst: no need to bring your own equipment, mats and bricks are waiting for you in your room. The ultimate kiff: book an ultra-private session with a great teacher from the Tigre team who comes to give you IRL lessons in your suite.
After a princely night nestled in the sheets of the Garnier-Thiebaut house, it's time for a morning run in the company of the director of the hotel himself to discover the most beautiful monuments of the capital. The reward on arrival? An anthology breakfast served in your room or in the restaurant: avocado toast, freshly squeezed juice, acai bowl, scrambled eggs, mini pastries… Life is good.
Our opinion: a divine mini-break that provides the irresistible feeling of being on vacation in your own city. We leave fully pumped up in the Parisian tumult. Priceless .
Fauchon x Tigre Yoga - Classic Room from €540 per night.
The most regenerating: Clearing & Canopy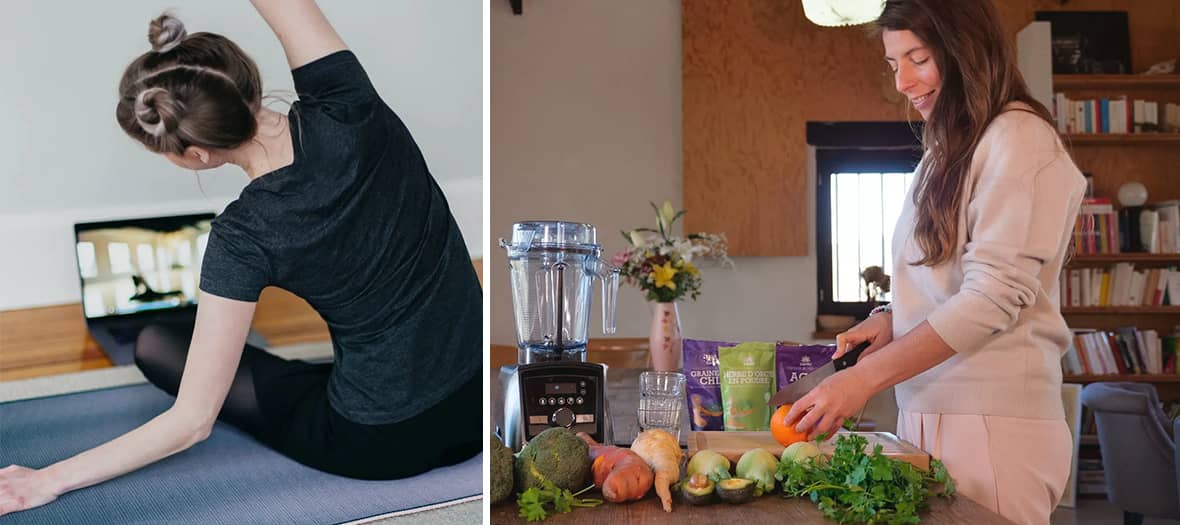 The concept: Incubated by Guillaume Charroin and Mathilde Marecaille, founders of Clairière&Canopée, the reference label for detox stays, this online program accessible ad vitam aligns 40 videos or 1200 hours of training developed by experts: doctors, naturopaths... for do a real fast at home, according to the rules of the art.
On the program: courses on the physiology of fasting, yoga to oxygenate the body, meditation, but above all step-by-step support supervised by professionals to gently enter the process by eliminating undesirable foods, the famous " food descent" before getting to the heart of the matter: vegetable juices, broths, herbal teas…
Our opinion: A safe turnkey solution for those who cannot free up time and want to learn about fasting without taking any risks.
Clearing & Canopy - Fasting at home program 145 €
The most workaholic: Les Terres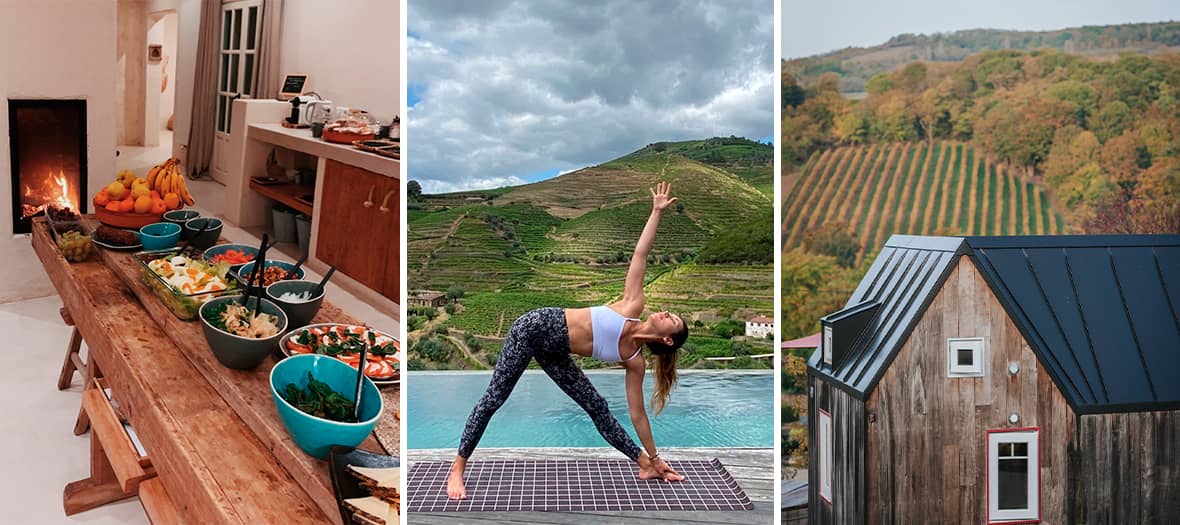 The concept: Léa Coutaye, founder of Yogascope, the cool label of holistic retreats, invents the first coliving dedicated to well-being. Code name: The Lands. Explanations.
On the program: Pack your bags (computer included) to move into a high-end and unusual ephemeral place in the heart of nature in Burgundy, in the Landes or in the mountains (depending on the schedule) and telecommute while practicing yoga morning and evening. On site: swimming pool, Nordic bath, jacuzzi and good little veggie dishes cooked daily by chefs using local products, but also coaches, masseurs, therapists… who bend over backwards to pamper you between two conference calls. Foot.
Our opinion: A really hot concept that allows you to (better) work while offering yourself a bubble out of time. The suitcases are already ready.
Les Terres - From €165 per night. Next session: March 2023.
Also find the new well-being gurus and 6 tips to get in shape