No need to mention Denny Imbroisi, the buzzing Italian chef in Paris with his restaurant Ida. Very good news, he has whispered his great recipe for divine spaghetti carbonara!
For 4 persons
Preparation: 5 min
Cooking: 15 min
East
PREPARATION
Bring a big pot of salty water to a boil. Cook the pasta for 12 min.
In a salad bowl, mix 4 egg yolks and a whole egg. Add salt and lots of pepper. Whip for at least 3 min. Slice the guanciale or the pancetta in 16 very thin slices.
Drain the pasta and set aside the cooking water. Place in a pan on low flame, heat for a few moments. Add the whipped eggs and remove from the flame.
Mix well and eventually place back on the burner for a few moments while stirring. The pasta must be creamy and homogenous. If needed, add a little cooking water to the pasta.
With a pincher or a big fork, create a pasta nest in a small bowl or a cup. Place this nest in a hollow plate. At the center, add an egg yolk.
Aslo add the guanciale and the grated grana padano. Pepper generously and serve.
© Guillaume Czerw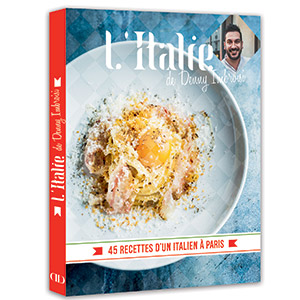 L'Italie de Denny Imbroisi - Un italien à Paris, Editions Alain Ducasse, 20 €
Also discover the carbonara pasta with strawberries and the spaghetti with vanilla and mushrooms.