Ready to take a heat stroke? Head to rue Richer where the aptly named Ardent rocks some very, very hot food on its giant grill . A restaurant concept thought up by two restaurant friends who have already settled in the area, Arthur Lecomte (Bien Ficelé) and Charles Nikitits (l'Office), who are determined to light the fire.
A real scenographic bias
Black facade, large wood and glass openings, rue Ardent immediately catches the eye. Inside, a well-ordered space cut in the rough signed by the DOD agency which has skilfully mixed the materials , laying leather on the benches, tiles on the walls and blond wood on the floor. In majesty, the kitchen and its imposing grill which makes the flames dance and raise the temperature. And in its extension, an intriguing little bar dressed all in black, a good hideout to coo a cocktail in hand...
Cooking with fire and sensations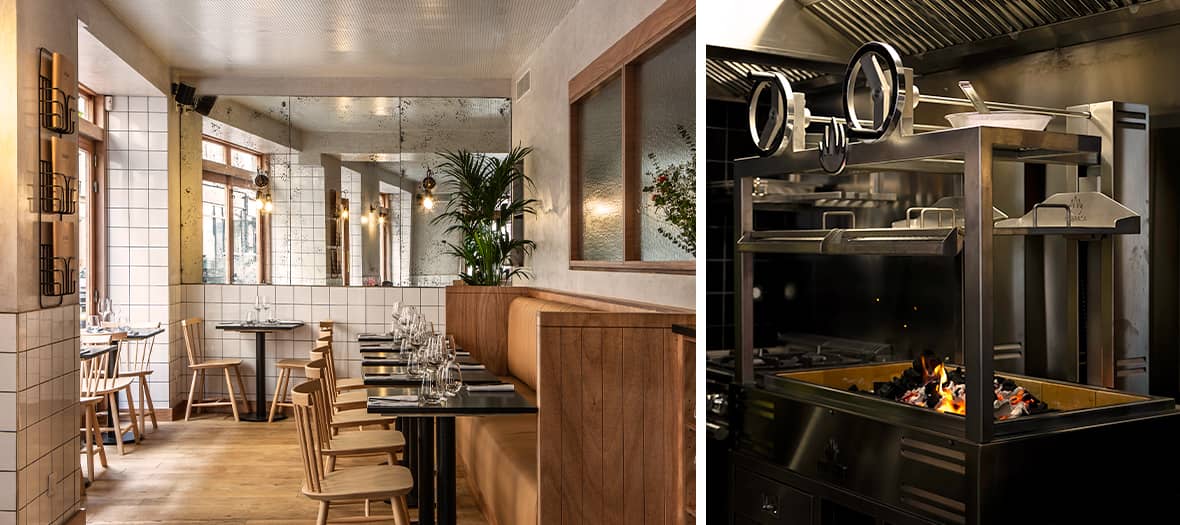 Grilled, smoked, seared, roasted or confit, the giga grill from Ardent provides all the cooking and makes the flavors explode . Far from being a meaty table, Ardent sends everything up in flames: spirited vegetables (from Ile-de-France ), pretty fishing (from small boats) and meats selected directly from French producers . A frank, healthy and controlled cuisine entrusted to Benoît Lecomte , chef of Bien Elevé who has been at the Beef Club .
Hot in front!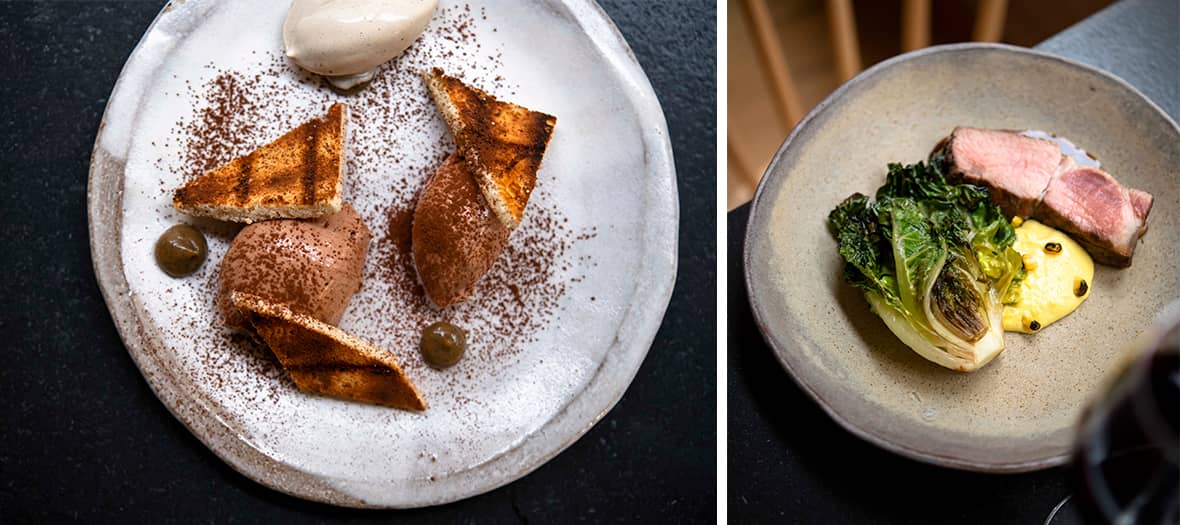 A short menu that caters to all tastes: pencil leek pimped with peppers , seeded bread and an olive vinaigrette (€12). Spruce flame broccoli , piquillo peppers , hazelnuts , lemon-ginger condiment (€20). Tender pork loin , smoked mashed potatoes , candied Jerusalem artichoke , grilled lettuce and tangy juice (€25). Tasty pollack , roasted butternut pulp , oyster mushrooms , grilled Swiss chard , bone jus (€28). In the sharing section: sole from Vendée (€13 for 100g), veal chop from the Ferme des Viandes du Châteauneuf (€12 for 100g) or pork chop from Perche (€9 for 100g). And for the final sweetness, the smoked chocolate , cocoa streusel and its pepper ice cream , which gives you downright shivers.
Open Tuesday to Saturday from 12 p.m. to 2:30 p.m. and from 7 p.m. to 10:30 p.m.
© Geraldine Martens and Gilles Trillard


Also discover Alfred, the Alexia Duchêne's cool new brasserie and Braise, the table that aristocratizes the barbecue