Before it was always the same craziness… Holiday-goers were faced with a wide array of far-flung hassles: blocked credit card, impossible to remove cash from the ATM, upsets in case of delayed planes, lost luggage, personal insurance closed for the summer and exchange rates that send the budget sky rocketing.
Luckily… now there is N26 You, the new generation of super desirable credit cards that offers all the advantages of "Premium" accounts without the inconveniences. Here is a list of all the small problems you will no longer encounter with your new BFF.
NO MORE STRESSING OUT AT THE ATM MACHINE
There are some Southern spots such as Formentera, Ibiza, Positano or Paros, where "they don't take credit cards" and so you spend your life at the ATM machine.
Until you are faced with hassle n°1: you have reached your ceiling whose amount you ignored. And you discover, only later, that for each small or important withdrawal you were debited a few extra euros #heartattack.
With this adorable credit card, for starters, your withdrawals are 100 % free in foreign currency. Furthermore, you can manage your ceiling with the mobile app, in order never to find yourself penniless on a dream Mediterranean island, and its exquisite fish restaurant, on the beach, where they only take cash!
NO MORE UNEXPECTED BREAKDOWNS
Oh dear! A wakeboard accident. Or other bad news, "I have arrived at my destination but my suitcase did not follow me." Before, credit card insurances always worked for others, but never for you. Here, it's totally the opposite. All the advantages of your insurance coverage are easily accessible from your application.
Concretely: You are insured if someone steals your money less than 4h after withdrawing it from an ATM. Delayed flight and loss of luggage for more than 4 hours? You are covered! You become ill at the other end of the world and it's an emergency?  You need to be repatriated from New-York, Tokyo or Rio de Janeiro? Medical expenses abroad are covered in case of emergency and you have a 24/24 and 7/7 phone assistance in order not to feel alone in the world.
PROMISE: YOU WILL NEVER LOSE IT AGAIN!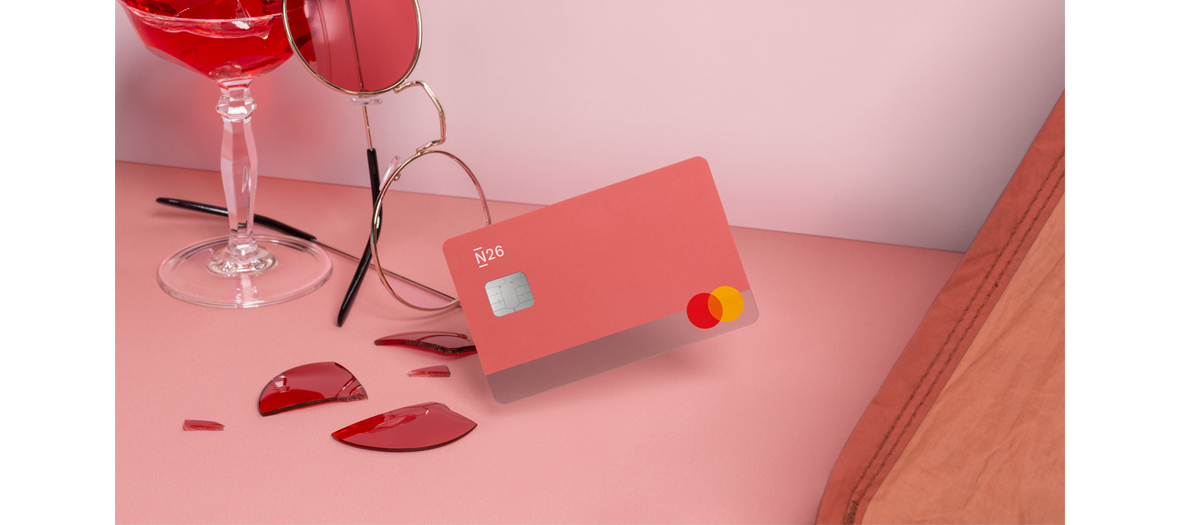 Normal, it's really great looking… You can even choose a pretty instagramable colour: Ocean, Rhubarb, Sand, Mint and Salte, assorted to your smartphone cover. Impossible to lose it in your it-bag.
You misplaced it? With your mobile app, you can lock it. If you are just a little distracted and find it at the bottom of your shopping bag, you can instantly unlock it from your application. In case your credit card is truly lost, no need to block your card by having to call a number that is very difficult to reach from abroad: this can also be done from your application! And soon, the N26 You account will be offering the possibility of owning two cards… thus you can cancel one card while keeping the second one.
Cherry on the cake? Sub-accounts to organize your expenses and your different projects like a to-do list. Groceries, shopping, a lover's weekend, bills and subscription... A terrific and easy solution that will help all those who lack organization.
YOU WILL NOT PAY TWICE
Funnily enough, there is a feeling of déjà-vu. We had forgotten the reason for which we stopped shopping abroad. Until last time. A sales shop-op at Topshop in London that cost you an arm and a leg… You never thought the exchange rate would be billed like that? Well yes.
Magic! With N26, payments or withdrawals in foreign currency are free of charge around the world. You benefit from the real exchange rate of Mastercard, without any increase.... A little exoticism without any of the hassles, it's a win-win!
Cool: now you also have access to stylish partnerships, ideal for all those who enjoy the small privileges that change your life. The principle: finding the conciergerie spirit with N26 You and being offered a wide array of hot tips thanks to GetYourGuide, WeWork, Hotels.com and many more.
GETTING A CARD WITHOUT HAVING TO MAKE AN APPOINTMENT WITH A BANKING BRANCH DURING THE HOLIDAYS?
With N26, you have total control of your finances and your account from the app.
To open an account…nothing could be easier: you can do this online, even on a Sunday from your deckchair It only takes 8 minutes.  Just verify your identity from the app, with the help of a valid I.D. card. Then, you will receive your Mastercard in just a few days. You need a credit card asap? Choose express delivery via UPS (€25) to receive it even faster.
Once you receive your new card, go directly on your app to activate it. After a first withdrawal, you can start paying for all your purchases with your colourful card!
The N26 You account costs only €9.90 per month and entails a one-year engagement period.
All the information on n26.com