Notice to all shopaholics who release a significant budget each month: you will soon be able to respond to the scoffers that you are in the middle of business. Explanations.
A real financial phenomenon that is sweeping in France, " cashback ", translated as " return of money ", allows you to recover an amount from a personal kitty as you buy products online. It is truly revolutionary.
True business provider , the king of the good plan Poulpeo retrocedes a percentage of his commission to the smart ones who join, on average between 100 and 200 € per year. What increase its so simple purchasing power: just have the reflex.
How it works ?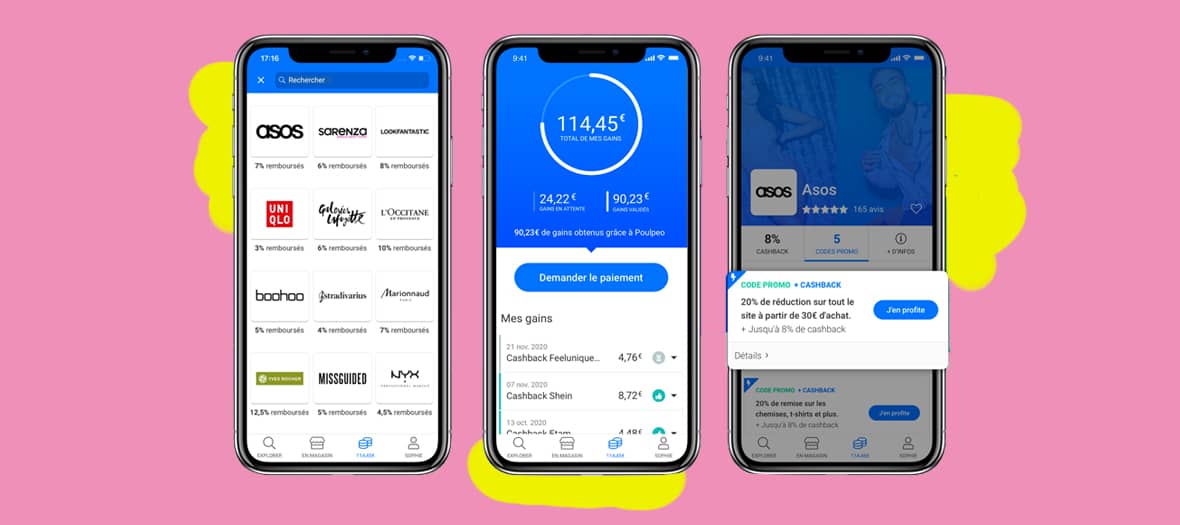 Head to Poulpeo.com to create an account: registration is 100% free and without obligation. Already, 3 € land in your pot . Then, before validating your baskets on the e-shops, you just have to activate the cashback of the shop from the site or the Poulpeo app . The money earned accumulates in your piggy bank and will be paid when you want to your personal bank account, as soon as it reaches 10 €. Basically, we reimburse you for part of your purchases, all year round and without a minimum amount. Isn't life beautiful?
My new favorite stores
Even if it means buying often, you might as well make sure that it pays! Poulpeo works with 1,800 partner shops, and not the least. No regrets or remorse: we go to Look Fantastic to stock up on beauty boxes for Christmas, Nike for the latest stylish sneakers (6% cashback on the price excluding tax: you win for example € 5.30 on a pair of Air Force 1 at 109.99 €), Asos (7% cashback…!) To finally order this wishlist that was itching you, at Erborian for a refill of the best CC Cream on the market, Zadig & Voltaire to grab their it-bag of in winter, AliExpress to find a holiday costume for your doggie, Maisons du Monde or the BHV to redo its decor or even Petite Mendigote for phew clothes and Converse to offer cool sneakers to her niece.
It also works for your VTC shopping on Heetch or Bolt , for your trips to book on Lastminute.com , and also in store thanks to your bank card to fill the fridge at Franprix or Intermarché , for a desire for junk food at Burger King or for your laundry at 5 à Sec . Big deal...
The miraculous catch
Is your BFF also a pierced basket? That's good, she will also earn you money by sponsoring her: your godchild will earn € 5 when she registers and you can recover 10%, then 15% of her cashback , for life. To the question: " How do you find this little top? ", We automatically answer" YOU BUY IT! "... That's it, true friends.
All information and registration on www.poulpeo.com . Also find advice on social networks: @poulpeo on Instagram and facebook.com/Poulpeo