Who does not know lemon meringue pie? Here is a fail-proof recipe for a mix and match cake with lemon/ whipped cream for an absolutely delicious and light result.
Preparation: 25 min
Cooking: 15 min
Refrigeration: 4h
For 8 persons
Preparation:
Preheat the oven to 180 °C (th. 6). Beat the whole egg, the yolk and the caster sugar.
Add the lemon zest and juice. Then incorporate the liquid cream then the flour and the chemical yeast.
Cut up a sheet of sulfurized paper the same size at the mould and place it at the bottom without adding any butter.
Bake for 15 min. Do not unmould the cake when it comes out of the oven.
Prepare the curd: put the gelatin in cold water. Mix the eggs, the caster sugar and the lemon juices.
Heat the butter then add the previous mix. Stir until the cream thickens (about 5 min).
Remove from the fire and add the drained gelatin. Allow to cool down.
Beat the cream into Chantilly and incorporate the lemon curd.
Place some Rhodoïd on the inner side of the mould then pour the mousse. Allow to sit for 4 h in the refrigerator.
Spike a knife blade between the mould and the Rhodoïd film in order to unstick the cake.
Open up the hinge and remove the film.
Prepare the meringue: in a pot, heat the sugar and the water at 118 °C.
Meanwhile, beat the egg whites into snow peaks.
When the syrup reaches 118 °C, pour everything and continue mixing with the beater until the meringue is nice and firm.
Poach it on the mousse then use the kitchen blowtorch on top.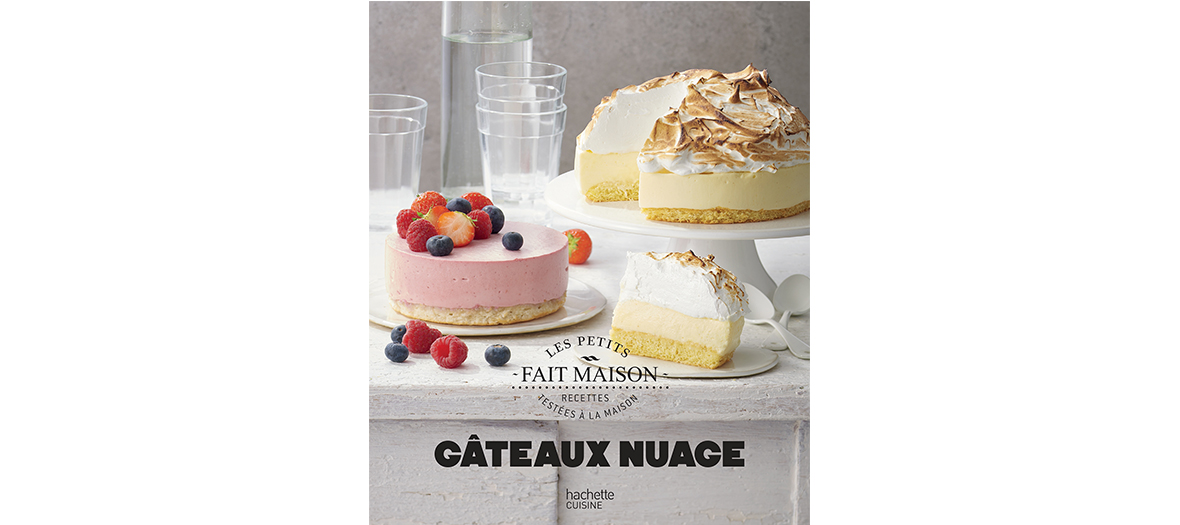 Recipe from the coobok "Gâteaux Nuages" published in the collection "Les petits fait maison", recipes tested at home, by the Hachette Cuisine publications.
Also discover the strawberry tiramisu of Julie Andrieu and the Love bowl by Raphaël Gruman.