The strawberry tiramisu of the French culinary queen, aka Julie Andrieu… this recipe is excepted from the book All my Best Desserts by Julie Andrieu, published by Ducasse Edition.
FOR 6 PERSONS
PREPARATION:  25 MIN
COOKING : 5 MIN
RESTING TIME : 48 H
TIP
This dessert can easily be frozen. Allow it to go go back to temperature in the icebox or quickly pass it in the micro-micro wave on defreze mod before serving.
The more you leave the tiramisu in the refrigerator, the firmer the cream will be. If you don't have time to let it sit, add 100 g of mascarpone and 10 g of sugar to make it more dense.
In the strawberry topping, you can remplacer the sugar spoonful by strawberry syrup.
PREPARATION
2 days before, wash remove the stems of the 150 g of strawberries. Place them in a small pan with 1 tablespoon of sugar.
Place on an average flame, cover and allow to cook for 5 on a high flame.
Remove from the heat. Mix and pour in a hollow plate, then add the alcohol.
Beat the egg yolks with half the sugar to blanch them and make them frothy, then add the mascarpone and whip energetically.
Beat the egg whites into peaks and add them to the previous mix with the rest of the sugar. Whip the liquid cream so that it rises, it should be aired but say supple.
Incorporate it delicately with the mascarpone mix. Pour 1/3 of the cream in a small gratin dish or in six bowls or wide glasses.
Quickly dip the biscuits in the strawberry topping and place them in tight rows on the cream. Wash, remove the stems and cut in two 300 g of strawberries, divide on the biscuits, cover with the rest of cream, then with plastic film.
Allow to remain in a fresh place for 48 h before serving, remove the film 24 h before.
On the same day, decorate with the remaining strawberries and grilled almond slivers, then sprinkle with glazed sugar.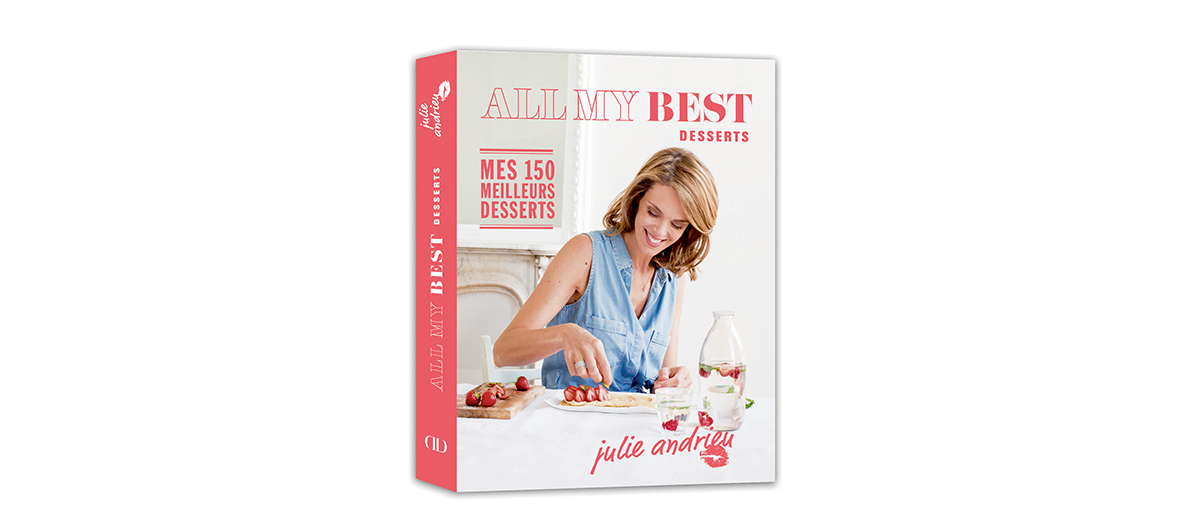 All my Best Desserts de Julie Andrieu, published by Ducasse Edition. Author: Julie Andrieu. Photographer: Virginie Garnier
Available in bookshops at the price of  €29 and in digital format at the price of €9.99
Also discover the madeleine cakes of Julie Andrieu, the recipe for pavlova with strawberries and the light recipe for a carpaccio of strawberries.