Obsessed with corn in his monomaniac restaurant Corn'r, chef Julien Duboué has launched a 100% corn book Our heart-throb?  His irresistible maïsotto, comfy and comforting.
For 4 persons - Preparation : 1H - Cooking : 40 min
PREPARATION MAÏSOTTO
Peel, mince and melt the onions and garlic sweat sweat with the olive oil in a pan. Cook the bulgur in a pan so that it  becomes translucid. Add the white wine, the white sauce, salt, pepper and laurel leaves. Reduce by half. Wet with the water and allow to simmer for 20 min. Remove as soon as the cooking is done to avoid the boulgour from continuing to cook in the pan.
COOKING AND PRESENTATION
Bring to a boil the butter, parmesan and cream in a pan. Add the maïsotto preparation, the corn kernels and the smoked duck at the last moment.
Cook on an average flame until the liquid is absorbed.
Preheat the oven to 190 °C (th. 6-7).
Criss-cross the breast of duck with a knife. Season the fatty part of the duck with salt and pepper.
Start cooking the skin side in a pan, until it's colored, then turn the breast of duck over and cook 2 minutes on a brisk flame.
Place the duck breast on a plaque, bake and allow to cook for 10 min.
Cut up in  2 x 2 cm cubes.
Place 100 g of maïsotto in each plate, add the 2 x 2 cm of duck breast and 5 slivers of sage.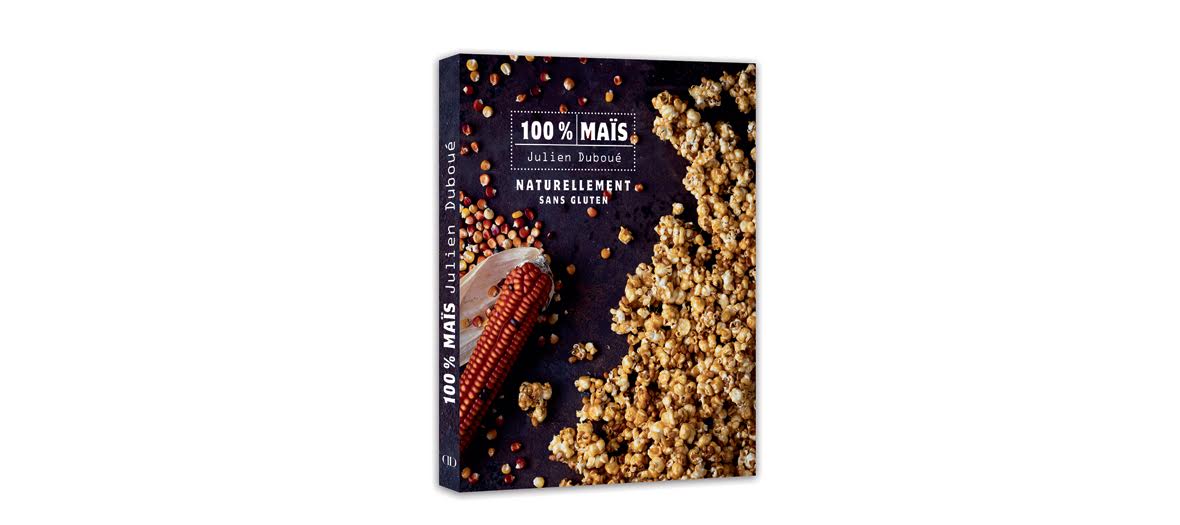 100% Corn, To be published on the 14th of  September 2017 at Ducasse Edition. Author : Julien Duboué. Photographs : Aimery Chemin and Séverine Podevin. Available in bookshops at the price of €12.90
Also discover the risotto of asparagus and the milk rice puddding of Bruno Doucet.