The easy-does-it light starter you are sure to adopt. The chic version of melon-ham is this fresh millefeuille … highly Instagramable!
For 4 persons
Preparation: 20 minutes
Peel the melon and remove the seeds.
Cut 4 rectangular slices of melon, about 1.5 cm wide.
Cut the cucumber lengthwise so the slices are of equal size.
Pour in a pan all the elements of the syrup and heat on a low flame without boiling.
Place the melon and the cucumber in a large dish, pour the warm pickles syrup, cover with transparent paper and allow to marinate for 15 min.Set aside in a fresh place.
In a bowl, mix the fresh goat cheese with the liquid cream. Salt, add the pimento of Espelette. Set aside in a fresh place.
Wash and dry the herbs. Chisel them up.
At serving time, mount all the elements like a club sandwich.
Start by the melon slice then delicately add the goat cheese condiment.
Add a slice of ham on top and finish with a slice of cucumber.
Parry each side in order to obtain a regular club.
In a plate, place the club sandwiches on their edges, finish with freshly chiselled herbs.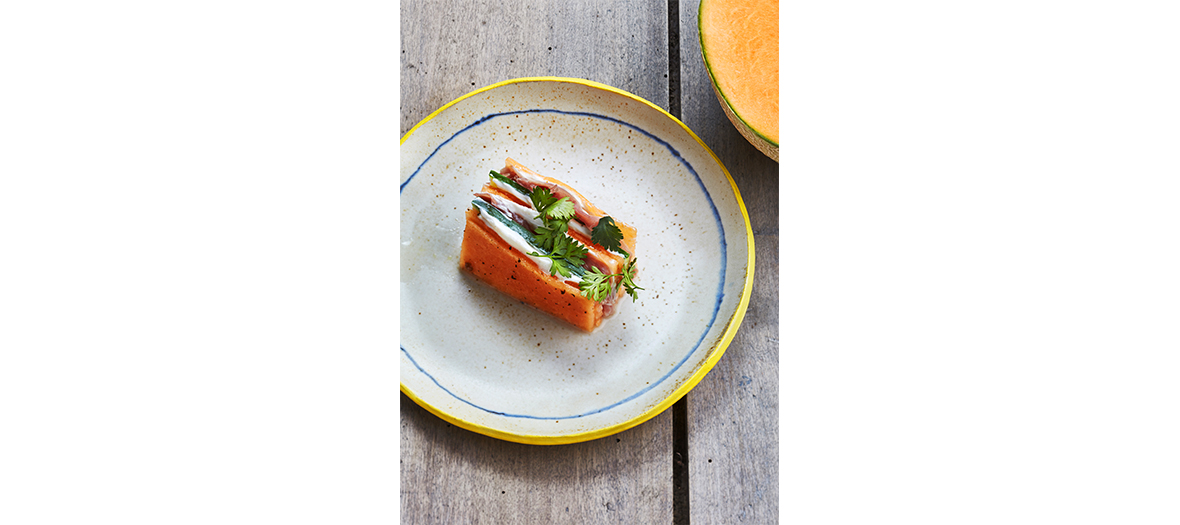 Also discover the salad with roasted peaches and ham and the quinoa salad with melon and courgette.