Everyone salivated over the incredible 3-star soup artichokes - truffle Guy Savoy , star of the latest TV show Top Chef . But the chef goes further with his new soup recipe bookSpring soups published by Herscher with basil soup, green asparagus cream, white langoustine gazpacho and other couture consommés, including a spring version that is more seasonal than ever. . Zoom on the pea soup with iced dill, salmon roe and pea salad, easier than ever!
Guy savoy soup recipe
Shell the peas , reserve 100 g raw for the salad.
Cook the peas in boiling salted water for 7 minutes, and reserve the cooking water. Mix the cooked peas with 1 liter of cooking water.
Chop the dill and mix it with the pea soup. Reserve in the fridge.
In a bowl, mix the 100 g of raw peas with the salmon eggs , then add the zest and juice of a lemon .
In the bottom of the plate, place the salad of raw peas and salmon roe, then pour over it in front of your guests the pea soup with dill.
© Photo - Laurence Mouton; Illustrations - Laure Merle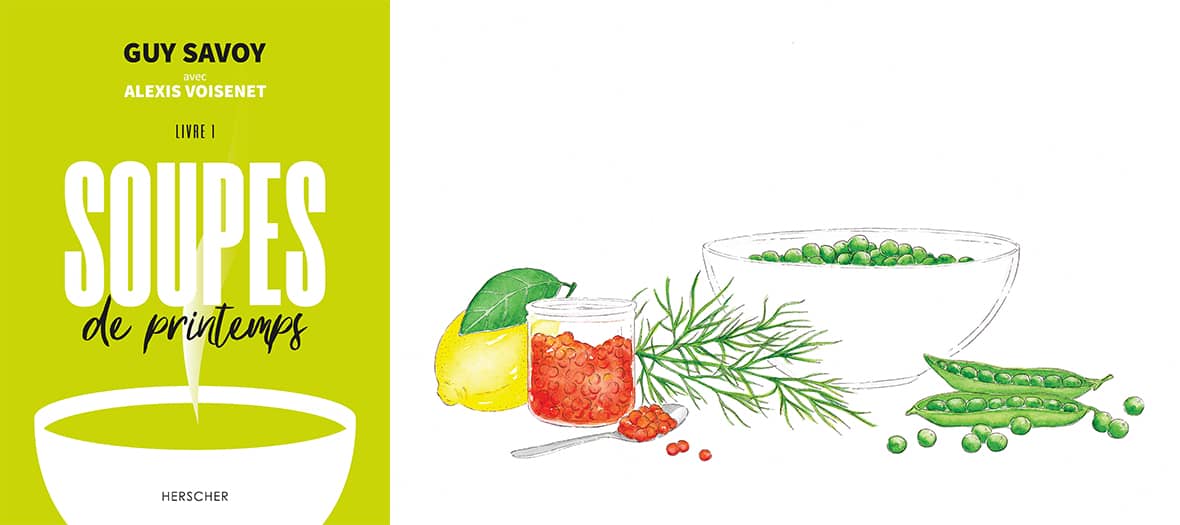 Also find the healthy crocque of Juan Arbelaez and the halloumuffin of alexia Duchêne .