« Les recettes de mon Caddie », finally a cookbook that has been conceived for speedy Parisiennes who don't have much time to spend in the kitchen. A very short shopping list, a minimum of time, even culinary dummies will manage to cook this chicken with peanuts. Yummy !
For 4 persons • Preparation : 15 min • Cookie : 30 min
Dice up the chicken breasts.
Pell and chisel the onion.
Heat the oil in a pan and cook the chicken pieces until they are golden brown.
Remove the chicken from the pan and replace it with the onion, cook during 5 min on a low flame, add the cream, the peanut butter, the tomato sauce and the pimento as well as 10 cl of water. Salt, allow to simmer for 5 min then add the chicken.
Cook for 15 min on a low flame. Add a little bit of water at the end of the cooking session is the sauce seems too thick.
Grind the peanuts, leaf and chisel the parsley, sprinkle over the dish before serving with white rice.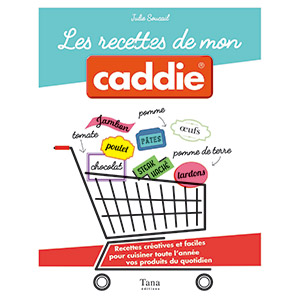 © Charly Deslandes / author & stylist : Julie Soucail
Also discover the veal nuggets with potatoes and the grilled skewers by Juan Arbelaez.