Michèle Laroque and François Berléand are on stage for Encore un Instant, at Théâtre Edouard VII, a comedy on the sentimental pitfalls of an actress. A very uplifting play, funny and resolutely contemporary— subtitled in English.
Love stories end badly… In general. But this does not seem the case between Suzanne and Julien, still very much in love. Thirty years of love between this star actress, adored by the public (Michèle Laroque in a role more larger than life) and her husband, mentor and brilliant scenographer, incarnated by François Berléand in Encore un Instant, at Théâtre Edouard VII.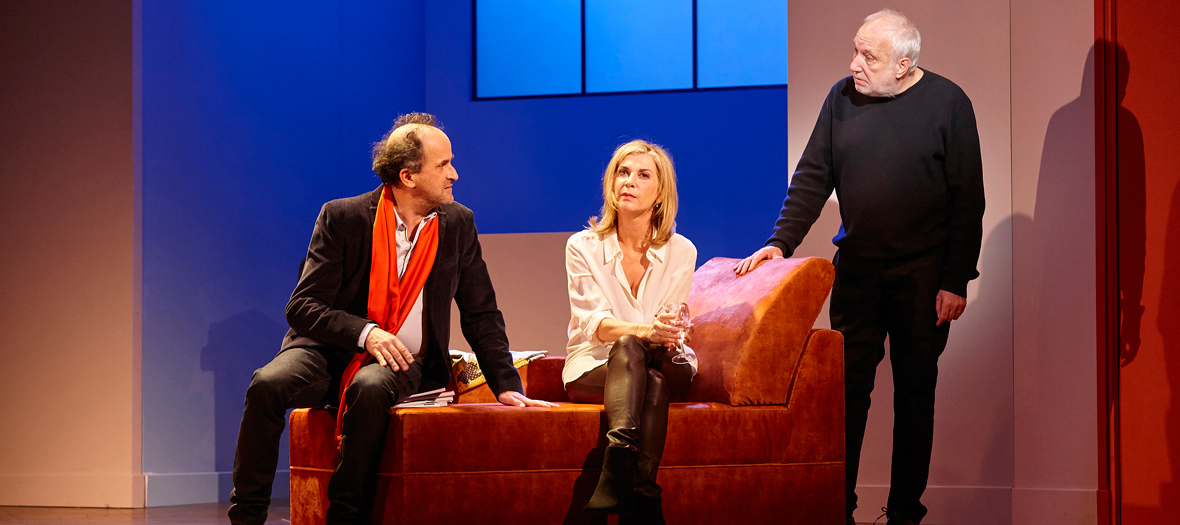 A superb scenography by Bernard Murat
The brilliant Bernard Murat transports us into the Parisian apartment of a lively and friendly couple. The neighbour is in love with the star actress star. But how could it be otherwise?
At over 50, her measurements are most inspiring and she has boundless energy.
Yet, something is not quite right. Is there something unsaid going on? Julien seems jealous of another scenographer and successful playwright, Max, superbly played by Lionel Abelanski... He also is smitten with Suzanne and urges her to accept a part in a new play written specially for her.
A comedy within the comedy
Showcasing authors, divas, backstage and fans, such is the magic of this play conceived like a plunge into time and written by Fabrice Roger-Lacan, who has also written a lot for Isabelle Nanty or Edouard Baer.
But behind this comedy inside the comedy, there is the story of an impossible bereavement that is brought about with infinite delicacy. François Berléand in the role of this adored husband, who in fact has recently died: so, it's actually a ghost that Michèle Laroque chooses to invoke… in her imaginary. And that's the magic of Bernard Murat.
A play subtitled in English
Si If you have English or American friends in your entourage, this the moment to take them live a wildly Parisian experience in the superb decor of Théâtre Edouard VII. And rarity, the production offers the play in a subtitled version, just like at the opera.
The must? Going for a post play supper at Froufrou, the new restaurant of the Théatre Edouard VII furiously trendy and decorated by Alexis Mabille.
Encore un Instant at Théâtre Edouard VII. Tuesday to Friday at 9pm. On Saturday, 5pm and 9pm. Sunday, 3:30pm. Tickets starting at €20.