© Jose Salto pour Marie Akaneya / 11h45 pour Omasaké / Shunei (@sushishunei).
California Rolls and lukewarm gyoza make for a good lunch break at the office. However, true aficionados of Japanese cuisine would recommend trying one of these three establishments at least once in your life, offering sensory experiences of the highest caliber, reminiscent of the coolest and most cutting-edge spots in Tokyo. It's the art of blending centuries-old craftsmanship with a thoroughly contemporary minimalism.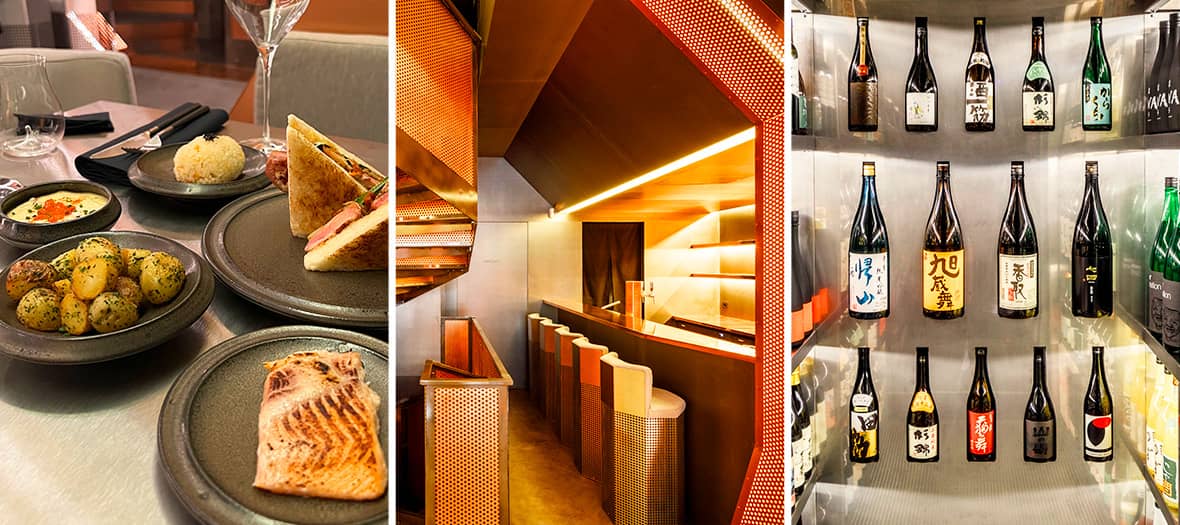 The promise? A sleek sake bar to toast and nibble in a completely futuristic space.
The place? Newly opened, 27/4 is divided into two parts. Upstairs, Master Sushi Chef Tomoyuki Yoshinaga skillfully wields knives in front of a few guests in a traditional setting, while on ground level, the Omasaké sake bar unveils a stunning decor of metal and neon. It feels like you're in Tokyo in 2050, yet the offering is undeniably contemporary.
What to order? Not familiar with sake? No problem. A friendly "sake sommelier" will guide you based on your preferences (whether you prefer citrus, umami, or mushroom notes) to select the best Hiten or Junmai sake to accompany your dishes: highly creative appetizers, teriyaki chicken sando (€23), lean tuna in sashimi and fatty tuna tartare topped with caviar (€34), or yellowtail carpaccio marinated in sake and sancho oil with puffed rice (€21). A timeless and spaceless moment to be shared at a large table.
27/4, 27 Rue du Quatre Septembre, Paris 2nd. +33 7 57 81 46 46. Open from Tuesday to Saturday evenings from 7:15 PM to 2 AM.
© 11h45 for Omasaké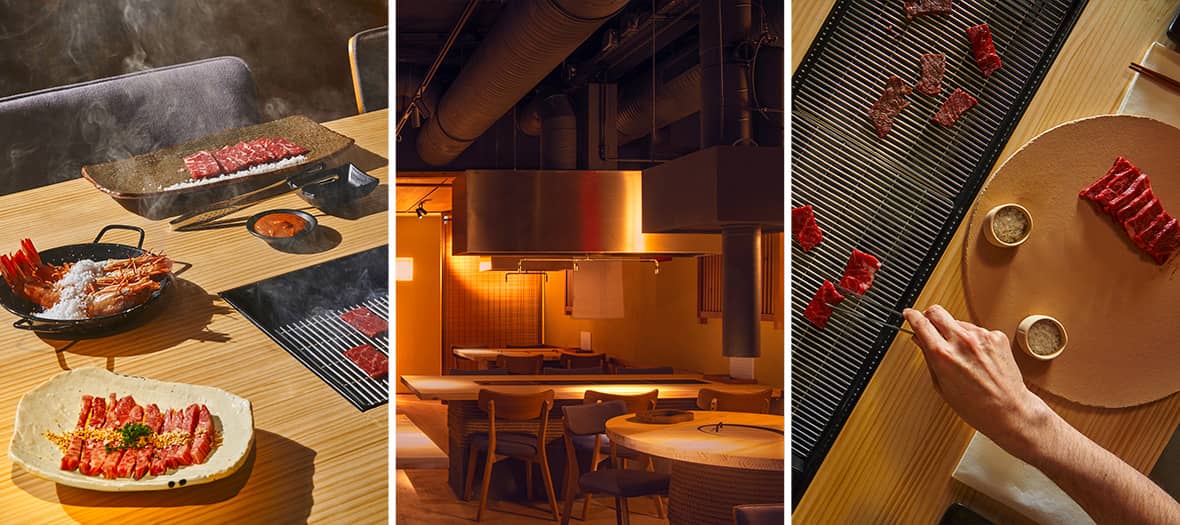 The promise? A divine Japanese barbecue ("sumibiyaki") exclusively featuring the exceptionally rare and incredibly tender beef from Ito Ranch in Europe.
The place? A restaurant with a minimalist decor of light wood and natural materials, a one-way ticket to Kyoto where you'll find clean lines and a serene atmosphere, accompanied by a jazz playlist. The entire team greets you in Japanese and in unison before you join one of the 11 tables, each adorned with a binchotan charcoal barbecue for you to manage the cooking yourself.
What to order? For an indulgence to treat yourself to (at least) once in your life, opt for the €180 Fukuroi menu (though the €120 option is also quite satisfying). Begin with a glass of Umeshu, the sweet plum sake, to accompany the best edamame of your life, grilled with sesame oil. Next, enjoy duck broth with Udon noodles, delight in the perfectly crunchy Tonkatsu pork, savor a vegetable and mushroom broth, and then grill pieces of beef on your personal barbecue, culminating in the ultimate pleasure of the Ito Ranch™ sushi with its famous melt-in-your-mouth beef. Conclude with two desserts: a matcha mousse and a slice of Crown Melon, which is also a source of pride for the Japanese.
Marie Akaneya, 12 Rue Godot de Mauroy, Paris 9th. +33 9 87 52 36 38. Open only in the evening from Tuesday to Sunday.
© Jose Salto for Marie Akaneya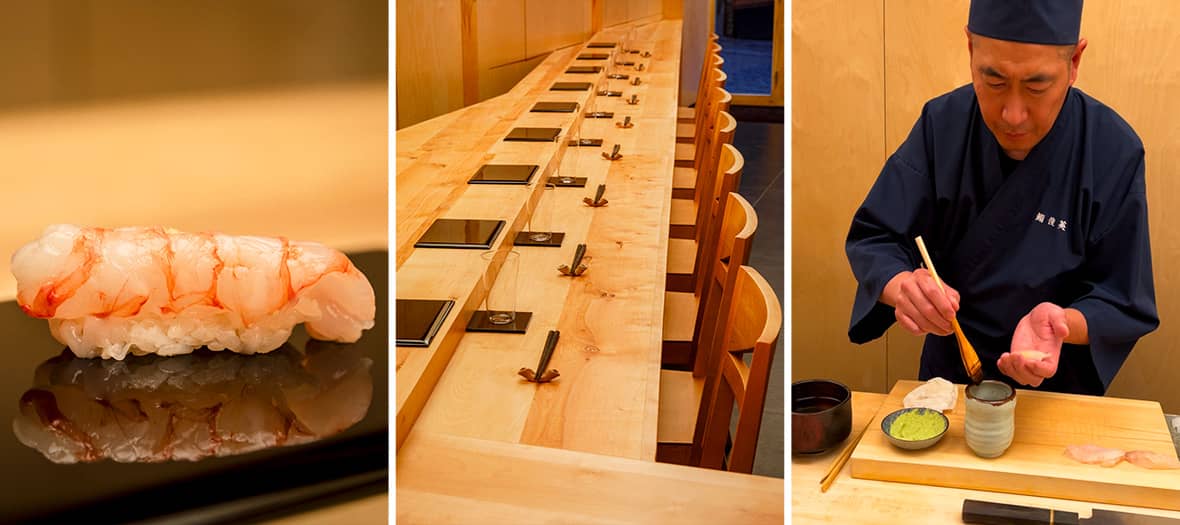 The promise? A sushi gastronomic experience to be savored with your fingers (as tradition dictates!) in a very small group, facing the sushi master himself.
The place? A petite restaurant well-known to true sushi enthusiasts in Montmartre, where the smiling chef Takeshi Morooka crafts exceptional raw fish in front of only 9 guests in a minimalist wooden setting, devoid of any extravagance. It's a unique discovery to offer to discerning palates...
What to order? The Chef's Sashimi & Nigiri menu at €200, where each bite is a holistic experience on your tongue and palate: astonishing hot and cold appetizers, delicately sliced melt-in-your-mouth sashimi (the show is mesmerizing), 12 nigiri (turbot, sea bream, yellowtail, sea bass, toro tuna, eel...), a savory temaki hand roll, and devilishly fragrant miso soup. Finish on a fresh note with hazelnut & hojicha - umeboshi sorbet from the Manufacture de Glace Alain Ducasse.
Sushi Shunei, 3 Rue Audran, Paris 18th. +33 6 44 66 11 31. Open for dinner from Tuesday to Saturday, with services at 7 PM and 9:30 PM, and for lunch on Saturdays at 1 PM.
© Shunei (@sushishunei)
Also discover where to enjoy the best ramens in Paris and Dragon, what we thought of Cyril Lignac's chinese restaurant