Beware heartbeat! Planted behind the garden of the Palais-Royal , Mer & Coquillage knew how to create a surprise when we were expecting neither more nor less than a pretty marine table , revealing French fish (cocorico) and particularly exquisite broths. When are we coming back again?
Classy Seafood
It is a racy decor with the influence of 20th century ocean liners , with wood paneling , elegant benches , white tablecloths and rigorous silverware . Already at the helm of his neighboring brasserie La Belle Époque , Franck Maillot (the king of the night to whom we owe the flamboyant return of Raspoutine ) wanted a new address in line with the responsible concerns of the time, where small producers French would hold the top of the poster.
In line with the new marine tables that caught our eye (notably the excellent Vive by the Le Quellec couple ), Mer & Coquillage has already become the table to name-drop for a chic lunch or a good seafood platter. sea when the mood arises...
The broths of your dreams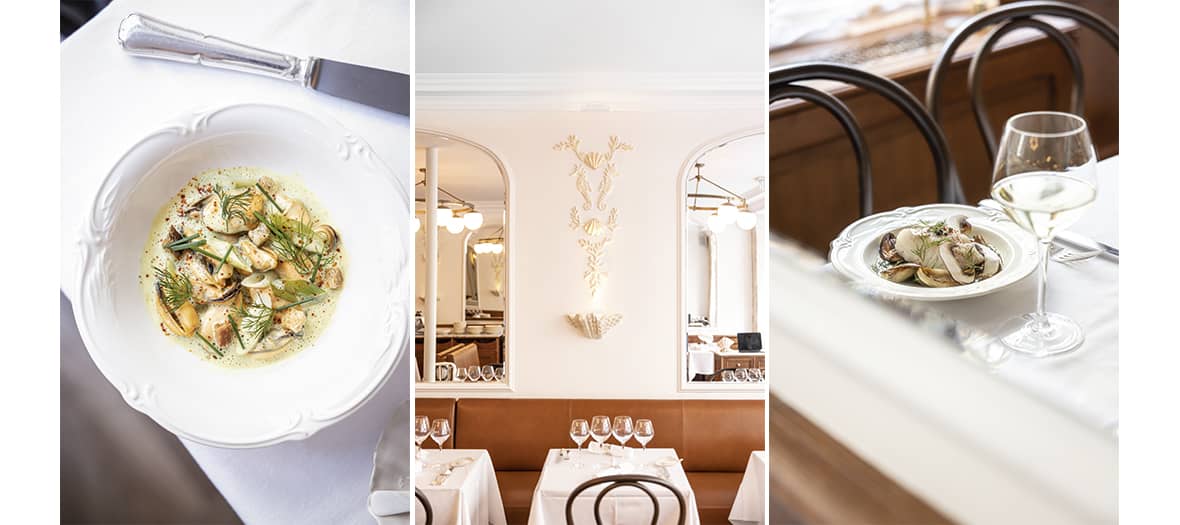 As for the plates, it is Mathieu Poirier who should be congratulated. Passionate about his exceptional products which we feel he could talk about for hours, the man who already entertained socialites during La Belle Époque is returning to his roots here, after having honed his seafaring know-how at Divellec .
His signature ? Exceptional broths , ideally flavored, which electrify ravioli of blue lobster and prawns in a small langoustine bath (€29) or give a new flavor to poached cod , wilted baby spinach, roasted porcini mushrooms, when it is flavored with wild mushrooms (€38).
We also linger over these naughty little clams au gratin with lemon thyme butter (€24) and the delicate red mullet fillets , baked potatoes, black garlic aioli (€39), before hitting the Corsican clementines braised organic, almond crumble, vanilla/hemp ice cream from Glazed (€15) or a vanilla and sweet clover millefeuille , this little herbaceous yellow plant (€15).
Shellfish and crustaceans
Seafood mabouls can compose their own platter themselves (" Because, personally, I never want exactly what is offered in the versions already composed ", says the chef, no but): 6 3 natural oysters from Chausey (€18), 8 whelks with tartar sauce (€14), 6 sea almonds (€13), 1/2 brown crab (€22)... to be washed down with a glass of Menetou- Salon (€15) or a good Chablis (€18).
Open Monday to Saturday noon and evening.
© Ilya Kagan
Also discover our cutting-edge addresses to order a good seafood platter and the most socialite seafood bar in the Marais.