Fans of chawarmas , falafels , baklavas , halloumi , hummus and other labneh are finally holding their HQ to catch all their favorite Lebanese specialties . We no longer need to introduce Noura , the largest Lebanese caterer in Paris who promotes Levantine gastronomy and distributes her ultra-addictive street food kifs all over Paris. On Place de Beyrouth in the heart of the Golden Triangle , Noura Traiteur is getting a makeover and now offers a crazy offer: Lebanese groceries , take-away , caterer , pastry … Shall we take you?
A wow decor by Laura Gonzalez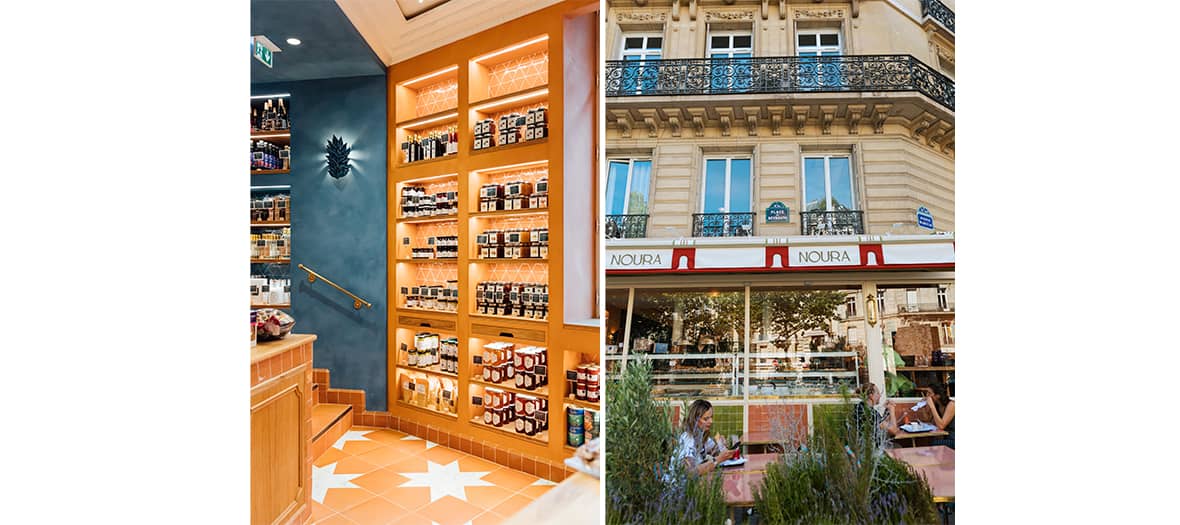 A pretty terrace surrounded by olive trees catches the eye of curious passers-by. From here you can see a huge and promising pastry counter , while on the right, chawarmas are prepared on the spot in front of the grill which makes the meat crackle. On entering, you immediately recognize the colorful touch of decorator Laura Gonzalez ( Sir Winston , Manko , etc.) who has never hidden her love for oriental decor. It's like being immersed in a lush atmosphere of the Thousand and One Nights , where the delights spread out profusely in sets of alcoves in terracotta, blue and green tones. An upturn that will soon extend to the Brasserie Noura Marceau , located just opposite. Case to follow!
To catch his evening meal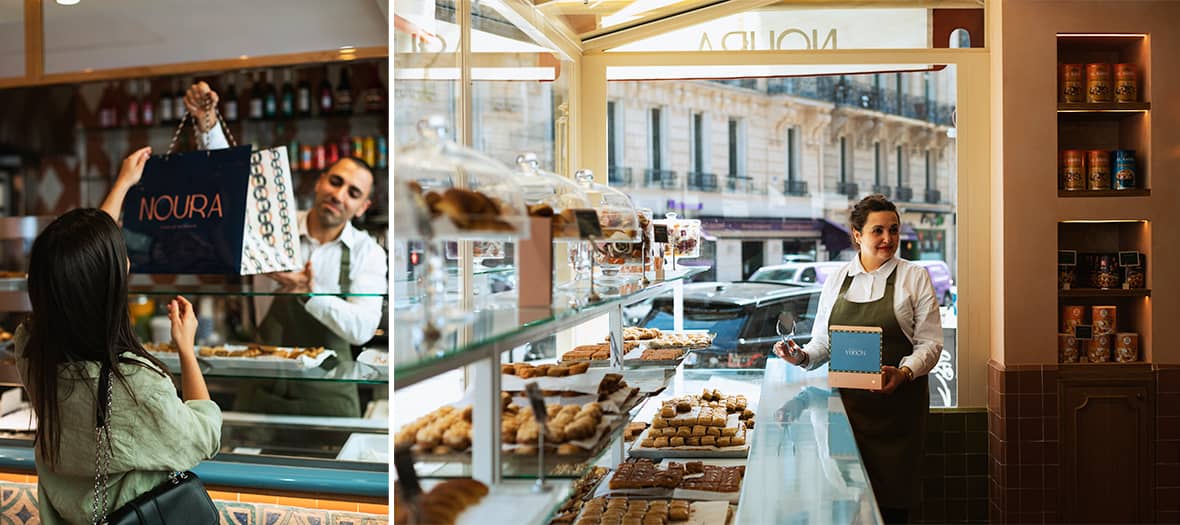 An entire space in Noura is devoted to the catering service , ideal for hosting large tables at home without having to lift a finger. We immediately order the mezes, symbols of the sharing that unites this region of the Mediterranean : labné (€1.90 for 100g), samboussek turnovers with cheese (€1.80 each), kebbé meatballs (€1.80) , falafels (€1.80), Greek salad (€3.90 for 100g), tabbouleh (€2.70 for 100g) or a superb Monk salad (shredded aubergines, tomatoes, onions… €2.90 for 100g). Top: don't forget the bag of Lebanese bread to drizzle everything (€1.20) and the Koskas bottarga (€18 for 100g) to grate on a salad or in pasta.
Beware of cracking… Sweet tooths will be irremediably drawn to the counter opposite, filled to the brim with homemade oriental pastries : baklawas (€38 per kilo), maamoul , halawa knéfé and other delicacies to die for.
For couture shopping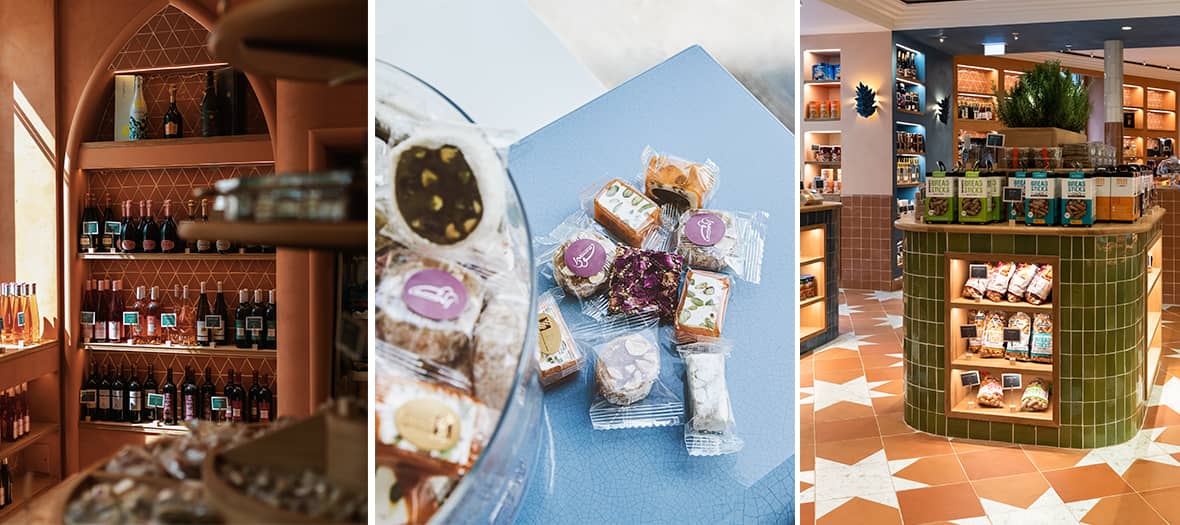 Nota bene: remember to bring a good bag of provisions to bring home Oriental delicacies . Head to the spice bar to taste the zaatar (€10.30), a mixture for chicken chawarma (€6.30), ground coriander (€3.90)... Not to mention the selection of Lebanese wines (Ksara blanc de blanc €16.50, Kefraya rosé €17.50), halloumis in the chilled section (€6.90), cashew nuts (€9.50), orange blossom (€19.60), ice cream per liter or rose jam (€8.90). Special mention for the Turkish delight bar (bags €3.90) and other sweets to offer (stuffed dates €42 per kilo), and the gift boxes to personalise. Tip top: it will soon be possible to order all products online at epicerie.noura.com .
The icing on the cake: the possibility of calling on the exceptional catering service for professional or personal events. Birthdays , receptions , weddings , cocktails , at home or elsewhere: Noura Traiteur takes care of everything (request for quote by email at events@noura.com or 01 47 23 02 20).
For a snack on the go
Ultimate joy: the corner to taste on the spot or in take-away the beef or chicken chawarmas (€7.50) but also halloumi , grilled kefta , chick taouk or skewer of lamb (€7.90). Count €13.90 for an express menu with your choice of sandwich , salad or duo of mezes or savory puff pastries or dessert, and drink, also available for delivery .

Open every day from 10 a.m. to 12 a.m. All information on noura.com .