PFW kept you on tenterhooks? Plan your next stroll to the Fashion museum, Palais Galliera, next to Place Trocadéro. The new Haute Couture exhibition 1997 FASHION BIG BANG is just what you need.
In case you didn't know - 1997 was pivotal in Fashion history. Vogue defined the Spring-Summer 97 season as a "Big Bang", the collection that Paris so desperately needed to renew its closet and reclaim its position as the fashion capital.
The 80s heralded the debut of some of the biggest names in Haute Couture (Jean Paul Gaultier, Thierry Mugler...) who introduced singular aesthetics wherein human boundaries blurred. Alexander McQueen's "The Search for the Golden Fleece" line for Givenchy, where mythological creatures and Greek goddesses with golden accessories walked the runway, or Thierry Mugler's "Les Insectes" collection, where models wore "lunettes mouches", antennae and metallic carapaces....
Watershed Year For Fashion
Ready-to-wear designs, like Rei Kawakubo's for Comme des Garçons or Ann Demeulemeester's androgynous line dedicated to Patti Smith, push the boundaries of gender.
1997 marked the arrival of young artistic directors: Stella McCartney for Chloé and Hedi Slimane for Saint Laurent Rive Gauche Homme, in addition to the renowned concept store Colette, which drove everyone to rue Saint Honoré until its closure in 2017.

The Fall-Winter season of 1997-1998 was full of excitement, event-wise. The latest Gianni Versace collection, featuring a series of provocative dresses and asymmetrical designs, was a highlight of the season.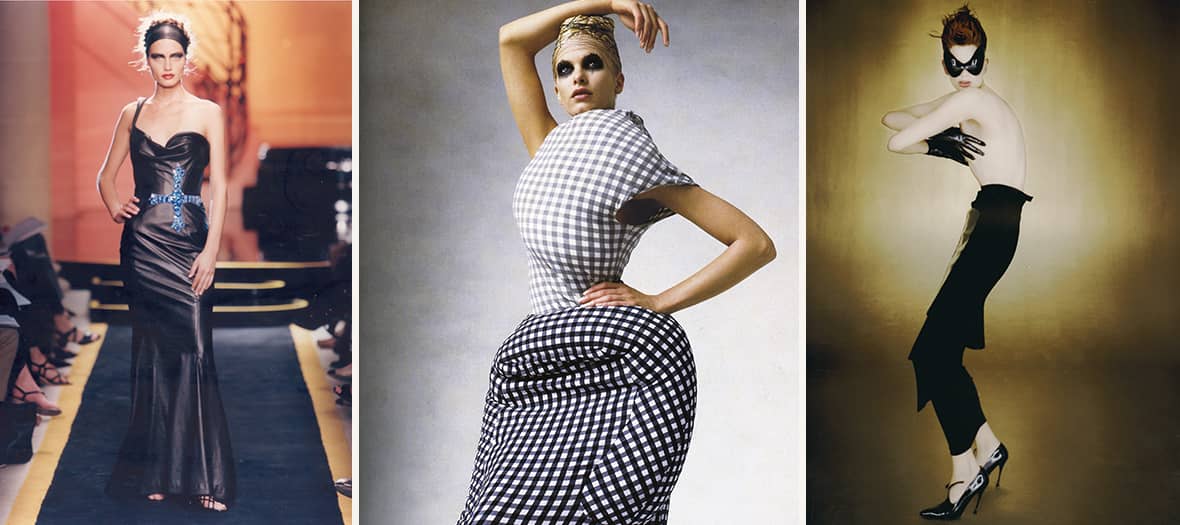 © Courtesy of Versace, © Jean-Baptiste Mondino et © Condé Nast / The Irving Penn Foundation
Haute Couture All The Way
Walking through "1997, FASHION BIG BANG", we understand what this era was all about: fashion show archives, accessories and most of all, couture garments, from Tom Ford's G-string to Fendi's iconic Baguette bag (now called the Baguette 1997), or even John Galliano's colorful dresses for his first collection at Christian Dior. We're in awe.
At the time the greatest designers teamed up with artists and public figures to show off their creations: Walter Van Beirendonck designed the costumes for U2, Jean Paul Gaultier made the costumes for Luc Besson's Fifth Element... On August 24, 1997, Jean-Charles de Castelbajac even dressed Pope John Paul II during the World Youth Day (Journées Mondiales de la Jeunesse).
Don't worry, this isn't a tell-all - however, the exhibition will leave you eager to switch to fashion design and travel back in time.
Fashion all the way baby!

Then what?
To grab lunch after the tour, head on over to Monsieur Bleu, Forest or Bambini, all within walking distance.
"1997, FASHION BIG BANG", March 7 to May 16. Open from 10 am to 6 pm from Tuesday to Sunday. 01 56 52 86 00. From 15 € (full price) to 13 € (reduced price), free for minors.
© Michael Thompson / Courtesy of Jean Paul Gaultier et © Courtesy of Peter Lindbergh Foundation