It's the back-to-school event! The Palais Galliera celebrates the Mexican artist Frida Kahlo with an exhibition presented as an initiatory journey to the heart of her intimacy, highlighting certain objects from the Casa Azul , but also the personal effects and outfits of this undisputed female figure of the surrealist avant-garde of the 20th century.
Frida and her appearance
The artist, whose destiny was damaged by her illness and by the bus accident which almost cost her her life when she was only 18, had no choice but to build herself through these upheavals.
Frida Kahlo becomes very meticulous with her appearance, which she develops as a veritable mise en abyme of her identity and also political concerns. His disability is the spearhead of his creativity as well as a means of controlling his image; her unconventional outfits as a teenager transition into a hybrid style as an adult, blending elements from diverse regions and eras but still rooted in the matriarchal heritage of Tehuantepec women .
The exhibition Frida Kahlo, beyond appearances allows you to admire her jewelry sets, the long skirt and embroidered blouse combo, the elaborate headdresses and their rebozos (woven shawls), the corsets on which she draws herself and with which she represents herself in her paintings, which are the embodiment of her physical suffering but also of her resilience, her strength and her love for art. Many outfits are exhibited in the South Gallery , a true remnant of the daring appearance of this non-conformist and committed artist to the end of her skirt.
La Casa Azul, the mirror of his soul
Frida has a particular affection for her house, then surrounded by a lush garden where dogs, parrots, ducks and monkeys live among lemon trees and multicolored flowers. The artist spent most of his life at Casa Azul , a house in central Coyoacán originally decorated by his parents in a very European style. In the 1930s, she renovated it with her husband Diego Rivera , repainting the walls blue and decorating the space with typically Mexican trinkets.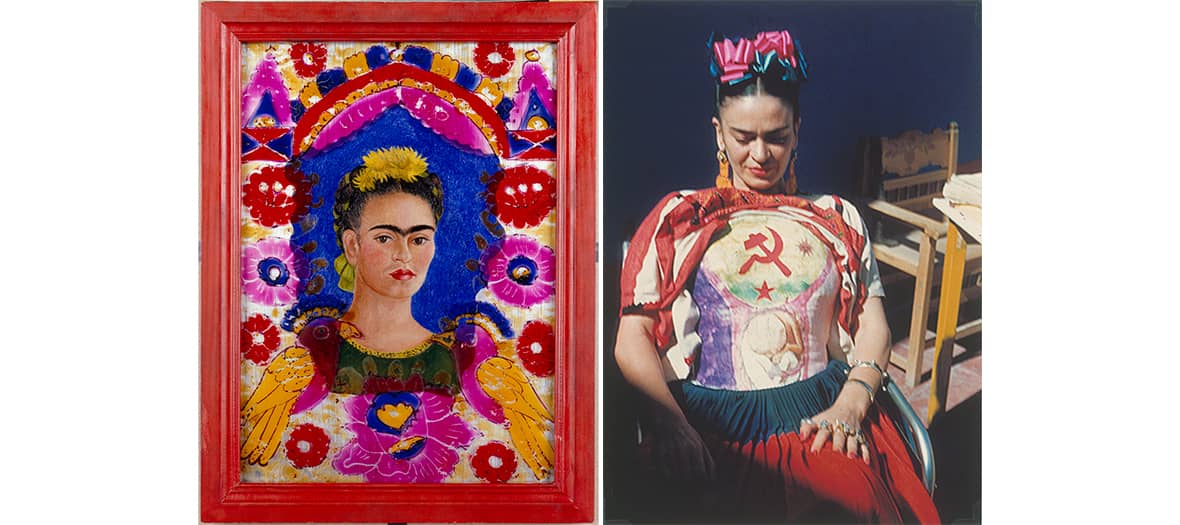 Thanks to the exceptional participation of Circe Henestrosa (designer and curator of the exhibition), the exhibition presents a whole series of popular art, pre-Hispanic sculptures and votive paintings that have adorned these places transcended by art and passion . , like the tumultuous relationship of its owners Frida and Diego .
The Casa Azul became a real cultural center invested by great figures of the time such as Léon Trotski and André Breton , in search of a haven of mexicanidad and good company.
The Frida Kahlo look these days
A capsule exhibition is held in the Salon d'honneur to conclude this immersive visit to the world of Frida , presenting a panorama of unique pieces made by designers such as Jean Paul Gaultier , Riccardo Tisci for Givenchy , Comme des Garçons , Alexander Mcqueen , Karl Lagerfeld for Chanel ...
As a transgressive and unforgettable fashion muse, Frida Kahlo has become a world-renowned icon whose visual repertoire addresses the various themes that have governed her life: trauma , disability , ethnicity , gender identity and politics . Revealed in outfits by contemporary designers, the Frida Kahlo look continues to live on in the 21st century thanks to these big names in fashion who pay homage to it through confections, each more unconventional than the next, where the journey of the artist is reflected in shapes and fabrics.
Frida Kahlo, beyond appearances at the Palais Galliera, Fashion Museum of the City of Paris, 10 avenue Pierre de Serbia, Paris 16th. Reservations recommended .

Also discover the literary season of Parisians and the best series of September