To greet the Gariguette season in style, impossible to bypass this wonderfully regressive dessert. A strawberry shortcake with a light rolled génoise covered with Barbie pink marzipan for extra delight. A real princess cake for everyone...big and small!
For 6 to 8 persons.
Preparation : 40 min. Cooking : 10 min. Cooling : 2 h.
- Prepare the vanilla custard. Whip the egg yolks with the sugar and the vanilla. Incorporate the sifted flour. Boil the milk, pour over the egg yolks while whipping. Put back in the pan and bring again to a boil while constantly stirring. Boil for 30 seconds, then pour in a big bowl. Incorporate the butter piece by piece until it is melted. Cover with plastic film, allow to cool down, then allow to sit for one hour in a cool place.
- Prepare the génoise. Beat the egg whites into peaks with the salt. Whip the yolks with the sugars until the mix whitens, then add the flour. Incorporate the egg whites delicately without breaking them, until the mix is homogenous. Place sulfurized paper on a plaque, pour the dough on top and bake for 10 min (180 °C, th. 6). When the génoise is cooked, removed it from the oven, turn it over on a kitchen towel and delicately remove the paper. Roll it lengthwise and keep it warm.
- Remove the strawberry stems and cut into pieces. Unroll the warm génoise. Cover with a rather thick layer of cream. Sprinkle with strawberries. Roll delicately with the kitchen towel, without packing too much, and cover with a think layer of cream. Spread the marzipan between 2 sheets of sulfurized paper and totally cover the rolled cake. Film and allow to sit in a cool  place for at least one hour before serving.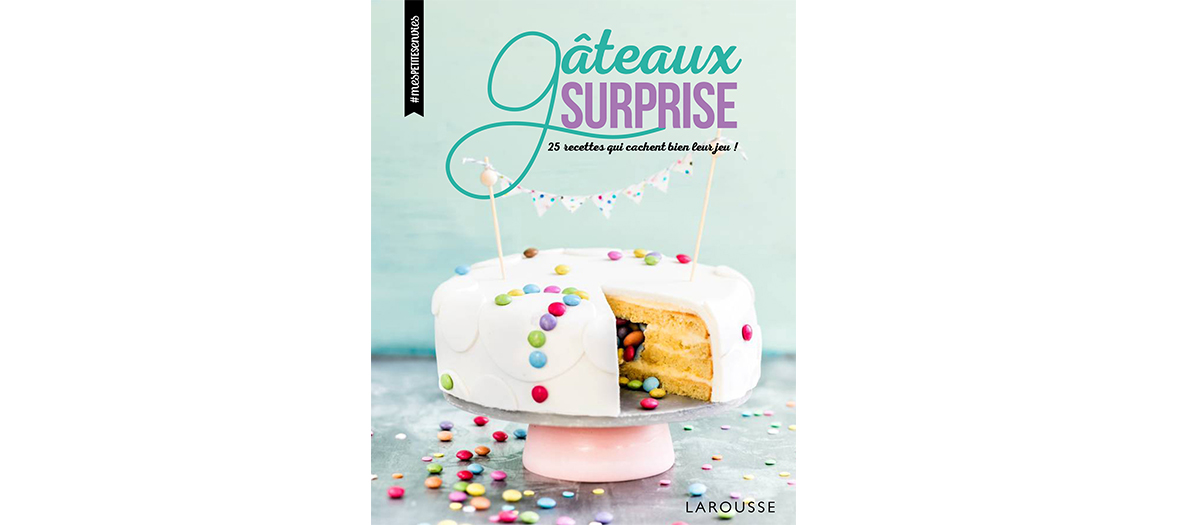 © Gâteaux surprises - 25 recettes qui cachent bien leur jeu ! - Editions Larousse, 2017.
Written by Quitterie Pasquesoone - Stylism: Anne Loiseau, Photography: Delphine Amar-Constantini.
Also discover the cult strawberry shortcake at Thoumieux, the ice cream cup by Angelina and the pavlova with strawberries by Christophe Adam.