Cocktail courses with the gals sounds like fun ? Good news, DO IT IN PARIS and Slow Drinking are teaming up so that you can win 6 places for 2 persons and participated in a unique and savory moment in the mythical LAVINIA house on 25 May…
Reveal the real Parisienne sleeping inside you by learning the art of the good balanced cocktail … on a resolutely « Slow Drinking » mode!
Spread the work, binge drinking parties with bad rosé wine are out! Master the art of dosing by the millimeter, prepare your palate, be the happy hour « it-girls » without ever being tipsy.
As though you were tasting a vintage wine, initiate yourself to preparation and tasting of a cocktail filled with joy and good humor, like a wildly chic ritual. In short, jump into the skin of in a leading hotel, perched on our stilettos…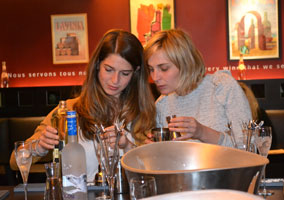 For the elegant touch, a mixologist specialist orchestrates deluxe workshop, so you can discover all the tips for a good cocktail and concoct small marvels worthy of palace bars.
And here you are, capable or preparing (and reproducing it back at home) a delicious savory and balanced cocktail. The must ? Finger-food recipes to nibble on while serving the cocktail…
We adore… learning insider tricks Start by drinking a glass of water to awaken your taste buds, always associate food and cocktails for a slower tasting and more gregarious tasting ; respect the right amount by using a measuring cup to master the exact quantity of alcohol in your glass and your consumption of alcohol…
Slow Drinking cocktail workshop : Saturday 25 May,
8 and 22 June, sessions at 6 and 7pm.. Entrance 10€. Reservations on http://www.lavinia.fr/, « Slow Drinking » or at 01 42 97 91 35.
More information on www.slowdrinking.com
The hot tip? Play and win seats to participated in the Slow Drinking cocktail workshop on 25 May at 5pm.