This message is for all those in love with down to earth bistro cuisine at affordable prices, served in Parisian "bouillons" (such as Chartier, Pigalle…), those who cannot resist a pâté en croûte, a sausage with mashed potatoes, a good glass of red wine or a tasty crème brûlée.
Les Halles institution, Pharamond, is back in the spotlight with an affordable Normandy version, totally addictive and now called Le petit bouillon Pharamond, with Benjamin Moréel and Christopher Préchez at the helm (Café de mars, Lefty, Little Georgette, John Weng, Le POD). Of course, we were delighted to race over and sample their signature dishes for you.
This typical Normandy address can be admired from the outside thanks to its half-timber style, closed in between two buildings and looking onto a joyful small square, with a sunny terrace. Yet the inside is a surprise.
Spanning three levels, one discovers the very best of the Belle Époque style: large mirrors, red velvet banquettes, wood stairs, painted mirrors, mosaics, gilding and glass paste. Deliciously retro...
Wonderful "Made in Normandy" comfort food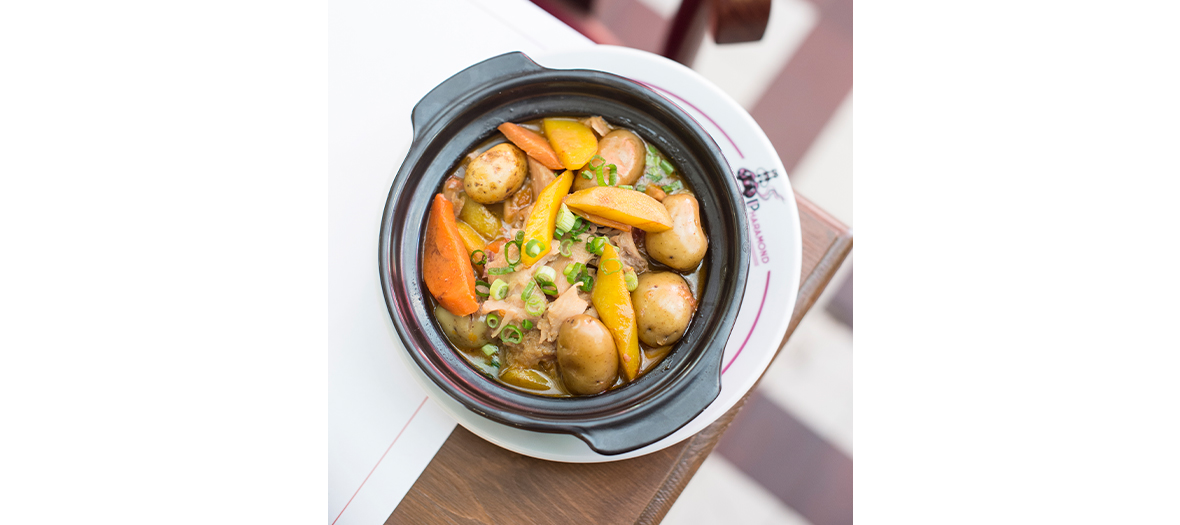 Since 1832, Pharamond has strived to make Parisians discover the signature dishes of Normandy. Its specialty ? The very best "tripes à la mode de Caen" in the capital, big fave of illustrious guests such as: Georges Clemenceau, Ernest Hemingway, Oscar Wilde and even François Mitterrand. And today's fans are delighted that the new menu has saved the house starlet, tripes (€10.90).
It now features iconic dishes from the bouillon cuisine, (cheap and traditional) all home-made with French meats, organic eggs and charcuterie stemming from Olivier Brosset: egg mimosa (€1.90), snails (€6.90), in-house foie gras (€7.90 €), amazing braised ham with irresistible mashed potatoes (€9), a comforting pot of coquillettes pasta with cream, cheese and truffle oil (€7.50) or a broiled bass with white butter sauce, vichy carrots (€12.50).
And just in case there still is a little room, you can finish your Côtes du Rhône glass (€4) with a selection of Normandy cheese, natch: camembert (€2.90), Pont-l'Évêque (€2.20), Livarot (€2.50), Neufchâtel (€3.20). One last tip for hungry gourmets: the divine tarte tatin and its thick cream (€4.50 €). Quite hard to enjoy more for only €25 per person for a really terrific meal!
Open 7/7 with non stop service from noon to midnight.


Also discover the Tour d'Argent bistro and the 10 best bistros in Paris.