In terms of sweet creations, fruit is in the spotlight! Starting with the sculpted hazelnut, cherry of lemon of Cédric Grolet at Meurice, nominated as best pastry chef in the world.
Obsessed by FRUTTINI®, holiday childhood souvenirs, Marie-Laure Pollet and Olivia Berdah decided to import this Italian ice specialty to Paris on a highly couture level in a small pastry style tea salon in Saint-Germain-des-Prés, under the helm of an Italian ice cream maestro.
A unique ice cream creation, on a highly couture level,under the helm of an Italian ice cream maestro.
As delicious as a cake, as light as an ice cream !
So heads up to Parisiennes looking for sophistication and lightness. These frosty fruit have all the heart assets to seduce them.
Imagine a seasonal dessert, as low cal as a homemade sherbet and with fantastic aesthetics. These gems, including the ultra-unctuous sherbert, placed in the fruit shell, are amazing.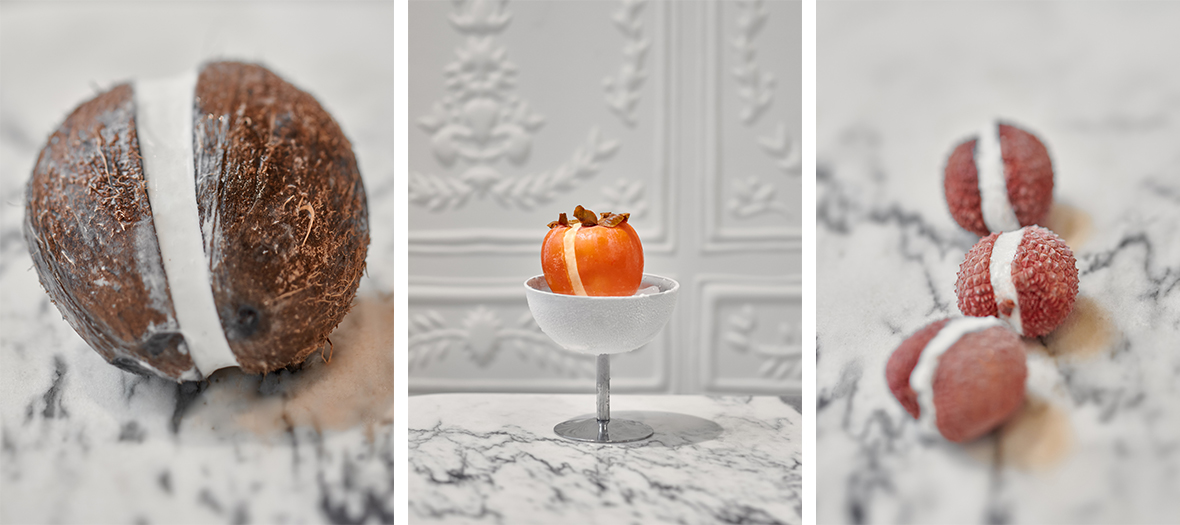 @Anne Charlotte Barnouin
Imagine real still-lives, life-size, super photogenic… to be nibbled on! A must-eat that is going to cumulate likes on Instagram and create a sensation during dinner parties.
Fruit baskets in trompe l'œil
Just choose your composition with small fruit to bite on solo or big ones to share: nuts, chestnut or date (€4.5), litchi (€3), pineapple, manguo or noix de coconut (€35), melon (€42).
We like: the possibility of tasting them right there in the candy pink salon with a nice tea.
The plus? Perfect wrapping that enables to transport the FRUTTINI® during 1h30 before placing it in the freezer. The good idea if you live a little too far? Ask to be delivered by Glovo.
Open Monday to Saturday from 10:30am to 7pm
Also discover the Meurice pastry shop where you can come pick up the magic fruit of Cédric Grolet.