If for you, brunch is a religion and earthy foods a passion, here is a small secrete address that is whispered amongst inside trackers. Hidden on a small street right near République, the Gourbi Palace pays tribute to its name.
A slighltly vintage decor but no-nonsense with its flamingos wallpaper on the bar, a drawing of the Dalton brothers, chairs picked up here and there, but mostly in the plates : the nec plus ultra of down to earth nibbles! Launched by two brothers and sisters, a friendly spot as we like them with an almost unbeatable quality / price ratio.
For once, an all you can eat brunch for €20 with a wide array of good products as well as a hot dish où (tartare of fresh salmon or pork roast with gravy and small pan fried potatoes), warm beverages (coffee/tea/chocolate), plump viennoiseries, home-made gourmet  treats (lemonade, yummy butternut soup, compotes, plain French toast, chocolate cake…).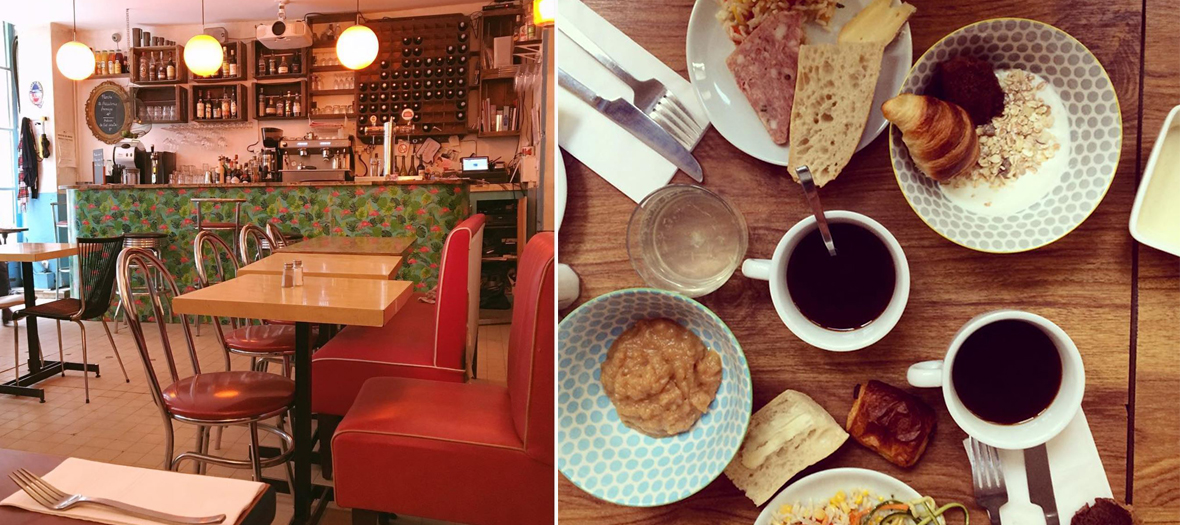 And of course let's not forget cheese and charcuterie plates in a tour of Gaul's savors ambiance: rillettes from the Sarthe, bleu d'Auvergne, fresh goat cheese from Maine-et-Loire or tomme from Savoie. Ultimate high: being served (in addition) Pyrénées ham (€8) or roasted picodon from  the Ardèche (€9 ) to be spread on good bread. The extra (soul) of real connoisseurs.
All you can eat brunch: €20 . Every Sunday 11am-4pm.
Also discover the palace brunch of the Lutetia.