Do you know The Black Hand ? Behind this particular name hides a crazy coffee shop launched by three good friends who met in the land of kangaroos. Their signature? " Virtuous lattes ", these atypical drinks and creamy coffees that are as beneficial as they are delicious.
A healthy address for brunch…
The spot ? A pretty terrace at the foot of the Montmartre cemetery with striped parasols like at Brighton Beach in Australia. Inside, a chic industrial decor with lots of hanging plants.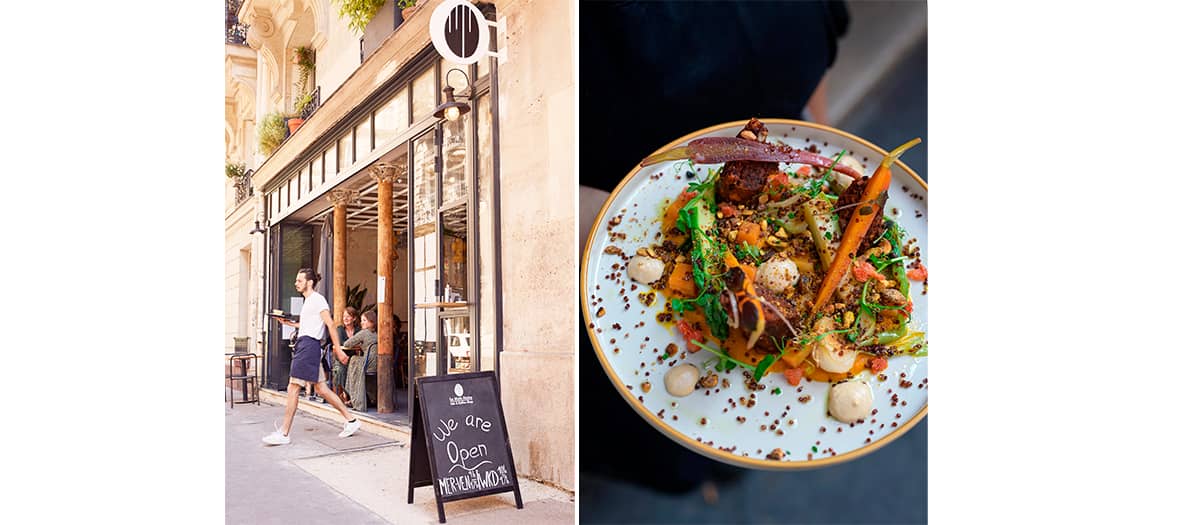 Designed as a small on-site laboratory, La Main Noire promises quality products, hyper-local sourcing and artisanal know-how. It all starts with the work by hand, which inspires the name of the café with the idea of "getting your hands dirty " to create the beautiful creations that we find on the plate. Australian chef Ryan is riding the healthy eating vibe . The result is a resolutely healthy menu with veggie focaccias (€15), sweet and savory pancakes with mushrooms and maple syrup (€14), or a homemade granola tart with sticky chai , a compendium of pure and hard flavors (9 ,50 €). We wash it all down with creamy potions in matcha green, charcoal black or downright turmeric yellow.
... and have an aperitif
One evening a month, the team surpasses itself to offer a dinner of kings to its guests. A random menu based on seasonal products and the chef's desires which functions as an aperitif dinner with à la carte dishes to share (from €10).
On the menu of delicacies: delicacies that melt in your mouth between a mushroom mousse on a ball of feta and its pita bread, crispy corn chips topped with sea bream ceviche with lemongrass and spices, avocado with marinated crayfish accompanied by their small vegetables. Highlight of the show? The surprise dessert… and offered.
Cool: the avant-garde spot also acts as a shop to buy products to infuse, including their famous paste (from €12.90) or sticky chais (€11.90). Novelty of the moment: CBD sticky perfect for restoring your health at the start of the school year (€19).

Open Wednesday to Friday from 8:30 a.m. to 4:30 p.m., from 10 a.m. to 5 p.m. on weekends. More info online .
Also discover: Ava Kitchen, the new hot spot like in Los Angeles and the gardens of the Palais-Royal .