Total refinement, this new pastry on the butte Montmartre looks surprisingly like a jewelry store. And down the Madeleine-shaped door handle is a tell tale sign.
Gilles Marchal Pastries
Gilles Marchal does not work with gems, but his cakes are very precious. Which is not surprising since this native of the Lorraine region is the ex patry chef of the Plaza Athénée, the Bristol and La Maison du Chocolat.
His motto? To renew with the original tastes of classic pastry in contemporary formats, more adapted to current consumer modes de.
Example? A Paris-Brest revisited as an éclair (5,50€), easier to eat, a strawberry shortcake presented in a glass, the ultra slim opéra (5,50€)…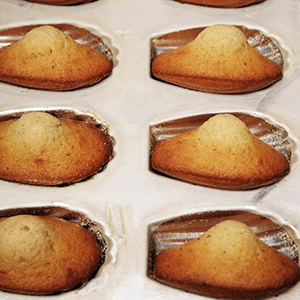 Without forgetting, the madeleine, his childhood souvenir, that comes in various flavours (plain, lemon zests, honey from the Vosges pine trees, garnished with black chocolate, starting at 1,60€…).
Tops, the ice cream cart has is now featured in front of the boutique. Perfect to grab a chocolate cone, with pistacchio from Sicily.
Open Tuesday to Sunday from 8am to 8pm.
Also see where to follow a pastry course in Paris and where to go for a fabulous strawberry tart