In Pizza, we trust! It's the motto of the brand new pizzeria that since a few days has replaced the mythical Pub Saint Germain, gone by the wayside...
At the helm of this new hype vessel moored at Odeon, a winning duo: Thierry Bourdoncle, the king of hip watering holes (Le Hibou, le Café Charlot, Palette) and Laura Gonzalez the decorating queen…
So here you can celebrate pizzas in a Brooklyn style version inside a three story house that plays with all the hipsters codes of coolitude: table soccer, small salons and huge tables of buddies, an industrial look, open kitchen.
In terms of clientele, here you will run into a combo of tourists and visiting Parisians more than the fashionistas and bearded honchos we were expecting … Nonetheless, to organize a great birthday, with style, the place is more than perfect!
On the menu: divine pizzas prepared instantly (our crush: La Mamma, the veggie one with burrata, 16€), carbonaras just like in Rome (18€) or the delicious truffle version (23€), meatballs (16€), tiramisu (9€) and other top notch desserts.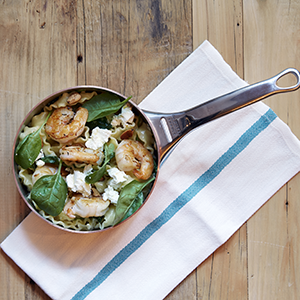 The must? Squatting their pedestrian terrace in the private passageway  (Cours Commerce Saint André).