Zebra Square is dead. Long live Daroco. The most trendy pizzerias in Paris has finally opened the festive and trendy restaurant that the 16th deserved. Debrief.
Previously...
Daroco is the story of a success-story written by Alexandre Giesbertand and Julien Ross. Installed in the spectacular decor of the former couture workshops of Jean Paul Gaultier on Rue Vivienne, the zippy duo has signed the first furiously trendy rendezvous where good Italian eats can be enjoyed as a gang in a superb festive decor.  Inside-track Parisians are on deck. In short: a successful recipe launched just before the Big Mamma phenomenon… It seems the Daroco team knows how to spot trends.
The address the 16th was waiting for
Located across from Radio France, the second restaurant, open non stop, Sunday night included, is already creating the buzz amongst the local clientele. Until now, in this part of the 16th, it was the great desert. And now Daroco 16 has totally changed the scene with this XXL address that sends out good sounds, a festive atmosphere and hot terrace without forgetting the possibility of putting together large family-style tables at "buddy-buddy prices"… Coolness is in the air.
A wild decor
Mirrors on the ceiling, street art fresco tagged by the artist Supakitch… The A.D. entrusted to architect Olivier Delannoy knows his stuff. Without forgetting the marble cocktails bar and the super slick decor combining brass, stainless steel and granite.
The good aperitivo ingredients
White Spritz, Prosecco… It sounds great. The cocktails bar and the terrace are the promise of a very dolce vita happy hour as we like them. Especially if they come with great antipasti and sourced in the right places: arancini (€6), nuggets of mozza with a hot sauce (€8), focaccia (€7) or plate of salami (€11).
The recipe for success…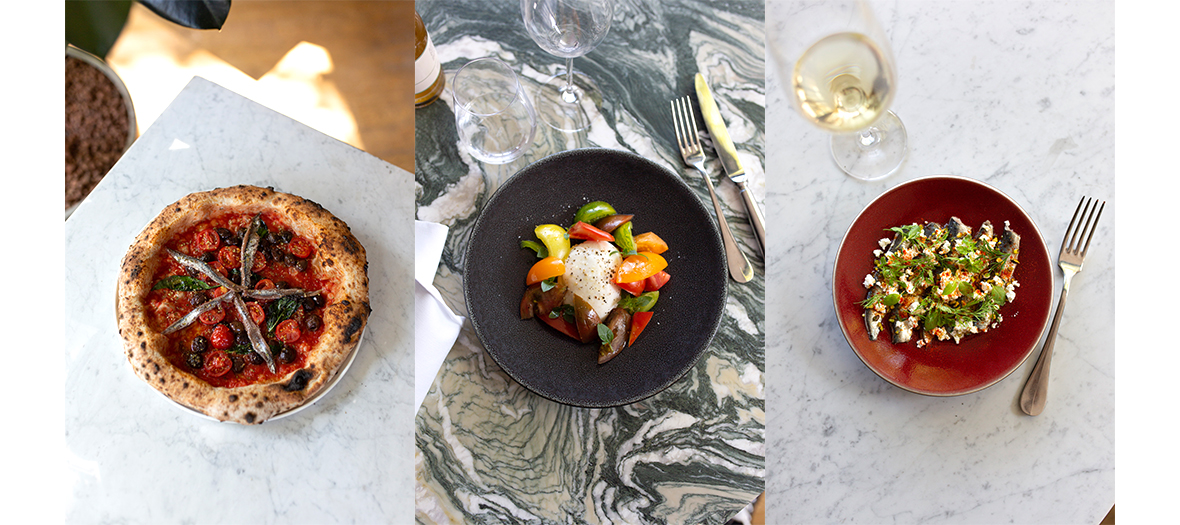 As for the pizzas, they are all "tutto bene": fab dough in a Neapolitan version, high-end oven and top notch products that enhance great classics such as the splendid Margarita with fior di latte ( €11), the Fiamma with tomato sauce, 'nduja sausage, glazed red onion, stracciatella and basil ( €14).
With his incredible ovens, the chef goes one step further in terms of his cuisine and has added to the menu a splendid Milanese veal scallop ( €29) or risotto with saffron and marrow just like in Milan (€21) and wondeful pasta: rigatoni all'Arrabbiata (€13) and pappardelle with beef ragu (€17).
Without forgetting desserts who play heavily on regression: tiramisu (€8), frosty raspberry-pistachio nougat (€9) along with heavy duty gelati: blackberry, yogurt, coffee, peach
Open every day, from 7:30pm to 1am.


Discover Daroco Rue Vivienne but also the 10 best pasta restaurants in Paris.