It's the hot meeting place. Since its opening in 2008, quite simply, Derrière is always busy; Sunday night included when there is not a table to be had at the restaurant. Trendies, gallery owners, producers, from the aristocracy to the cinema including New York fashion editors: there are many regulars in the most worldly dining room of the Marais. But here the game is more see and be seen than look in your plate.
Check out the spot. An apartment in the back of a courtyard, with a very amusing eclectic decor, trademark of the Mazouz brothers (Andy Wahloo in Paris, Momo, Sketch and Double Club in London, that's them): ping-pong table, huge Norman closet on the first level behind which hides a smoking room with a ping pong...
You can have a twelve-person lunch in a real bedroom, sitting on a bed, in the courtyard or in the living room … No fuss here, they serve a family style cuisine.
Twelve lucky guests can sit down for lunch in a room, seated on a bed, in the courtyard or the living room …No big fuss here,home-made comfort food is the ticket. Simple and good such as the green soup with coconut milk and crispy vegetables (17€), farm range chicken and mashed potatoes (22€), pasta tomato-basil-stracciatella, floating island or chocolate mousse (10€).
For drinks : 35€ for a bottle of bubbles. 35€ for a bottle of rosé (Côte du Lubéron). Reservations highly suggested. Brunch at 38€.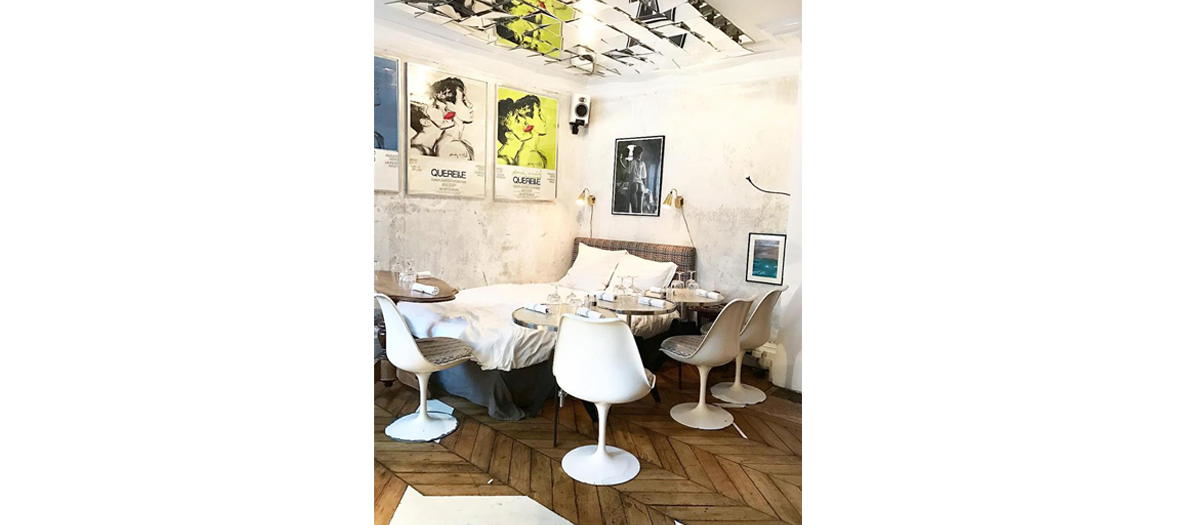 Open Monday through Saturday from noon to 2:30pm and from 8pm until 11:30pm; on Sunday efrom noon to 4pm and from 8pm until 11:30pm.
Discover also the best brunch of the holidays.