For the past two years he's entertained the finest palates of the 16th district at Le Molitor. His countless culinary talents are now being put to excellent use at Rivages, in the upscale Sofitel Le Scribe Paris Opéra Hotel. Martin Simolka is renowned for his colorful and sophisticated cuisine, already winning the hearts of gourmets in the Opéra Garnier district.
About Martin Simolka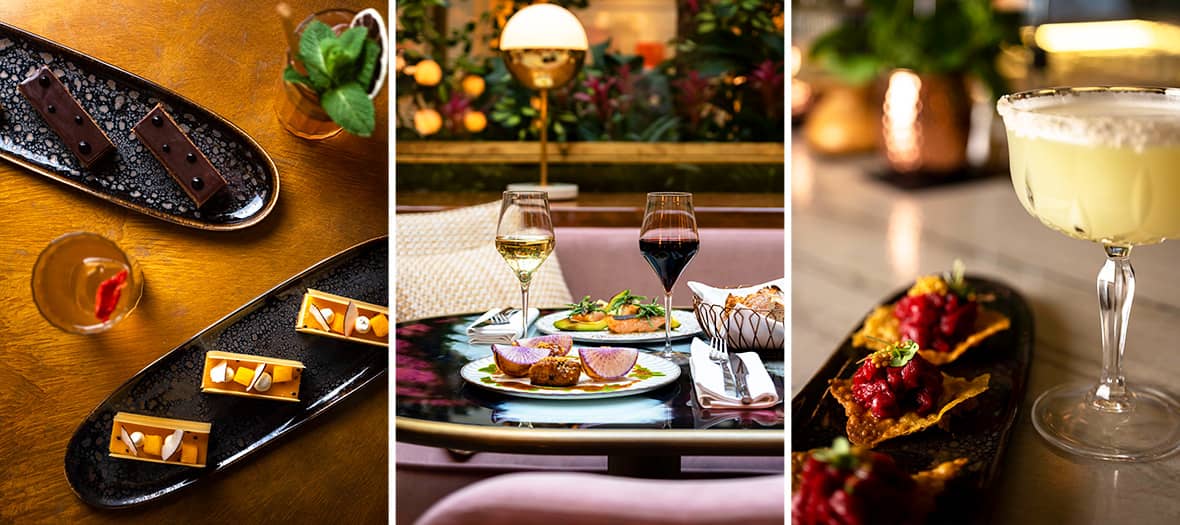 You may already be following hunky chef Martin Simolka on Insta. This German native cut his teeth in the finest palaces and starred restaurants (Pavillon Ledoyen, Shangri-La, Peninsula, George V) before touching down at the majestic Molitor. The chef, who champions healthy and balanced cuisine, has now put down his knives in the very cozy dining room of Rivages, decorated in pink velvet. 
His specialty? Fish, poultry and vegetables with silky textures and twists, using spices, cereals, oils and seeds to add character to his dishes, highly instagrammable.
Attractive, Fresh and Full of Colors
Amongst our favorites: white asparagus from the Landes, smoked mustard and kumquat (18 €), scallops from Normandy, broccoletti and Camargue rice (38 €), pink trout from Baigorri, samphire gremolata and burnt avocado, yum (32 €) or a filet of guinea fowl from the Gâtinais region, tahina and carrots (29 €). Also available: the lunch menu with starter, main course and coffee at 42 €.
Artistic Cocktails
Behind the bar Italian bartender Roberto Catalano stirs up shrewd cocktails around the five senses. Negroni fans will be delighted by the Scribere (gin, vermouth, bitter, aromatics), whilst sweet tooths will be seduced by the Videre with cognac, pisco, coffee and cream (19 €). Now how about a night out to impress your date?
Open daily for lunch and dinner.
© Géraldine Martens

Also discover Nhome : New gastronomic restaurant close to Palais-Royal and Source the gastronomic revelation