Returning to ancient flours, praising slowness, and being fascinated by fermentation, these modern bakeries place craftsmanship at the core of their trade. A look at the consistently reliable addresses by neighborhood where you can grab baguettes, loaves, croissants, and other delights just out of the oven.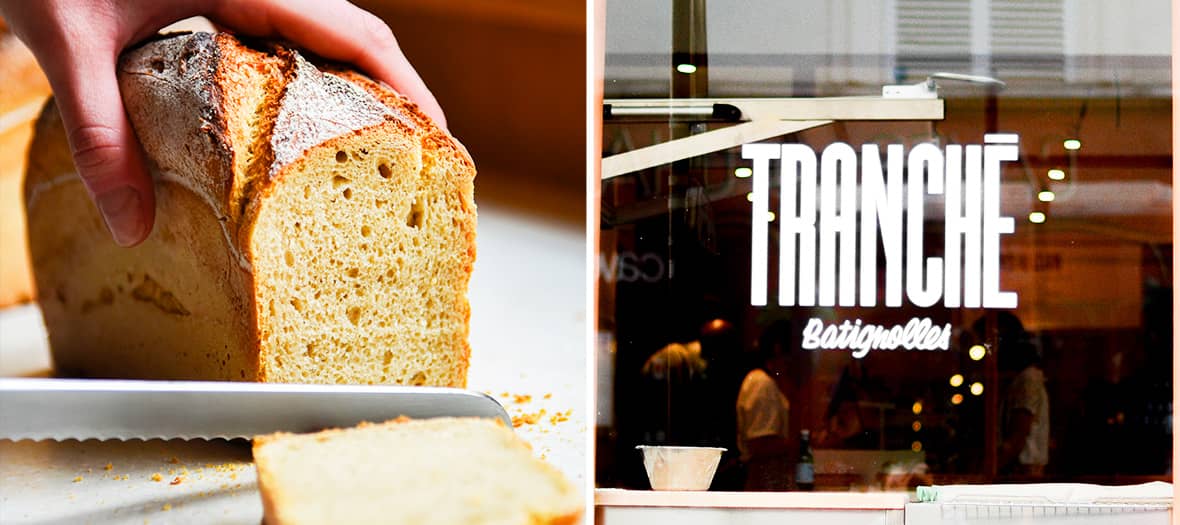 The neighborhood: Batignolles.
What we love about Tranché, which opened its second location in the 17th arrondissement this year, is their anti-waste approach. In addition to using organic flours, natural leaven, and high-quality AOP butter from Vendée, Tranché avoids waste by offering its unsold products at minimal prices or using them to make pasta. Bravo!
A must-try: the sourdough bread with cereals (€11 per kilo), the traditional baguette (€1), and the divine vanilla cream puffs (€2).
Tranché Batignolles, 20 rue des Dames, Paris 17th. Open every day from 8 am to 8:30 pm.
© Tranché Batignolles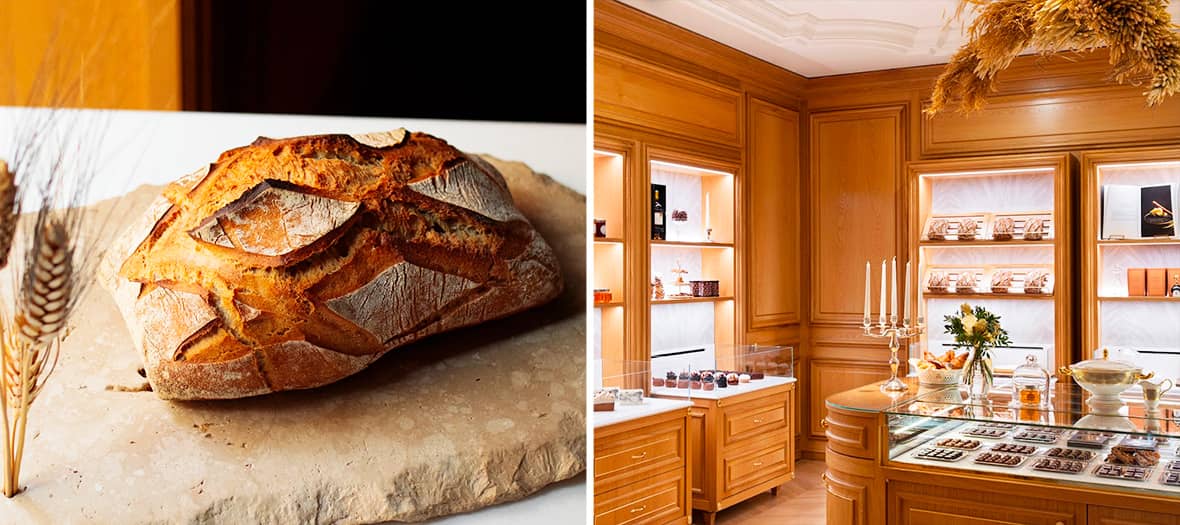 The neighborhood: Boétie.
Did you know that beneath the Bristol Paris, there hides a real bakery with an oven and all the works? The excellent breads by head baker Matthieu Favier, made fresh every day with ancient French wheat flours ground right within the palace, can be found at L'Épicerie des Ateliers du Bristol. Let's just say that they're all worth the visit.
A must-try: the "Pain Vivant," in our opinion, the best bread in Paris that stays fresh for several days in its lovely cotton packaging, made with inspiration from Barbu du Roussillon, Rouge de Bordeaux, Blés de Population, Grand Épeautre flours... (€8 each / approximately 400 grams). Also tip-top: the flaky brioche (€12).
L'Épicerie des Ateliers du Bristol, 114 rue du Faubourg Saint-Honoré, Paris 8th. Open from Wednesday to Sunday from 10 am to 7 pm and available for click & collect.
© The Social Food and Claire Cocano for L'Épicerie des Ateliers du Bristol Paris.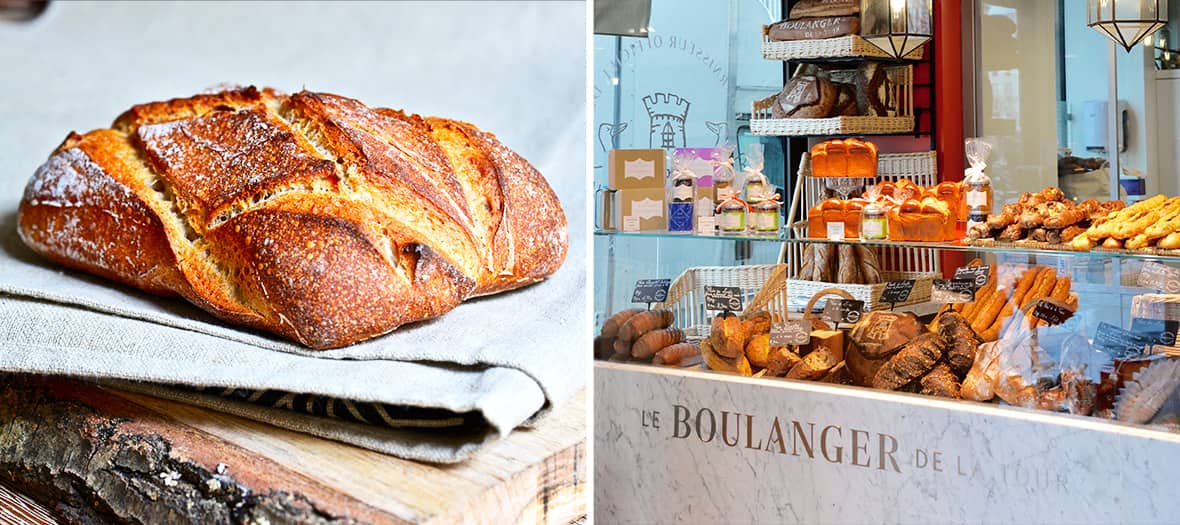 The neighborhood: Latin Quarter.
Right across from the Tour d'Argent, its bakery delights the Left Bank in a very clean, small setting, all marble and light wood, displaying an abundance of freshly baked bread since it comes straight from the workshop just behind: baguettes, stone mill loaves, Scandinavian bread, whole wheat bread, and cornbread all make you want to sit down for a leisurely breakfast with toast and hot coffee.
A must-try: the completely insane buttery chocolate croissants and pure butter croissants, and the bakery's star, a hand-crafted Tour baguette (€1.20) made with natural leaven from the mills of Chars and Brasseuil. Perfectly crispy.
Le Boulanger de la Tour, 2 rue du Cardinal Lemoine, Paris 5th. Open on weekdays from 7 am to 8 pm and on weekends from 8 am to 8 pm.
© Pierre-Emmanuel de Leusse for Le Boulanger de la Tour.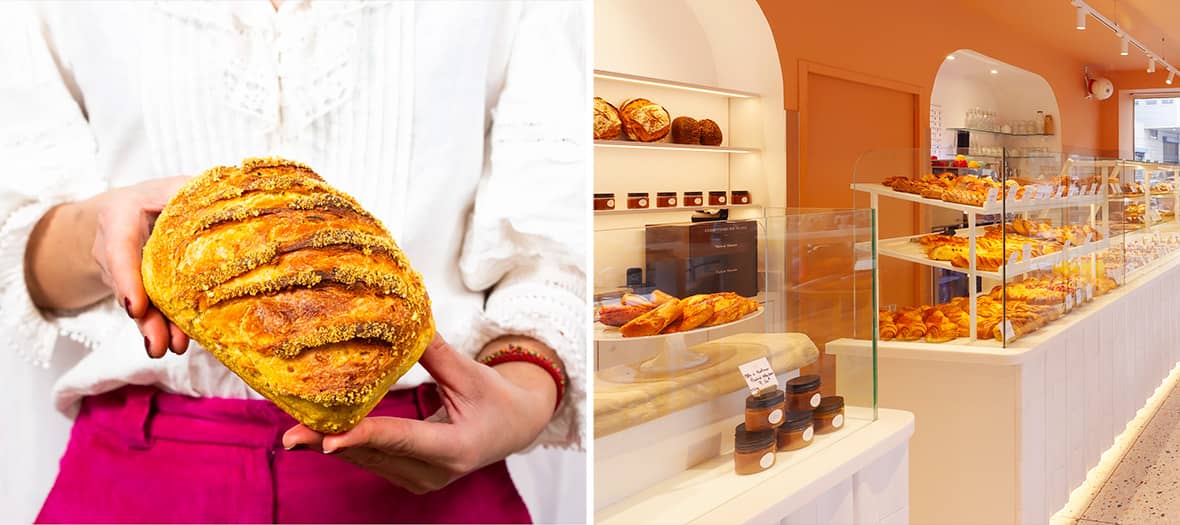 The neighborhood: Faidherbe.
Alice Lin had dreamed of becoming a pastry chef since she took her first bite of a strawberry tart as a teenager. With pastry and baking diplomas in hand, she opened her first Parisian shop last year, championing contemporary values (short supply chain, locavorism, seasonality, recyclable packaging...) and embodying a certain concept of indulgence in her all-pink setting in the 11th arrondissement. It's simple: everything looks tempting.
A must-try: a brilliant chestnut flour bread, another round one with sesame, perfect with good cheese, or the "Pain Sportif" made with semi-wholemeal flour and naturally sweetened with fruit (€14.50 per kilo). Take the opportunity to try her latest and highly foodporn creation: the Black Sesame Croissant filled with black sesame pastry cream (€4.20).
Pépite, 195 boulevard Voltaire, Paris 11th. Open from Tuesday to Sunday from 7 am to 8 pm.
© Pépite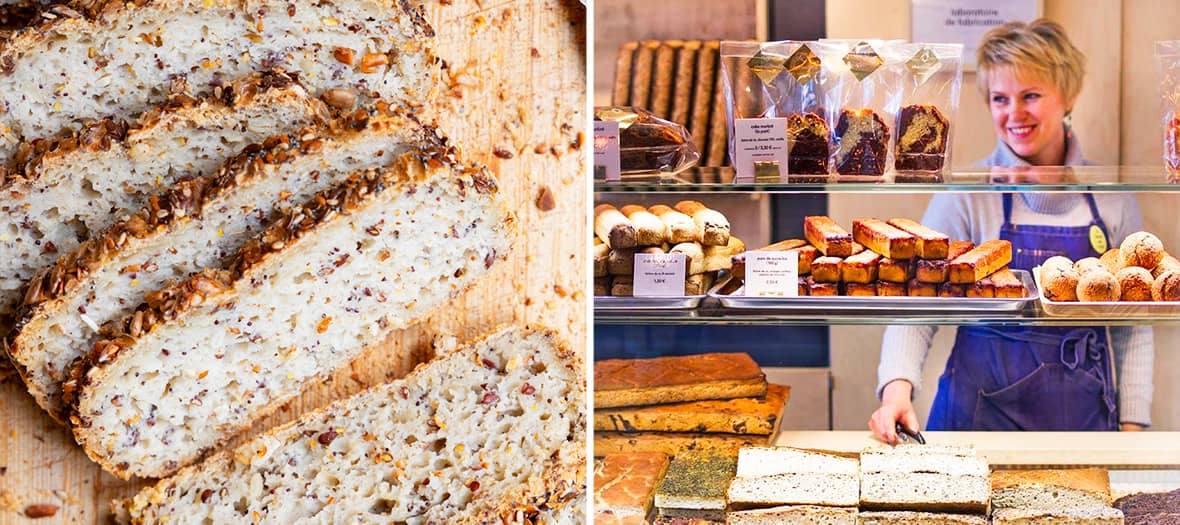 The neighborhood: Oberkampf.
As the official supplier to Alain Ducasse, this bakery stands as the high-fashion house of gluten-free Paris. Nathaniel Doboin and Thomas Teffri-Chambelland didn't settle for just providing an alternative for wheat intolerances. Thanks to their partnership with the miller Stéphane Pichard and the use of Camargue rice or millet flour, they have truly become exceptional artisans.
A must-try: their Five-Grain Bread (€7.50), Cocoa Bread (€13.65), an Orange Chocolate Sugar Bread (€3.65), and a perfect Olive Focaccia (€7.60).
Chambelland Oberkampf, 14 rue Ternaux, Paris 11th. Open from Monday to Saturday from 8:30 am to 7:30 pm and on Sunday from 9 am to 6 pm.
© Clémence Sahuc for La Boulangerie Chambelland Paris (@boulangeriechambellandparis)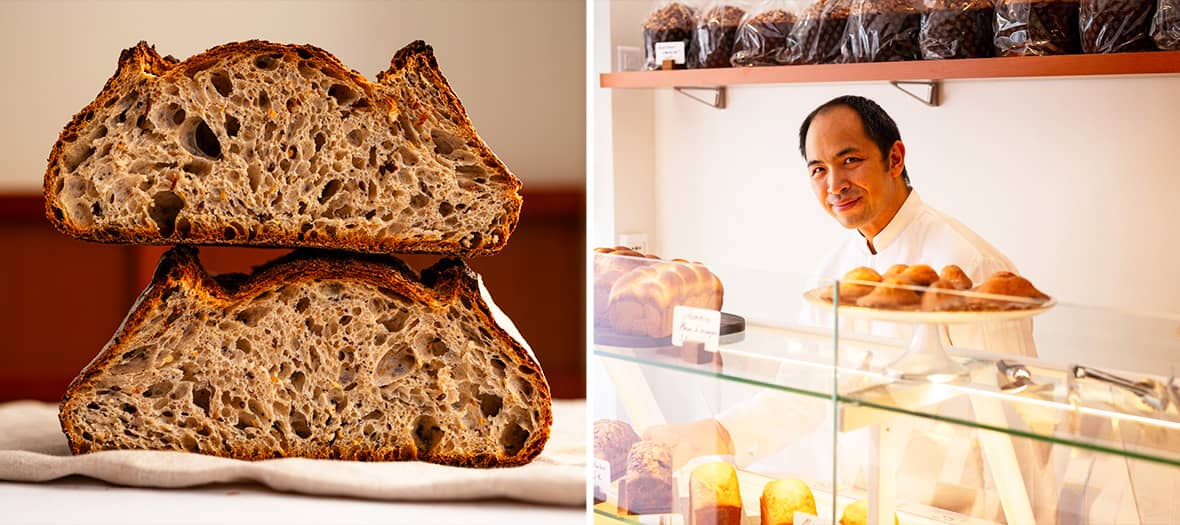 The neighborhood: Marais.
Alright, Christophe Louie is, first and foremost, the king of panettone in Paris, with the first store recently opened near Hôtel de Ville showcasing a chocolate version that's simply addictive. Trained in baking as well, he offers 2 to 3 types of large loaves only, by the kilo or by the slice, made with natural leaven. Here, there's no baguette; what he loves are the robust, flavorful, and crusty breads.
A must-try: the country bread with seeds made from ancient varieties of Berry wheat (€10 per kilo), the spelt bread (€7 each), a perfect ciabatta for oven-baked toast (€2), and an exquisite focaccia (€4.50 per portion), not to mention the absolute sensation of the chocolate panettone devoured in 10 minutes by the entire editorial team (€42 with its lovely box).
Christophe Louie, 12 rue Dupetit-Thouars, Paris 3rd. Open from Tuesday to Saturday from 8:30 am to 7:30 pm.
© Salome Rateau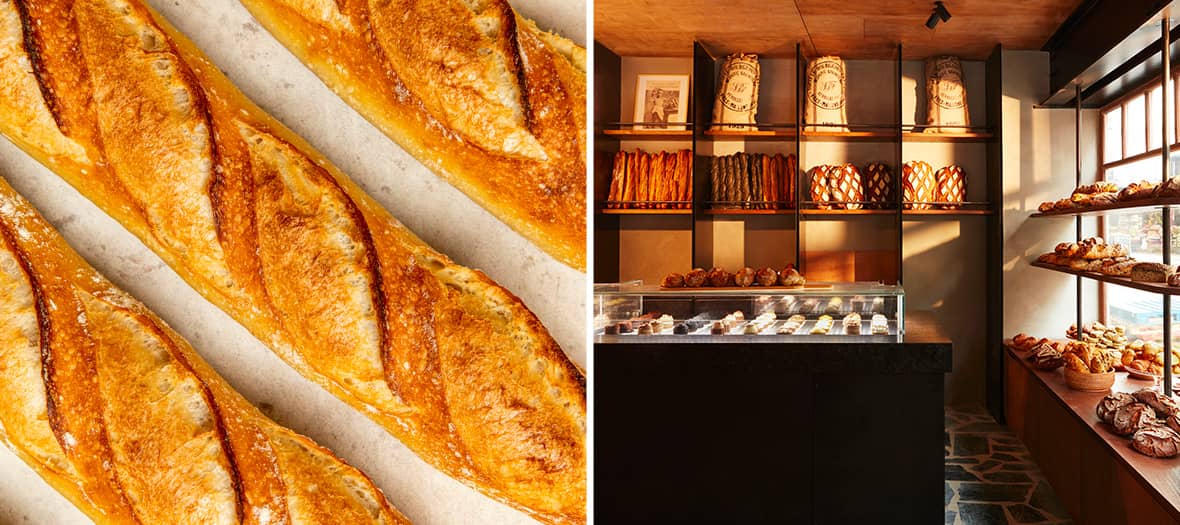 The neighborhood: Ternes.
Founded by Benoît Castel before being taken over by Mickael Benichou, the Liberté brand embodies the revival of the bakery and focuses on its essential offerings. In the Ternes area, on the delightful Rue Poncelet, their small shop has moved a few numbers down to a beautiful and spacious space where you can even sit down for breakfast.
A must-try: the perfect tradition baguette (€1.40), the "Pain Liberté" (€12.90), an organic natural leaven bread with an ideal crust for spreading butter, jams, and cheeses, not to mention their exquisite charcoal baguette (€2) and divine pastries. Also worth trying is their irresistible chocolate tradition with dark and white chocolate chips, an explosion of flavor (€2).
Liberté Ternes, 4 rue Poncelet, Paris 17th. Open from Monday to Saturday from 7:30 am to 8 pm and on Sunday from 8 am to 5 pm.
© Liberté - Gaelle Le Boulicaut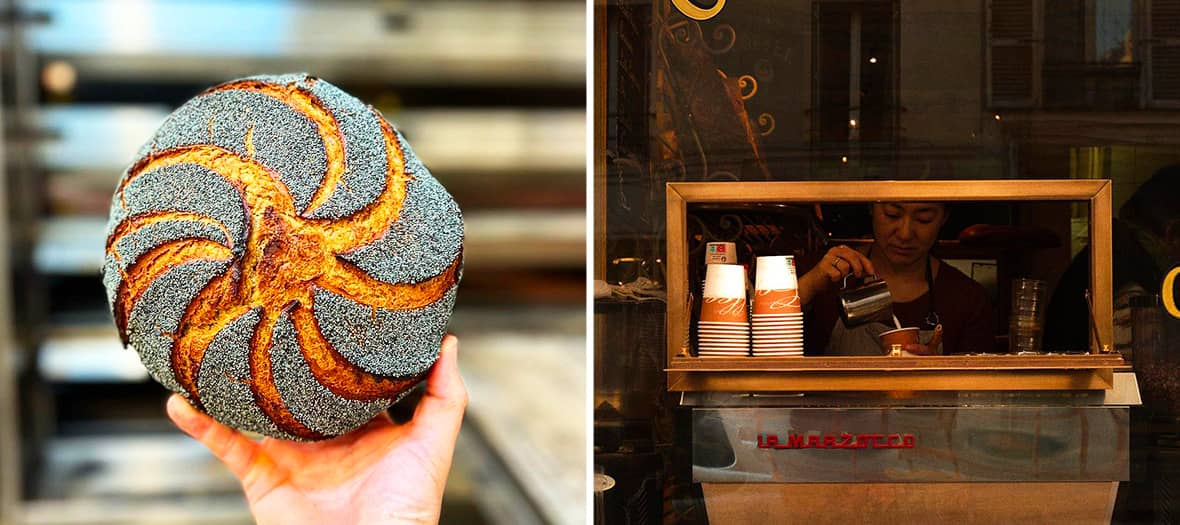 The neighborhood: Canal Saint-Martin.
In this authentic Second Empire setting hides one of the best bakeries in the capital. No less! Here, bread is baked on a stone, the old-fashioned way, for a perfect bake that reveals a thick and crispy crust. It's safe to say that Christophe Vasseur doesn't settle for making simple baguettes...
A must-try: people line up for his "Pain des Amis" (Bread of Friends) just as they do for his extra-large orange blossom brioche. Another signature item? "Les Escargots," a pastry reminiscent of a pain au raisin... but filled with pistachio-chocolate or homemade pralines (€3.95). Too good.
Du Pain et des Idées, 34 rue Yves Toudic, Paris 10th. Open from Monday to Friday from 7:15 am to 7:30 pm.
© Du Pain et des Idées (@dupainetdesidees)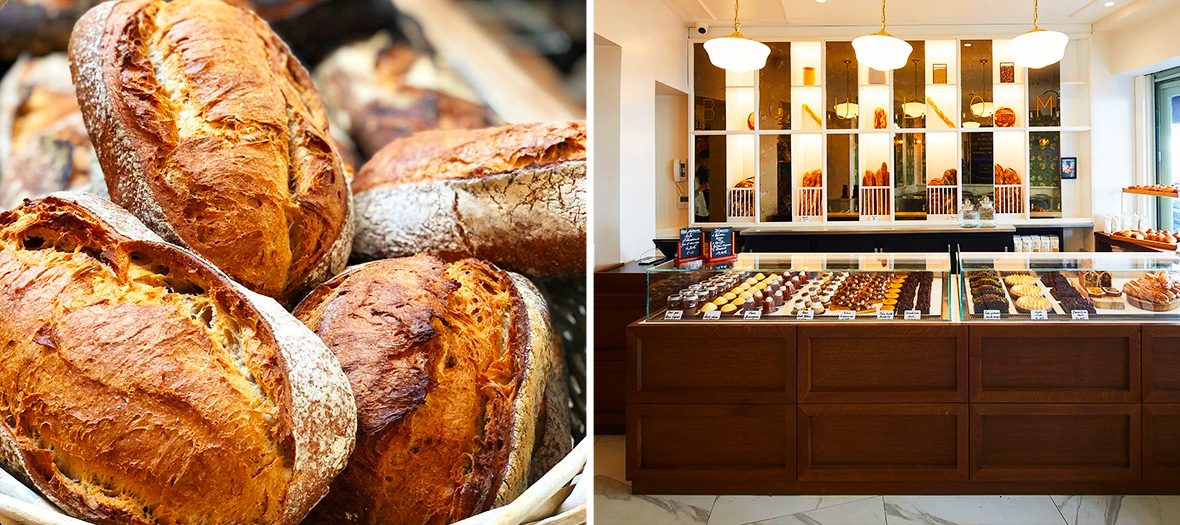 The neighborhood: Montmartre.
With Julien Duboué, you should never judge by appearances. His latest trick? Hiding the trendiest dining room in Paris in the back of an elegant retro neighborhood bakery. Offering the most sought-after brunch in the north of Paris, you stop between the pastry counter and the bread wall to grab the basis for a good breakfast.
A must-try: elegant, freshly baked, and crispy traditional baguettes (also great for making sandwiches), an apple turnover with a brown sugar crust, and the sizzling croissant with pistachio cream.
BOULOM, 181 rue Ordener, Paris 18th. Open from Monday to Friday from 8:00 am to 10:00 pm and on Saturday and Sunday from 7:30 am to 10:00 pm.
Also discover the best breakfast in Paris and the best pastry courses in Paris