Kitsuné no longer has a monopoly on cool over the gardens of the Palais-Royal! Here then. Hoëlle, the founder of Lactem, the café with a bathtub in the 9th arrondissement, is setting the scene again with Bonjour , a cool and colorful coffee shop , with a gable on the most chic garden in Paris.

The colorful coffee shop with super stylish drinks
Stylish terrace set up in the garden and a highly instgrammable pink and yellow checkered counter nestled under the arcades of the Montpensier gallery … When you arrive in the Palais-Royal , you can immediately see this new hyper-vitamin and desirable address.
Another distinctive sign: the tie & dye cups in the colors of the counter where you can find highly photogenic drinks! Smoky or iced, the latte comes in different colors (green, pink and blue) for an even more instagrammable look.

Rare fact: these stylish shades come from the addition of natural ingredients (dragon fruit, butterfly flower) which spice up the taste of these great drinks.

Who says good coffee shop says specialty coffee. This is where Lomi , the super roaster of Montmartre, steps in. It gives incredible cappuccino ( € 4.5), latte ( € 5.5) and flat white ( € 5), with a lactose free version where everyone chooses their preferred vegetable milk (almond, oats, coconut).
Healthy gourmet food from breakfast to afternoon tea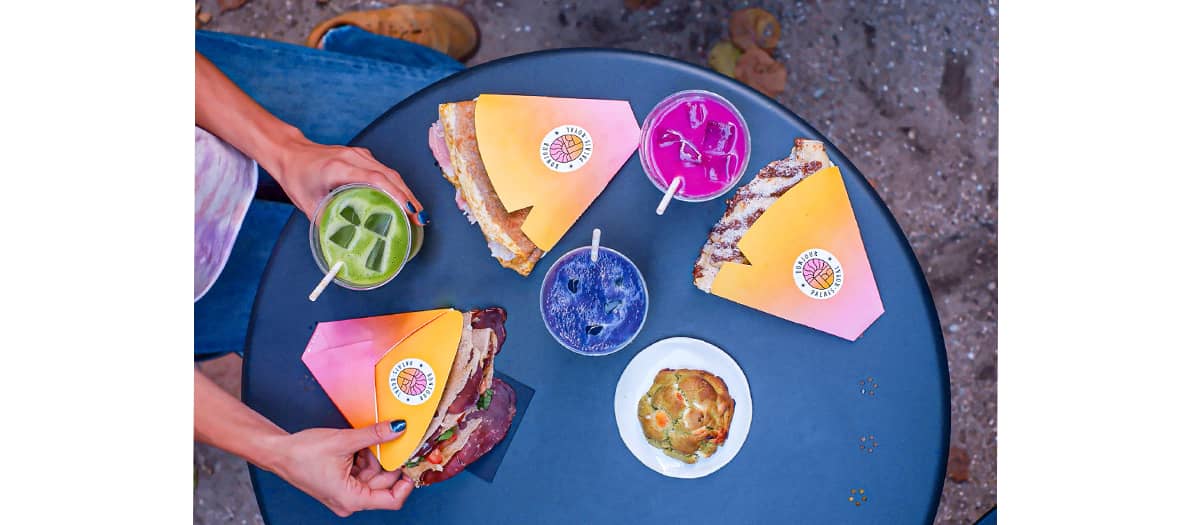 No pancakes or avocado toast. Here, we are in a Parisian coffe shop. The star is the 100% organic and healthy pancake with a divine wheat classic, and a gluten-free buckwheat recipe.
To devour from breakfast to aperitif (with an artisanal cider facing the sunset): the tradi (chiffonade of white ham, Comté, organic egg), a veggie (organic egg, mushrooms, Comté, spinach leaves) or the Italian.

The chocolate-banana, salted butter caramel, honey-almond, jam or hazelnut spread options will appeal to sweet lovers (from € 5).
We also like: the homemade pastries , prepared and baked on site. Matcha-white chocolate or chocolate-hazelnut cookies , vegan banana bread… Come and admire the window!
Open every day except Tuesday, from 10 a.m. to 7 p.m.
30 Galerie de Montpensier, Paris 1e

Also discover Lactem, the cutting edge coffee shop near the Grands Boulevards and Café de Luce, the most coveted terrace in Montmartre