We have good news for all those who enjoy eating game: the mythical Rue Saint-André-des-Arts was hit by a bull's eye. A very hunting and fishing hold-up orchestrated by love birds Emilie and Boris Bazan, well-known in the area to be the happy owners of the neighbouring Christine and Fous de l'Île. We went there to check out the result...
Take a walk on the wild side
Welcome in the forest of Fontainebleau. Or is it Broceliande? No matter, the panoramic photos decorating the dining room impose a forest hunting pavilion, with ducks on the wall and seats in duck blue velvet, of course.
However, that's all that's left of the rustic touch of this new elegant venue for meat whose more intimate upper floor can be privatized for 20 persons. And while the address has no terrace, we highly recommend sitting at one of the tables near the bay window­–wide open on the street in balmy weather, to feel the breeze.
When it's dinner time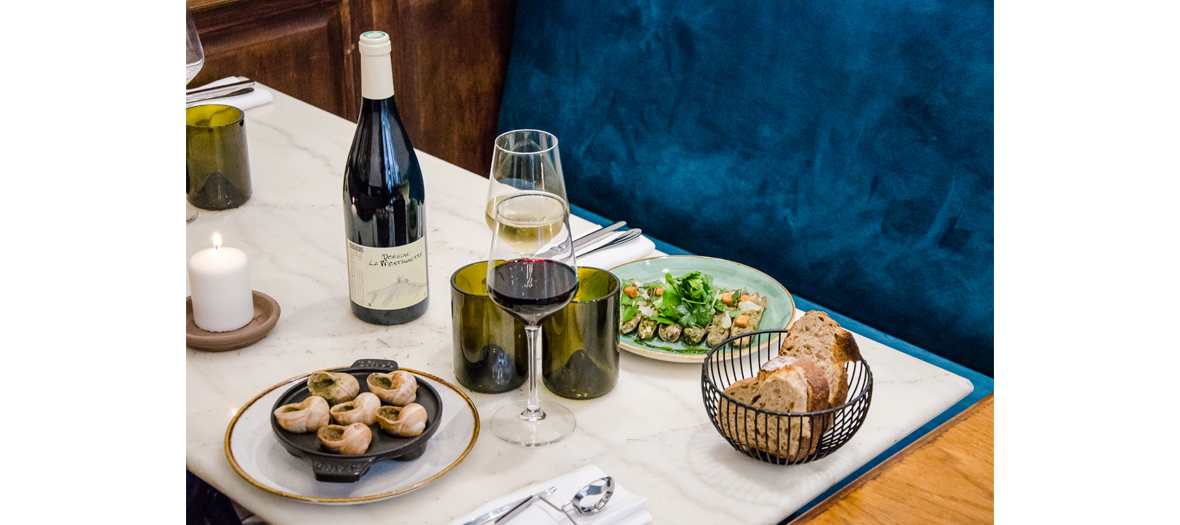 After having enjoyed the décor around a nice glass of mineral Valençay (€5), make room for the banquet. Young chef Benjamin Lubin spreads his wings with seasonal bistro dishes, whose meats mostly come from the family hunting grounds, without any intermediaries.
On the menu: Caesar salad with chorizo, tempuras of parsley snails or a marinated salmon with beet as a started, followed by a signature breast of duck with mashed potatoes and honey juice (yum !), a red snapper with fennel or the very appreciate burger bacon-mushroom escorted by its devilish diaboliques pommes Pont-Neuf potatoes–cute local touch.
Special kudos at dessert time for the divine house sherbets, whose peach-basil version enhances an ultra-regressive strawberry vacherin.
Coming up soon
The highly expected arrival of the Rolls of ham slicers will soon be declaring officially open happy hour season, starting at 4pm (everyone loves happy hour, even early in the day) with planchas and house cocktails (between €12 and 14). Cheers!
Starter – Dish – Dessert formula €35
Open every day non-stop for the time being, then happy hour eats starting at 4pm.