After the opening of her coffee-shop, Ecaterina Paraschiv is finally opening up the table of her dreams. This former tax attorney has chosen to renew with her Romanian origins, despite her departure during the Ceausescu regime when she was 5 years old with her parents.
A lot more than just run-of-the-mill Romanian eats (actually they don't really exist...), Cathy went to market in many places around the Balkans in order to distillate a 100% feeling cuisine, ensured by Bogdan Alexandrescu (aka DexterChef ) and Ovidiu Malisevschi, both also Romanians and friends.
A wonderful little salon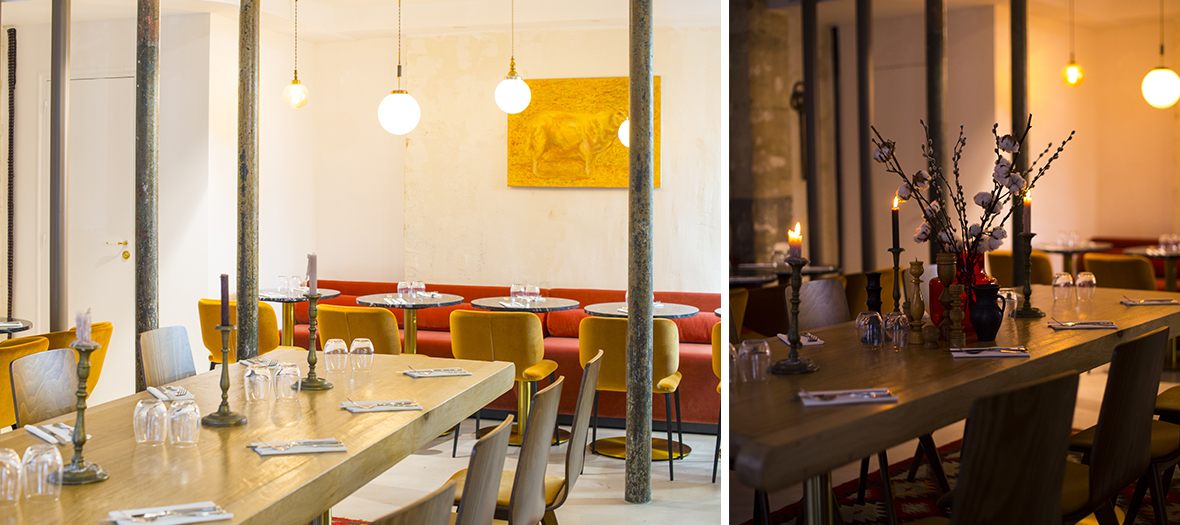 Conceived like a "small salon", Ecaterina carefully picked her unusual decor, put together with the help of her cousin, Laura Paraschiv, architect and at the head of the Circa 1703 3071 boutique in Bucarest—filled with second-hand objects, vintage hanging fixtures, without forgetting a mix of Romanian masks on the wall, powder pink banquettes rose and tables in marble.
At lunch time, the cuisine boasts to be "a Granny's cantina", featuring a menu that flirts with whimsical plates of mezze, delicious salads of more comforting dishes.
The specialties? Chicken schnitzel served with mashed potatoes just like in Vienna (€14.50), a fab moussaka of potatoes and ground meat. To be tested absolutely: incredible Mititeis, the hamburger and fries of Romanian kids. In this case: two delicious sausages without the skin, served with mustard and sautéed potatoes.
In the afternoon, Kubrik morphs into a coffee-shop, where you can settle in with your laptop or your BFF to sip a golden latte, coffee from Coutume, served Turkish style with a pistachio moon-cake or fritters with cream and jam. Mmmh!
A candle-lit ambiance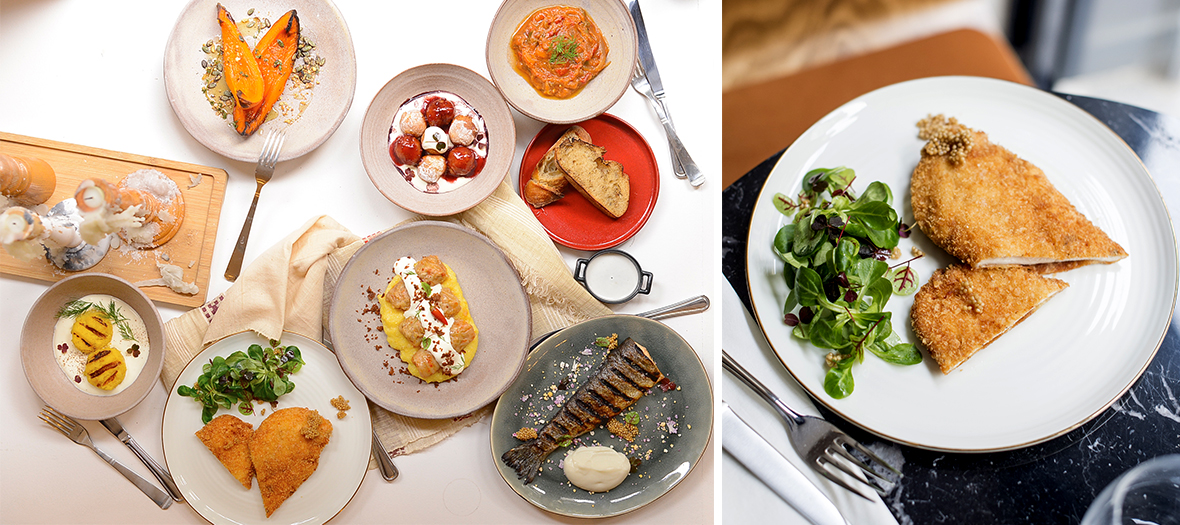 At night, the atmosphere is more low-key, enhanced by a very intimate candle-lit lighting, vintage chandeliers, in a particularly ambiance.
Plates are to be shared with your gang of friends or your target : Pastrama, dry-salted beef with black truffle from Romania (€13), white bean caviar (€8) or a braised polenta stuffed with cheese (€11), a mix grill plancha for meat lovers (€59) or a goulash of Bohemian chicken (€22). But the specialty is really the dry-salted cabbage leaves stuffed with pork meat, typical of celebration feasts.
Concocted behind the counter, the cocktails are signed by Stephen Martin – elected best mixologist of France in 2009 – spiked with Balkan spirits, such as Mastica and Ouzo or vodka infused with caviar…Irresistible: the Mahalagang, vodka infused with caviar, milk and lemon (€21)
© Pierre Lucet Penato
Open Tuesday to Sunday from noon to midnight.
Also discover the best breakfast in Paris and The Café Compagnon