You hear lots of "slurp slurp" in this cantina that transports you on the spot in the small Tokyo street atmosphere …
Check it out: a steaming counter behind which a seasoned cook is busy preparing broths, red Chinese lanterns, Japanese everywhere, wonderful kawaï soda, the famous welcoming "Okaéri Nasaï" yelled loud and clear by the entire team, in good tradition, when you enter the restaurant.
The story of Kodawari? Two buddies, wild about Ramen, roamed Japan to bring back the best recipes of this national Japanese dish and import the furiously trendy soup in France with a decor, mounted in "real life" by a decorator from the cinema...
So here is the brand new hot Japanese address of the moment offering probably the best Ramen in Paris.
A la carte: here, ramen is what you get: 4 recipes of this noodle chicken broth with top quality French meat. Purists generally prefer the soya classic with marinated pork, arugula, bamboo shoots and onion (12€) or the marinated chicken version. Another killer.
Our crush: their black sesame ramen with an egg on top … A real killer. To be washed down with sugarless cold green tea without or a very sweet strawberry lemonade with a very girly marble.
Careful: line scan be long in the evening or on the weekend. So better go there during the week on your lunch break if you are a Type A that hates to queue up.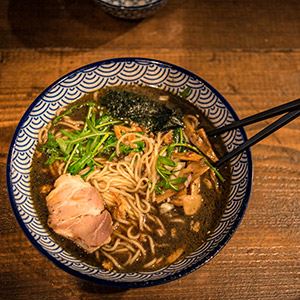 By Elodie Rouge @elorouge
Also check out the best peking duck in Paris.