Its name means " my house " in literary Arabic. Nestled in the heart of the Jardin des Plantes , the brand new ephemeral Manzili terrace is already establishing itself as the most coveted dream spot of the moment. It must be said that in the kitchen, Mohamed Cheikh - candidate still in contention to this day for the title of Top Chef - has put in place in just a month and a half an absolutely divine menu. A word of advice: book your place in the sun as soon as possible.
Between the bougainvilleas and the scent of jasmine , away from cars in a corner of the Jardin des Plantes, Manzili takes on the air of a holiday home on the shores of the Mediterranean. We come there for lunch or for a dinner in the cool under the trees, as you wish and with the same breath of summer and freedom.
A great atmosphere for Mohamed Cheikh, former protégé of Eric Frechon and who marks this competition on M6 with his sunny cuisine inspired by his Algerian origins. And show junkies won't be disappointed with the trip, since the friendly chef keeps his promises from start to finish.
Starting with the mezzes , like the rest perfectly seasoned: smoked eggplant caviar (€ 9), grilled green asparagus (€ 16), fried cauliflower (€ 11) to get in the mood with an insane magic potion including we still have the flavors in the mouth, aka the Algerian lemonade Cherbet with orange blossom and whole milk (€ 6).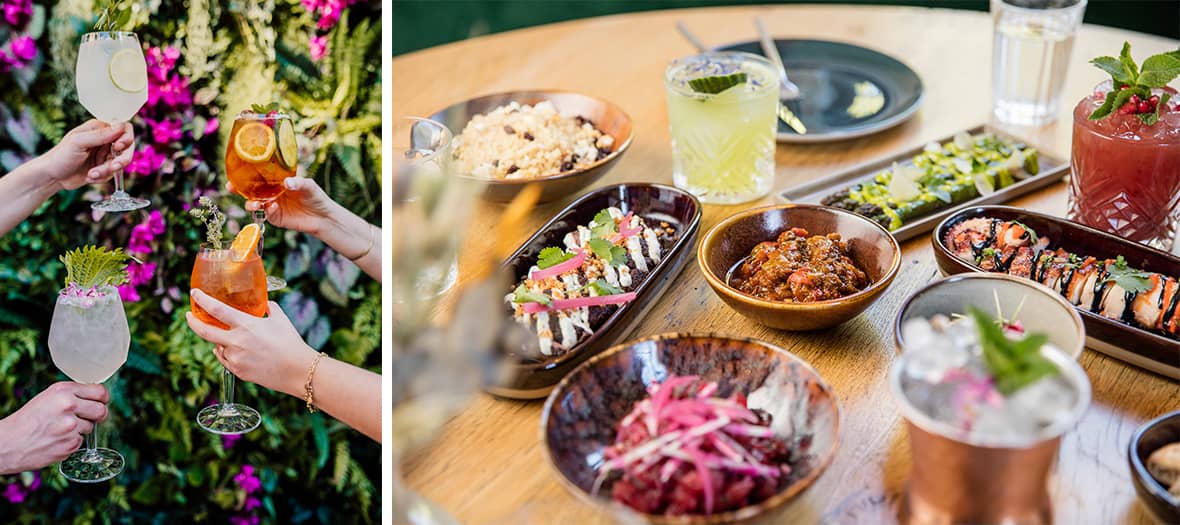 Grills are obviously in the spotlight with an addicting octopus (€ 24) and a tender shoulder of lamb braised with chermoula, to accompany mesfouf couscous with raisins (€ 6) and a small mizuna salad with bottarga potatoes (€ 11) ). The unconditional ones will find in the corner of the vintage a tartare with a knife (20 €) and a ceviche of marinated mullet and candied peppers (19 €).
Surprise: we find the cult dessert offered during the " Restaurant War " event, namely Signature Nomade, an amazing creamy lemon , orange blossom and basil sponge cake (€ 11). Mmmmmh ...
Until October 3, 2021, open daily from noon to night (depending on curfew hours). DJ mix every evening from 7 p.m.
© The Travel Buds
Also discover the prettiest squatter terraces and Forest, Julien Sebbag's new terrace .