A real 2.0 gastronomical phenomenon, street food has largely bypassed the snacking trend and is now considered a new lifestyle, heralded by the Y generations and its kid brothers. As testimony, the passion displayed by chronicler Mina Soundiram on Très Très Bon with François Régis Gaudry, prizes awarded by Le Fooding and even leading chefs who are wild about it.
What a relief. In these times of confinement, street food has not left its fans by the wayside. On the contrary. The best Parisian street-food ensure bike deliveries of their sandwiches, burgers and other easy eats to be tested at least once in a lifetime. And what if we took the time to order the tasty must-eats of street food… in home sweet home mode?
The big Mac of PNY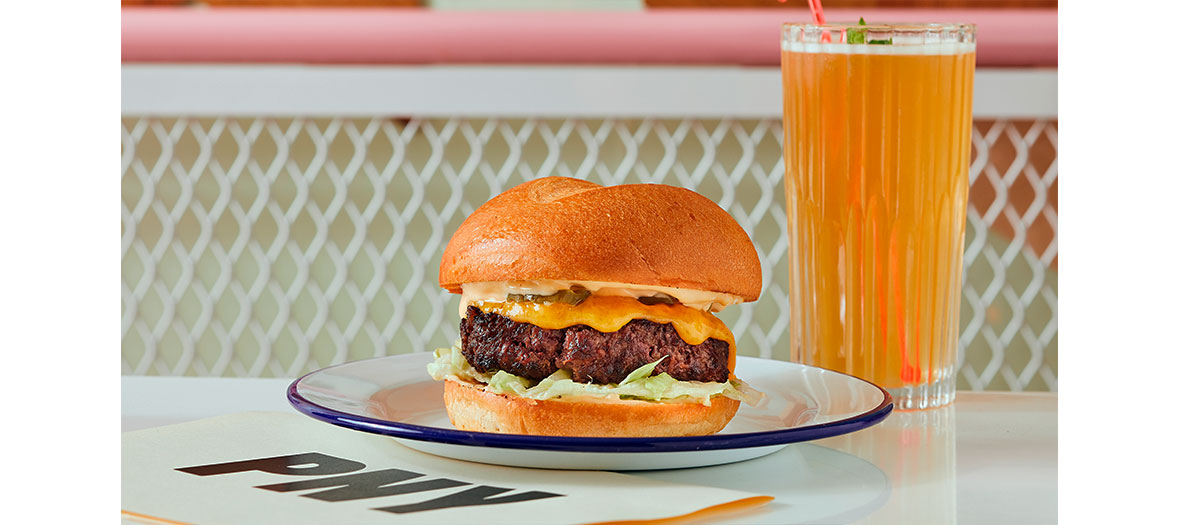 Mcdo' is not happy, it's the burger "whose name must not be mentioned" from PNY—the best burger venue in Paris under the helm of Rudy Guénaire.
Our mouth is watering at the idea of this cool homage to the cult Big Mac and its magic sauce, prepared here with deluxe products, starting with the bread and organic steak from farms in the Picardie region. Hence, nothing to do with the golden gates nor Mcdo—also a Veggie steak option!
€13 delivery by Deliveroo
The souvlaki of the Grand Café in Athens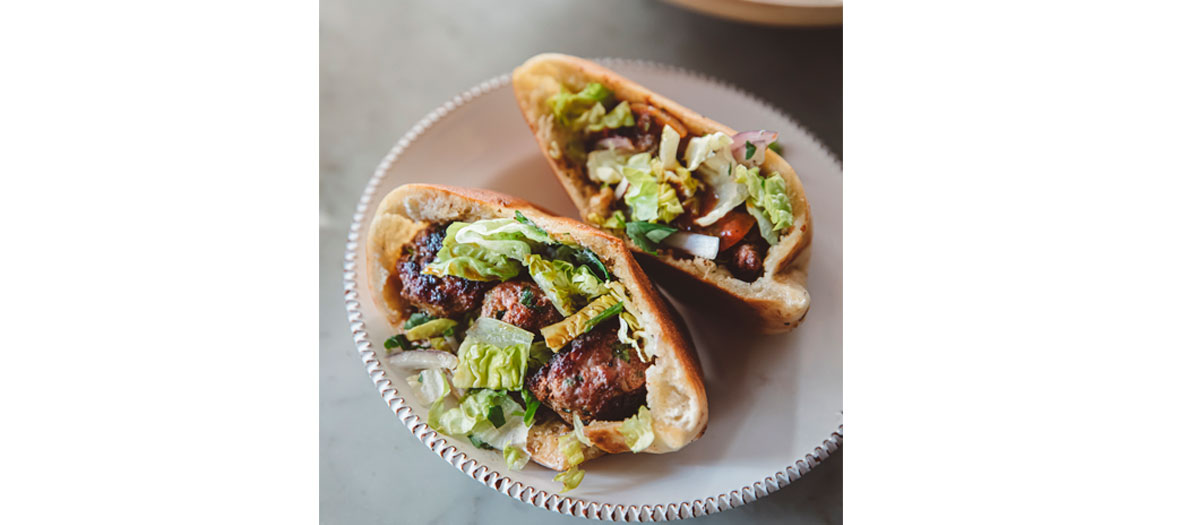 The most coveted Greek bistrot in the 10th and their Filakia street food flagship delivers a typical pita sandwich from over there, stuffed with pit-roasted pork, tzatziki and spicy tomato sauce. Wild.
The veggie alternative that has a wonderful holiday scent with courgette fritters, feta, marinated cherry tomatoes, fresh herbs, bib lettuce, red onions and house fries would make depressed confined persons jump with joy.
€10 delivery by Uber Eats
L' As du Fallafel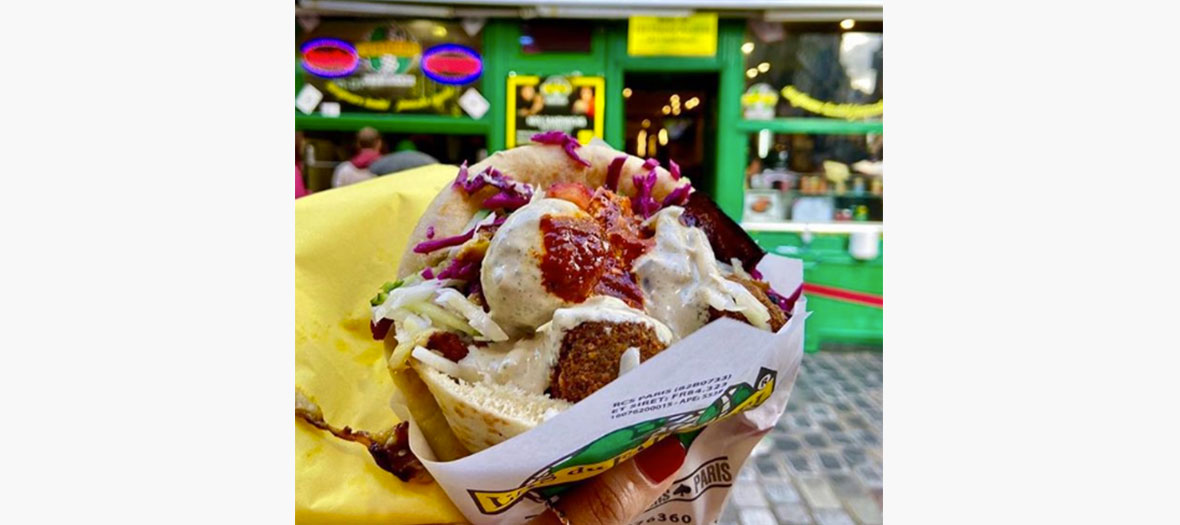 @lasdufalafelle
The most well-known falafel sandwich in Israël happens to be on... Rue des Rosiers. Even Lenny Kravitz, when he comes through Paris, cannot help to consider it as his favourite snack.
Nobody really knows what is the secret behind the magical taste of this very special street food. First, there is its "mythical" and authentic character. And there are falafels, these fresh chickpea buds, made during the entire day. Maybe it's their divine white sauce, their melt-in-the mouth eggplants or the perfect quantity of crudités…No matter, it's sinful.
Delivery by Uber Eats
The cheese nan of Bollynan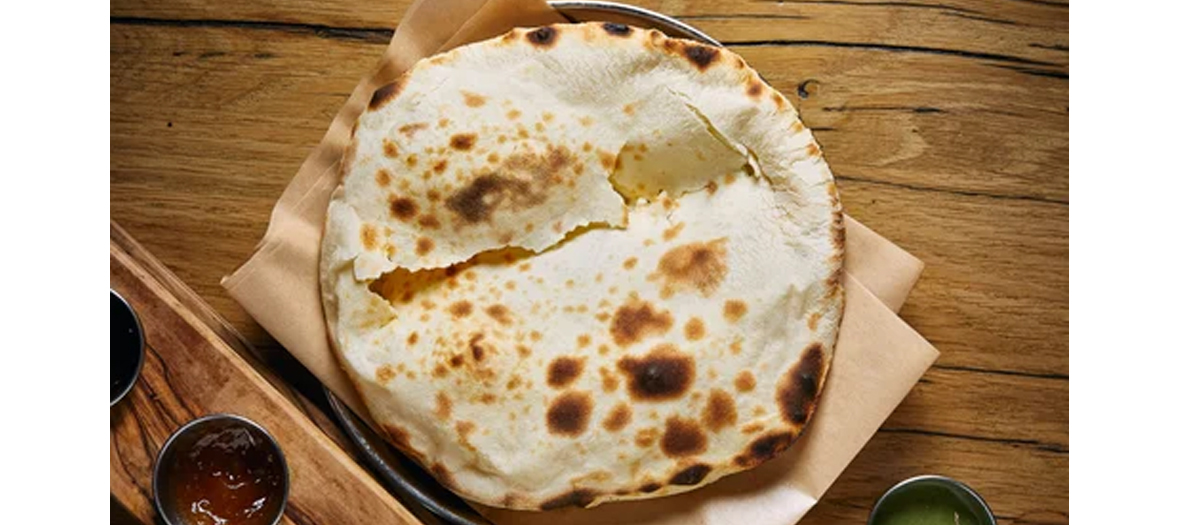 @bollynan
What if we told you this was a small place that dares gastronomic cheese-nans, home-made on the spot, with organic flour, prepared in front of you and baked in a traditional oven before coming out warm and plump—are you ready to dig in?
Such is the promise of Bollynan. Now you just need to decide if you prefer to accompany them with a delicious chicken butter or dip them to soak up the sauce of their korma chicken with coconut milk. Yummy.
€3.50 for cheese-nan on Deliveroo
The lobster roll of Homer Lobster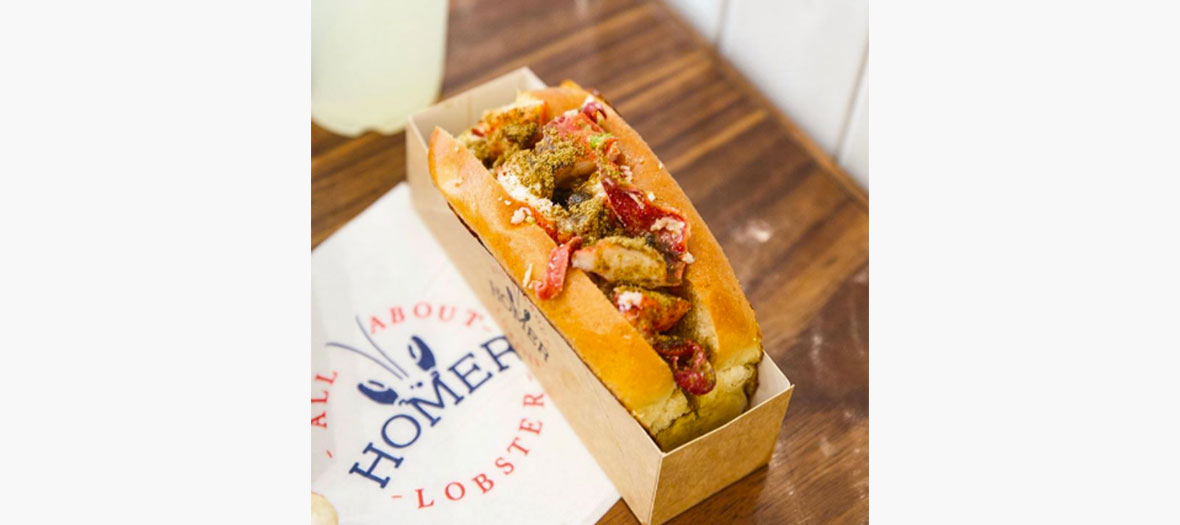 @homerlobster
Believe it or not. The best lobster roll in the world is French and can be found in a small street-food shack at the heart of the Marais with a kid sister at Odéon. To be tested urgently.
And with reason: the sandwich by Parisian Moïse Sfez, comprising a small brioché bread stuffed with Brittany lobster, has won the Down East Lobster Roll World Championship and eliminated all its competitors from New England. Another proof of its strong "all French" food influence!
€19 per roll on Deliveroo
The Spring rolls of Banoi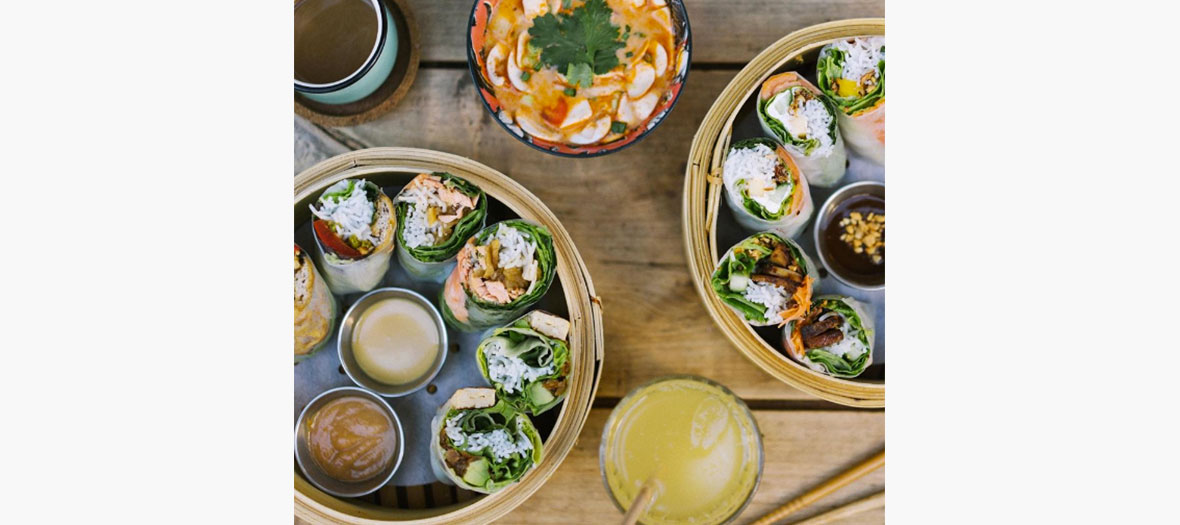 @banoirestaurant
Everything is running smoothly in this Vietnamese micro-cantina of the 11th arrondissement, considered like the ultimate reference of the spring roll in Paris, concocted in keeping with tradition: vermicelli of rice, salad, mint and coriander, all nestled in a leaf of crystallin rice.
So just choose 6 signature recipes such as their pork with lemongrass, carrots, pickles or smoked salmon, arugula, fried onion, to be dipped in the house sauces. Delicious.
11 € for the 3 roll formula on Glovo
The bahn-mi of Miss Bahn Mi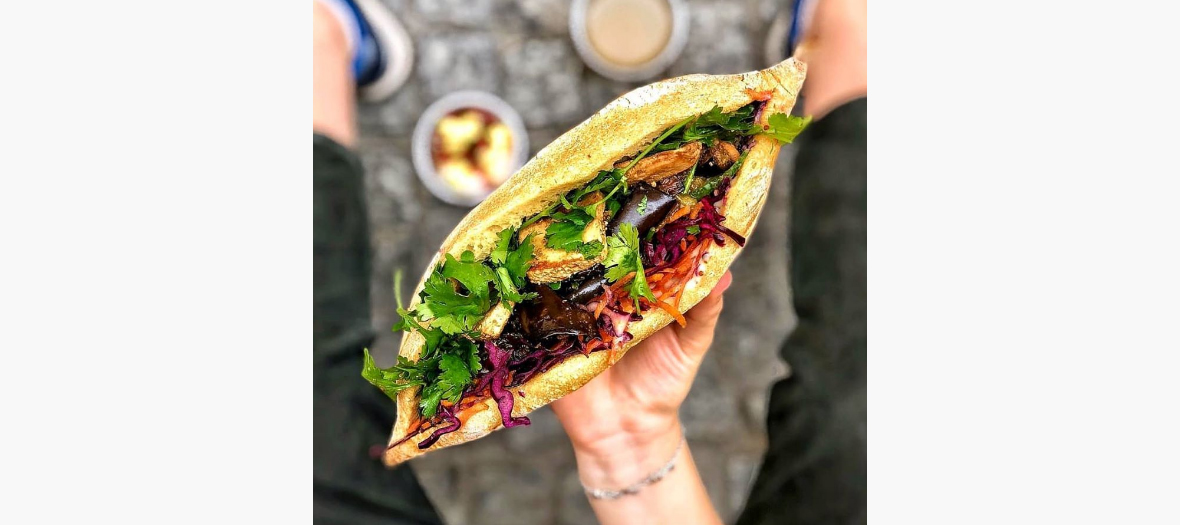 @missbahnmi
This Viet' sandwich is the work of artist Fafi and his culinary whiz girlfriend Heidi, a former model booker.The basic recipe? A super crispy baguette straight out of Eric Kayser's oven, garnished with grated carrots, daikon, house mayo with soya, cucumber and coriander.
Will you prefer the beef marinated in saké (the most traditional), chicken breast with glazed lemon or the veggie version with garlic and ginger eggplants?
€9 on Deliveroo
The pizza Antica of Magna Street Food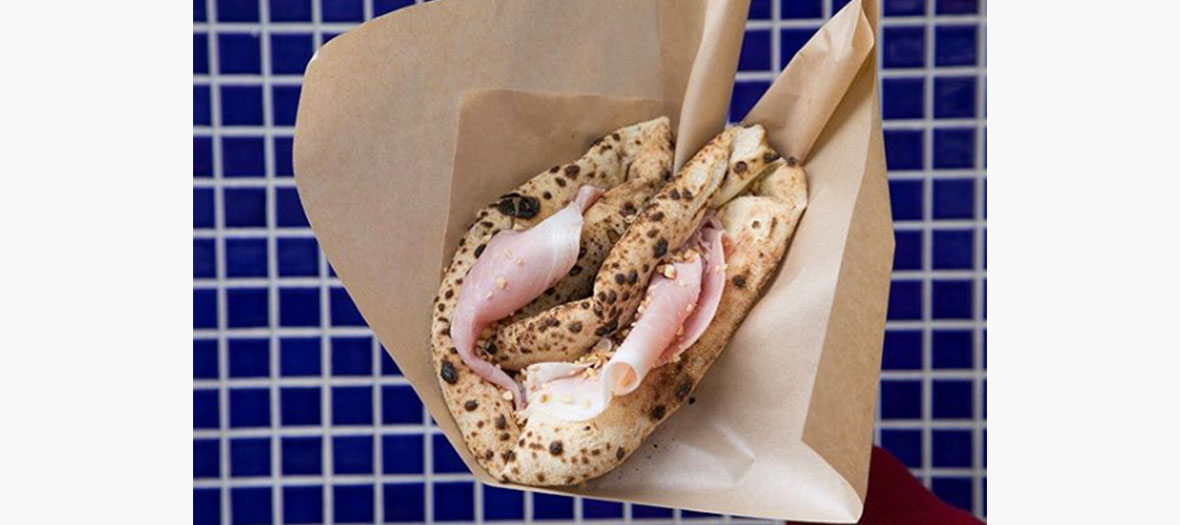 @magna_street_food
The best rolled pizza in Paris is right here. Julien Serri,a Franco-Italian chef with tattooed arms and an impeccably beard, brought back in his globe-trotter luggage two emblematic specialties from the streets of Naples: pizza rotolo (or rolled) and the pizza portoglio (wallet) which the pizzaiolo fold in four, like a cone.
A must-try? The portefoglio at Antica Mortadella, knife-cut mortadella, covered with a pistachio pesto from Sicily with mozzarella made in the Yvelines, that has nothing to envy from their little cousins.
€16,90 deliver on Deliveroo
Also discover the shops delivering the best products in Paris during confinement.