© Ilya Kagan / Simon Detraz
When the greatest starred chefs bring street food to life , the result is concepts that are as delicious as they are joyful. This is the case of Yannick Alléno , guardian of the Ledoyen temple, who is relaunching his concept of burgers designed hand in hand with his son Antoine. To honor his memory, the chef relights the flame and the stoves of this restaurant which was theirs on the rue du Bac side .
A dinner worthy of US road movies
In its version 2.0 with a totally revamped decor, Père & Fils, Burger par Alléno poses its gourmet bias right from the entrance with an open kitchen where the burgers are mounted before our eyes. The must to enjoy the show? Settle down at the counter, unless you prefer the comfortable leather benches worthy of American diners .
And, everywhere on the walls, father/son winks with street art posters that go upstairs and straight to the heart... As a bonus: a pretty pretty terrace sheltered from cars.
Kitchen of pleasure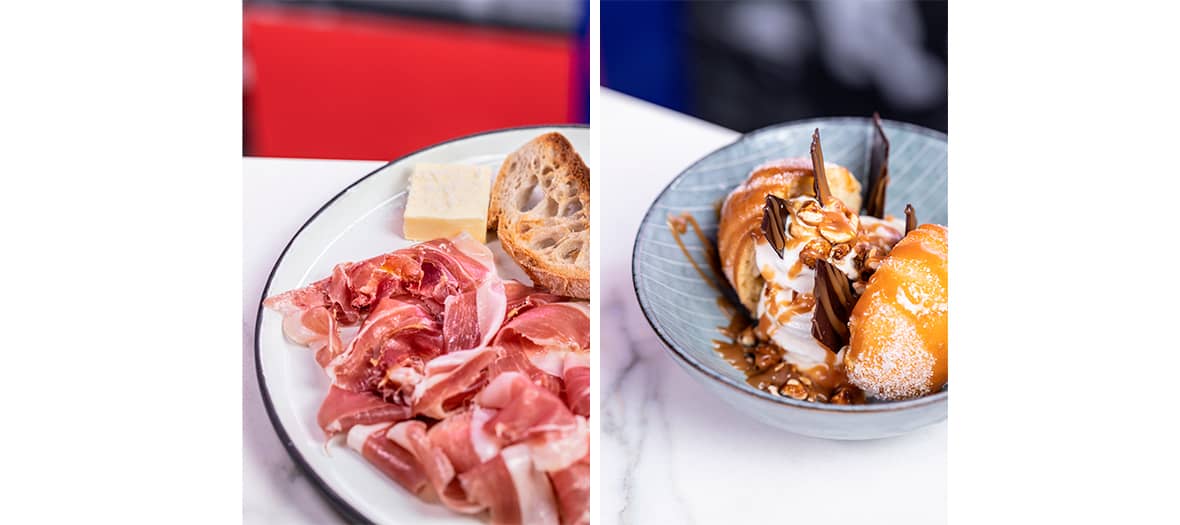 The initial menu was already a delight with its three insane burgers (eternal love for Arsène and its pepper steak, €15) and two little new ones imagined with chef Anisa Usmanova in charge of the kitchen. Mention very well for the Neapolitan and its veal meat au gratin with tarragon and parmesan butter (€17), as for the thrilling Nikita and its beef steak topped with runny cheddar (€17). The whole thing is always well accompanied: divine sautéed potatoes (€5) and yummy sauces.
In the novelties section, a collection of damn tasty salads including the addictive violin zucchini with a peach and pistachio fondue and fresh cashew cheese that you could almost finish on your fingertips (€11)! And even if it means going to the kif, you might as well roll around and finish with one of the crazy desserts (€5): whipped cream cookie, caramel bomba or the aptly named Paradise, an ultra-gourmet homemade sundae, which Antoine loved.
Open Monday to Friday from 12 p.m. to 2:30 p.m. and from 7 p.m. to 10 p.m., Saturday and Sunday from 12 p.m. to 10 p.m.
© Ilya Kagan

Also discover The star pastries to taste this fall and Alain Ducasse is opening his haute biscuit factory in Bastille .