We already fell in love with dining at Rivages, the charming corner of Sofitel Le Scribe Paris Opéra, under the brilliant guidance of Martin Simolka, previously renowned at Molitor. The exciting news of the day? The chef has just launched a brand-new formula for a top-notch Sunday brunch. Let's dig in!
Velvet pink sofas, lush greenery, a stunning glass ceiling, a bar reminiscent of Mad Men, and plush carpeting—welcome to the cozy boudoir of Rivages, where every detail is worthy of its own Insta story. This deliberate aesthetic pleases both families looking for a delightful meal and groups of friends eager to recap last night's adventures.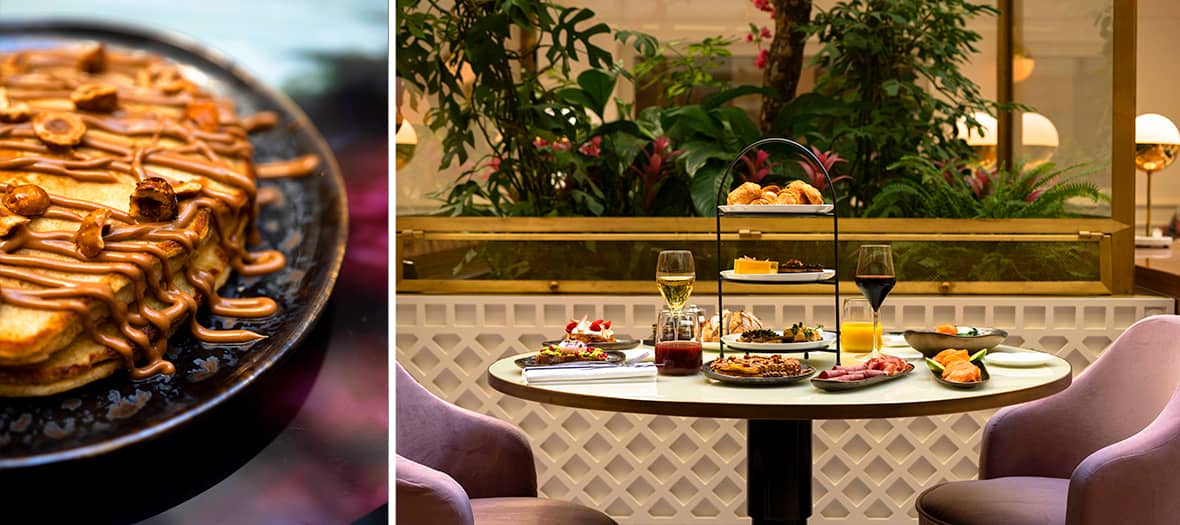 Committed to a balanced cuisine, Martin Simolka has made the wise decision not to succumb to the wasteful excesses of an all-you-can-eat brunch buffet. Instead, you'll receive the full menu at your table: a combination of breads, pastries, and jams, an assortment of delectable sweet and savory bites (with a special mention for the gooey cookie and the chicken curry-stuffed toasted brioche), followed by some tough choices... Will it be the poached egg and avocado toast or the Florentine egg with salmon? Pancakes or French toast? For those with hearty appetites, you can also explore the daily special (we tried the divine pork loin with ultra-indulgent Brussels sprouts), offering a glimpse into the chef's culinary palette.
Whispers around Paris suggest that the Rivages bar serves up some seriously potent cocktails. Take the opportunity to savor one of Italian bartender Roberto Catalano's signature creations: the Scribere (gin, vermouth, bitters, aromatics) or the Videre with cognac, pisco, coffee, and cream (€19). Cheers!
Sunday Brunch at Rivages, every Sunday from 12 PM to 3 PM. €52 per person, €20 for children (under 10). Unlimited Bubbles option starting at €20.
Also, discover Chef Martin Simolka takes up residence at Rivages and 3 compelling reasons to return to la Tour d'Argent.